Nuclear Waste Adventure Trail and Museum
Introduction
The Nuclear Waste Adventure Trail and Museum is located on the site of a former explosives and uranium manufacturing complex called the Weldon Spring Ordnance Works, which operated from 1941-1966. Explosives were produced between 1941-1945 and uranium ore was processed between 1957-1966. Today the site consists of the Weldon Spring Site Interpretive Center, which features exhibits on the history of the site, and a large mound of rocks with a stairway and path leading to the top. The mound, which reaches a height of 75 feet, permanently (and safely), covers radioactive byproducts, buildings, industrial equipment, mercury, asbestos, and other toxic wastes. The top features a bench and a few interpretive markers.
Images
This aerial view shows the mound and the interpretive center below it.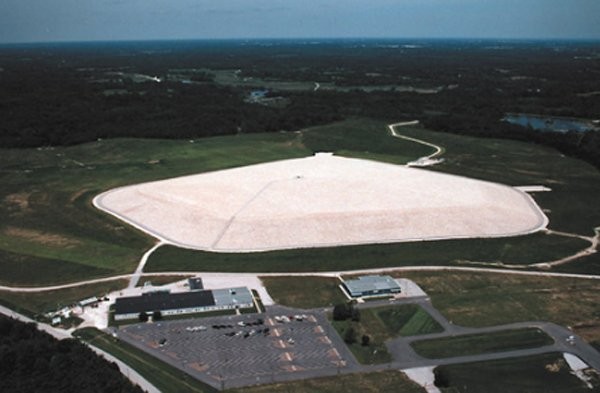 Backstory and Context
The complex was enormous. It was more than 17,000 acres in size and included over 1,000 buildings, several wastewater treatment plants, and seven discharge lagoons. Between 1941-1944, the Works produced 700 million pounds of TNT in support of World War II.

Efforts to clean up the site began in 1984. The Environmental Protection Agency and the Department of Energy decided to build the cell because it was deemed safer than transporting the toxic wastes elsewhere. Construction began in 1997 and the first loads of waste were added the next year. The last of the waste was placed in the cell in June 2001 and the "cap" (the mound) was finished in October of that year. The interpretive center opened in 2002.
Sources
"Nuclear Trail Weldon Spring, Mo." The Municipal. July 29, 2017. http://www.themunicipal.com/2017/07/nuclear-trail-weldon-spring-mo.

"Nuclear Waste Adventure Travel." Roadside America. Accessed June 12, 2019. https://www.roadsideamerica.com/story/14614.

"The Solution: The Cleanup." Weldon Spring Site Interpretive Center. Accessed June 12, 2019. https://www.lm.doe.gov/Weldon/Interpretive_Center/Online_Tour/The_Solution__The_Cleanup.pdf.

Photo: Department of Energy
http://www.lm.doe.gov/LMSites.aspx?id=1399

Additional Information