Graham Cave State Park
Introduction
Graham Cave State Park is named for a cave that holds tremendous archaeological significance where researchers discovered Native American artifacts. Among the artifacts discovered by archaeologists were spear points and arrowheads, and charcoal deposits dating to as early as 10,000 years ago to the Early (also known as Dalton) and Middle Archaic periods. These natives were Paleo-Indians and the evidence shows how they adapted to a changing environment at the end of the Ice Age. Archaeologists also found more recent artifacts from the Middle Woodland period, including potsherds dating to the Hopewell period (100 B.C.E. to 500 C.E.). As a result of these discoveries, Graham Cave was declared a National Historic Landmark in 1961. Ancient peoples were so drawn to the cave thanks to its large size. The opening spans 120 feet and is 16 feet high, and the cave originally extended about a 100 feet inside but debris fills in much of that space. Today, a fence prevents visitors from going deep inside but interpretive panels provide information about the cave. The park also features hiking trails, picnic tables, campsites, and a boat ramp on Loutre River.
Images
Graham Cave is one of the more significant historical and cultural sites in Missouri.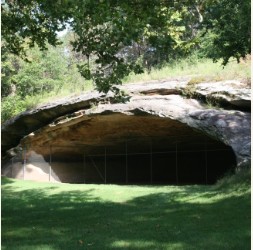 Backstory and Context
The cave formed where dolomite and sandstone meet. Over time, flowing water, freezing, and wind hollowed out the cave. It is named after settler Dr. Robert Graham, who bought the land with the cave in 1847. Interestingly, in 1816 he previously bought property along the Loutre River from Daniel Morgan Boone, a son of the famous pioneer and explorer Daniel Boone.

Graham's son, D.F. Graham, sheltered his farm animals in the cave and began to collect artifacts he found. Upon his death, his son, Benjamin, donated his father's collection to the University of Missouri sometime before 1930. That year, archaeologists from the university visited the cave in 1930. It wasn't until 1949, however, that the university started excavations at the site. This first round of excavations ended in 1955. In 1964, the last Graham family member to own property donated it to the state in order to create the park. The second round of excavations took place between 1967-1968. No other excavations have occurred since then.
Sources
"Ancient History Revealed." Missouri State Parks. Accessed June 6, 2019. https://mostateparks.com/page/54966/general-information.

Weiss, Francine. "Graham Cave." National Park Service - National Register of Historic Places Nomination Form. October 15, 1966. https://npgallery.nps.gov/GetAsset/76b1759e-dfc9-4aa2-87ca-bee94fb59b89.

Uhlenbrock, Tom. "Prehistoric Graham Cave marks 50 years as state park." Springfield News-Leader. November 19, 2014. https://www.news-leader.com/story/sports/outdoors/2014/11/19/prehistoric-graham-cave-marks-years-state-park/19288745.

Photo: Missouri State Parks
Additional Information