The Rotunda
Introduction
Added to the National Register of Historic Places in 1995, the Rotunda is red brick octagonal building constructed by the Gasconade County Agricultural Association in 1864. The building was originally used as an exhibition hall for agricultural fairs and other events such as horticultural exhibits and wine-judging competitions. The building is one-story tall and features a pavilion roof with double cupolas. The building's solid construction and arched windows were typical for Missouri-German architecture of the period when octagonal barns were common in northern Germany. The building is also significant for its association with German culture and the grape-growing and wine-making industry, which began around 1844 and prospered until the onset of Prohibition in 1920. Today, the Rotunda is owned by the city and used for community functions, weddings, and other events.
Images
The Rotunda was built in 1864 to be the centerpiece of annual agricultural fairs.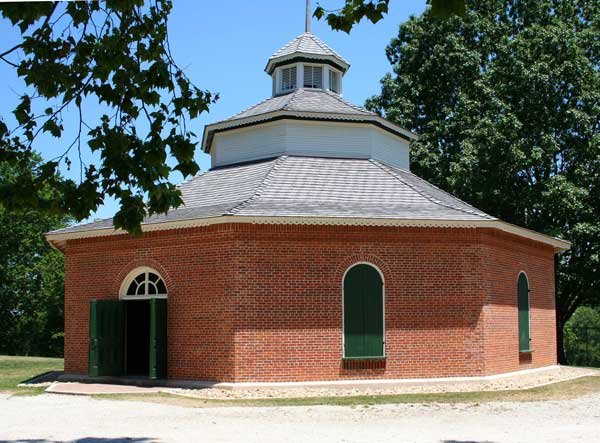 The building is available to rent and used for a variety of community events.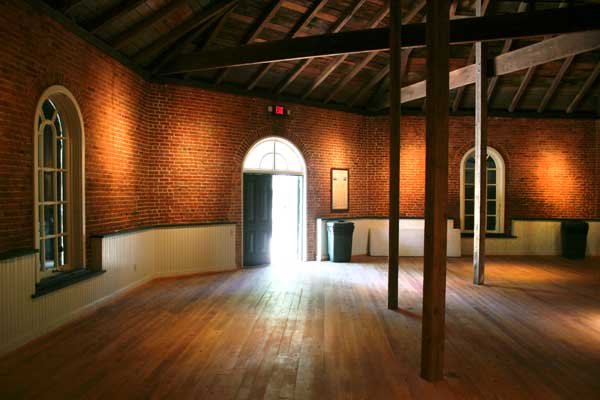 Backstory and Context
A German organization called the German Settlement Society of Philadelphia founded the City of Hermann in 1836. The Society wished to establish a community in a remote area where they could maintain German culture, language, and traditions. The site of Hermann was chosen because it resembled the Rhineland in Germany. Within a few years, the community boasted a population of 450, 90 houses, two hotels, and a post office.

Residents intended to farm traditional crops but soon realized this was impossible because the soil was too rocky. They did, however, see native wild grapes growing in abundance and began to grow grapevines for wine-making. It was almost an immediate success and the wine they produced was considered high quality. The industry continued to grow in the coming decades and by the 1860s Hermann was rivaling Cincinnati and upstate New York as the biggest wine-producing area in the country.

The Gasconade County Agricultural Association was established in 1857 and the majority of its members were wine producers. The association bought six acres of land to use a fairground and built the Rotunda to be the centerpiece of its annual fairs.

As noted above, Prohibition effectively ended the wine-making industry and the association sold the fairgrounds and the Rotunda to the city in 1923. For the next three decades or so, the building was used for a variety of purposes including dances, plays, exhibitions and other social activities. Unfortunately, it was not maintained during these years and was set to be torn down in 1950. Determined to prevent this, a local group called the Brush & Palette Club offered to restore the building, thereby saving it from demolition.


Sources
Blackwell, Claire F. "Rotunda, The." National Park Service - National Register of Historic Places Nomination Form. November 2, 1995. https://dnr.mo.gov/shpo/nps-nr/95001180.pdf.

"Rotunda Building." City of Hermann. Accessed June 5, 2019. http://hermannmo.com/rotunda-building.

Ward, Mindy. "Celebrating ag history in the city." September 21, 2018. https://www.farmprogress.com/farm-life/celebrating-ag-history-city.

"Rotunda and Upper Park Revitalization." City of Hermann. Accessed June 5, 2019. http://sandbox.ktishosting.com/hermann/restoration-information.

Photos: City of Hermann
Additional Information