Jane Gates Heritage House
Introduction
Jane Gates, a former slave, was born in 1819. In the seven years between Maryland's Emancipation and 1871, Jane Gates worked as a laundress and a nurse, amassing the $1400 she needed to purchase a home on Greene Street in Cumberland, Maryland. An amazing feat for anyone, but made even more amazing because Jane was the mother of five. 145 years later, one of her great-great grandsons, John Gates, and his family are in the process of turning that home, that was so important to early African Americans, into a place that once again will serve the Cumberland community, The Jane Gates Heritage House is a symbol of freedom. Freedom for African Americans and a celebration of the American Dream in its purest form. It is notable that the Gates family has traced ancestry dating back to the very beginnings of the United States, and Jane Gates raised her family in Cumberland as free people since the early 1800s.
Images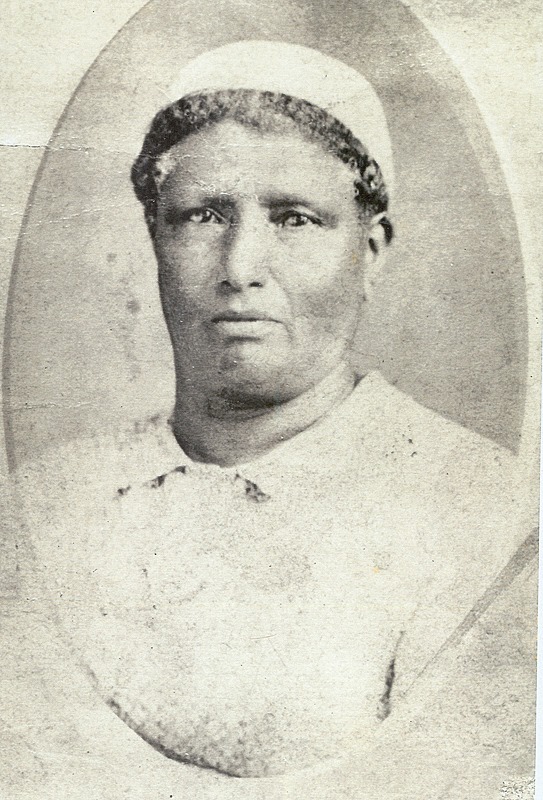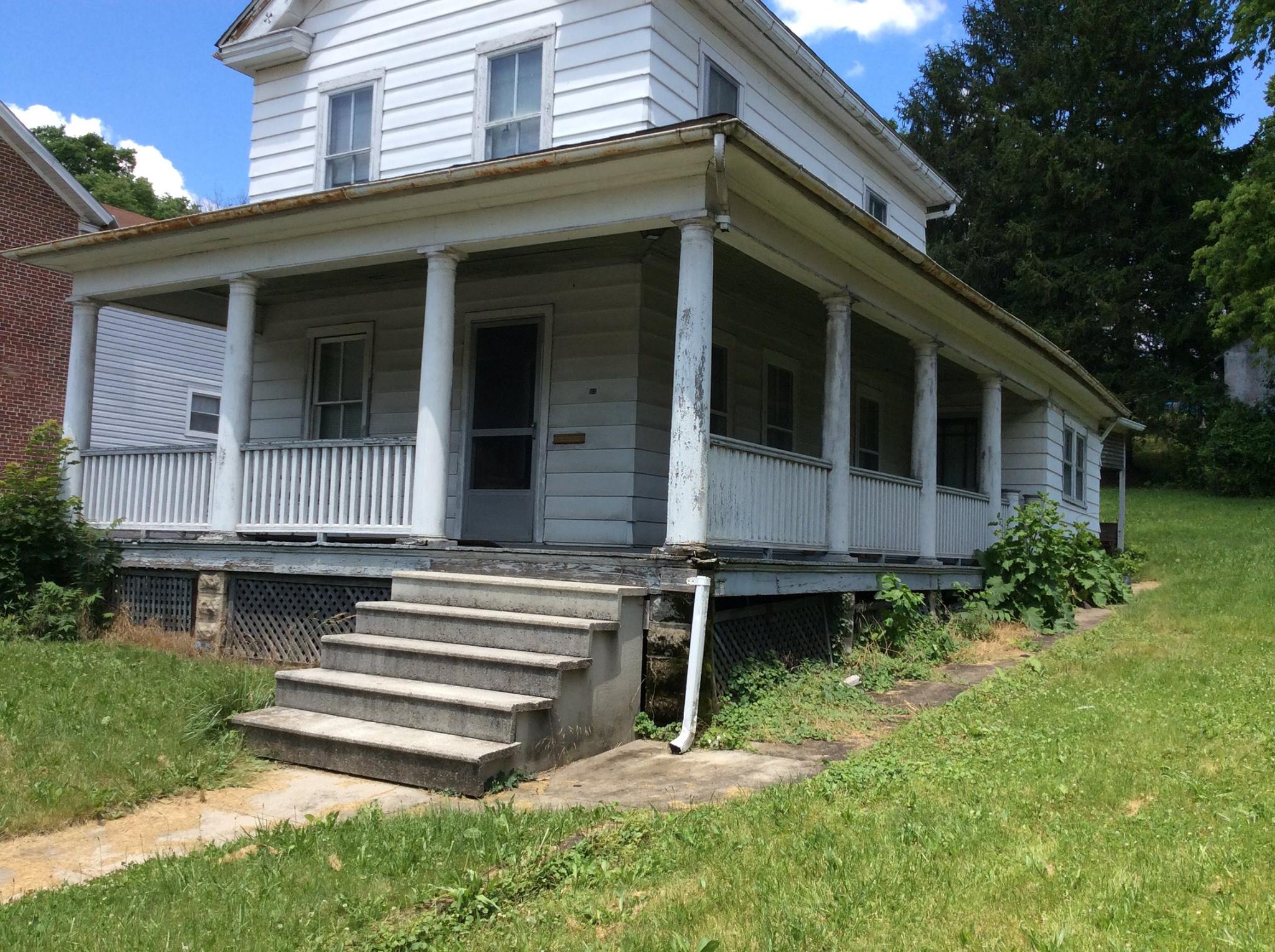 515 Greene Street - Side View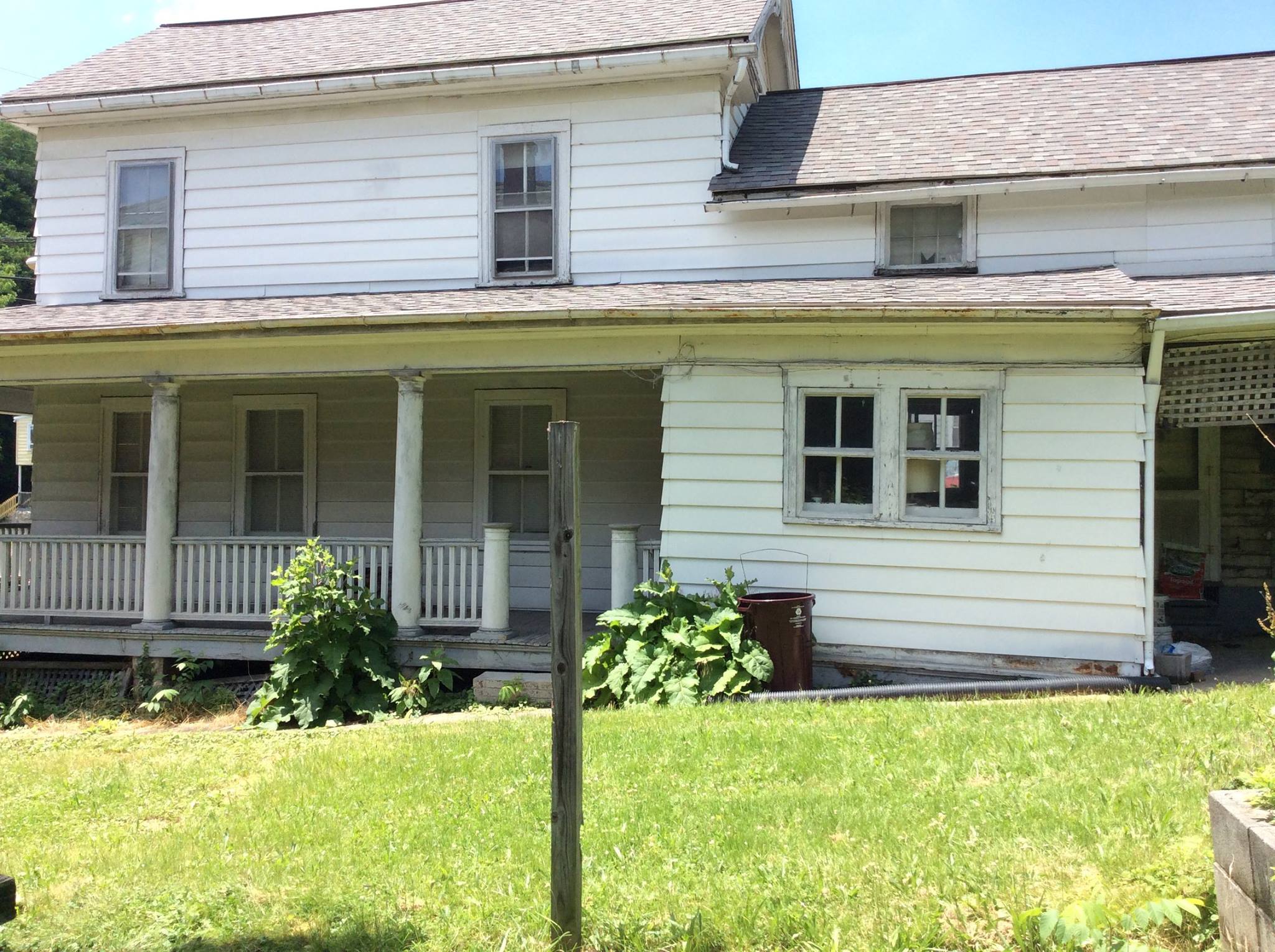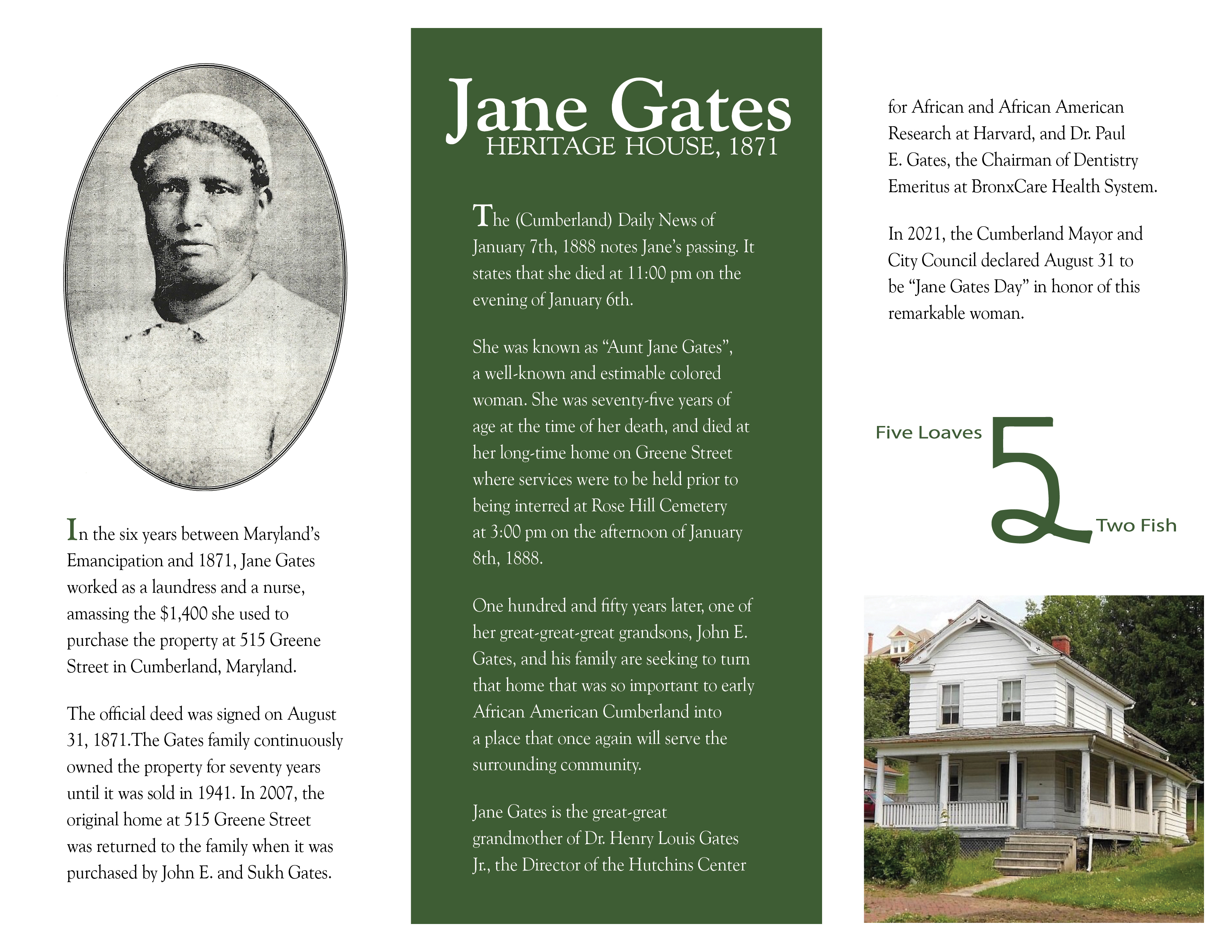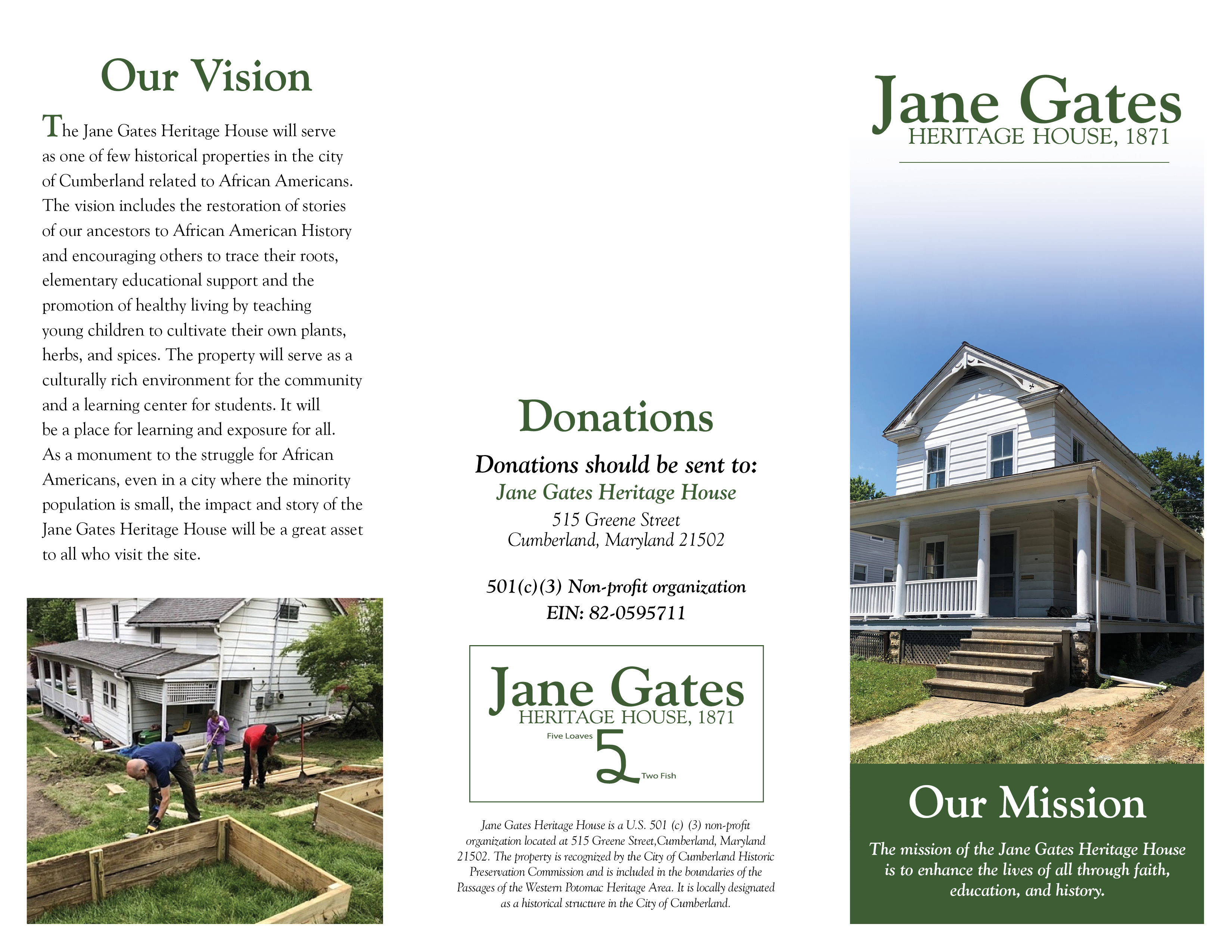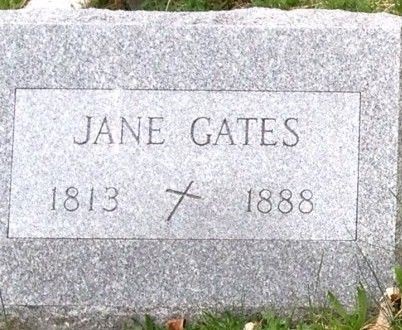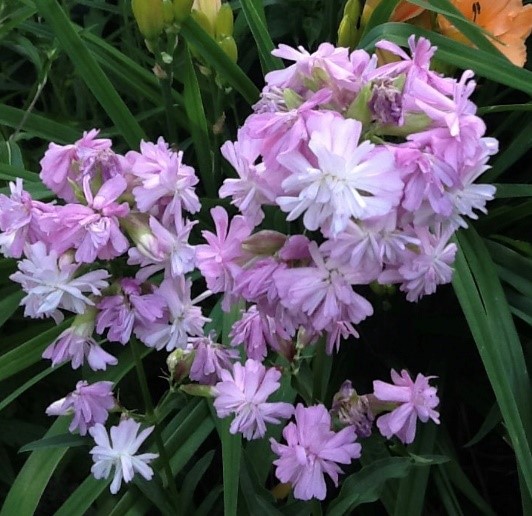 Backstory and Context
MISSION STATEMENT:
The mission of the Jane Gates Heritage House is to enhance the lives of all through faith, education, and history. Along with African American history, there will be teaching elementary-aged children crucial life skills such as growing and preparing food and healthy living.
VISION:
The Jane Gates Heritage House will serve as one of the few historical properties in the city of Cumberland related to African Americas. The vision includes the restoration of stories of our ancestors to African American history and encouraging others to trace their roots, elementary educational support and the promotion of healthy living by teaching young children to cultivate their own plants, herbs, and spices. The property will serve as a culturally rich environment for the community and a learning center for students. It will be a place for learning and exposure for all. As a monument to the struggle for African Americans, even in a city where the minority population is small, the impact and story of the Jane Gates Heritage House will be a great asset to all who visit the site.
Death Notice:
The (Cumberland) Daily News morning edition of January 7, 1888, notes Jane's passing with the headline "DEATH OF AUNT JANE GATES".
"Last night at 11 o'clock "Aunt Jane Gates," colored, a family servant of the Stover's died in the 75th year of her age. She has lived for a long time on Green Street where her death occurred. Her remains will be interred at Rose Hill Cemetery tomorrow afternoon at 3 o'clock. Services will be held at her residence on Green Street. It states that she died at 11:00 pm on the evening of January 6th."
Backstory
Sharing the story of Jane Gates is a tangible testament to life in America. Not only does this home embody the accomplishment of facing life after slavery, but it is also a monument to freedom, renewal, and a centerpiece in this community where future generations can engage in expression, socialization, learning, and dialogue. Here is a learning environment for all to learn about racism, struggle, and overcoming adversity in spite of racial tensions to forego your own path to success. This home will bring attention to the history of African Americans and their will to overcome deplorable conditions as slaves and find a path to prosperity. This house will the stories of the past come to life, and this may inspire and help guide others as they too try to find their roots and embark on a journey to find their path to survival while creating their own legacy.
The JGHH is a true representation of the quest for freedom, equality, and opportunity that all people, especially people of color are looking to obtain in American society today. In this house, we can follow Jane. See her humble beginnings, how she lived, how she provided for her family as a single mother and grandmother, and how important family is to success today. Jane Gates is an example of work ethic, determination, strength, and resolve. By sharing stories, experiencing life in the 19th century, and gaining perspective on the life skills necessary to survive in those times we hope to appreciate Jane's struggle, sacrifice, and successes. Notably, Jane Gates was a well-respected member of the community. She is one of few, African Americans "permitted" at the time to be buried amongst the rich and elite at Rose Hill Cemetery. Her prominence, demeanor, and skills elevated her to heights unheard of at this time in history.
Learning Gardens
The Learning Gardens at the Jane Gates Heritage House are the result of a collaboration between the JGHH and the University of Maryland Extension Master Gardener program. Built and cultivated over the course of 18 months in 2020 and 2021, the gardens feature fruits and vegetables common to 19th-century household gardens and will be open to school groups, private tours, and during Open House events. These gardens consist of four raised beds for vegetables, a small bed for fruit along an existing wall, and a pollinator garden along the fence that borders the alley. The JGHH received a grant from the Maryland Commission on African American History and Culture to renovate the house but not the grounds. A $600 grant was obtained from the Allegany Work Group of the Western Maryland Food Council to build the raised beds. While inspecting and weeding the garden beds, a flowering plant was noticed that was not planted by the Master Gardeners. It was a volunteer that had re-seeded and spread itself from the times past and was identified as Soapwort.
Soapwort, whose botanical name is Saponaria officinalis, may be more familiar to you as bouncing Bet or wild seed William. European colonists brought soapwort to America because it had several essential uses. Sap from the roots and stems can be combined with water to create a lathery soap solution traditionally use to clean delicate textiles and woolen fabrics. The plant naturalized throughout North America. Further inquiry from our Master Gardener revealed that bouncing Bet (short for Bess) is an old English nickname that means washerwoman.
Further inquiry led to an archeological dig in 2019 led by Oxbow Cultural Research principal Suzanne Trussell who found remnants of burned wood behind the house, near to where the soapwort grows. This was overseen by consultants brought in from Texas as well as nearby Pennsylvania. Members of the Western Maryland Archaeological Society assisted and as a learning experience members of the general public were also invited to participate.  The wood was on the ground at an angle, which may indicate Jane used a tripod to hold a large kettle over a fire.
This simple plant led to the probable daily routines, methods, and challenges Jane potentially faced. The mission of the JGHH is to learn from Jane by connecting the past to the present and this providential discovery of this inconspicuous plant shed light on the remarkable life of Jane Gates.
Additional Information