Paseo Boricua
Introduction
The Paseo Boricua is a section of Division Street in the Humboldt Park neighborhood of Chicago. This site is historically significant because it is the location of both of the Division Street Riots.The Division Street Riots occurred in 1966 and 1977 and they consisted of Puerto Ricans protesting police brutality and the general discrimination of Puerto Rican people. This site is accessible to the public as it is a portion of a public street.
Images
https://chicagoganghistory.com/division-street-riots/ This picture is from the 1966 Division Street Riot. The image shows rioters flipping a car over. Over the course of the three day riot many cars were flipped and many buildings were destroyed. Es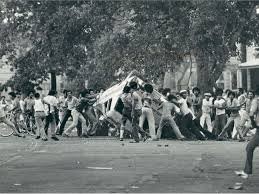 https://www.pinterest.com/pin/855543260431673718/?lp=true A car burns near the intersection of Division Street and Damen Avenue. Not only would protesters flip cars over, but they would also set them on fire as a sign of defiance. As seen from this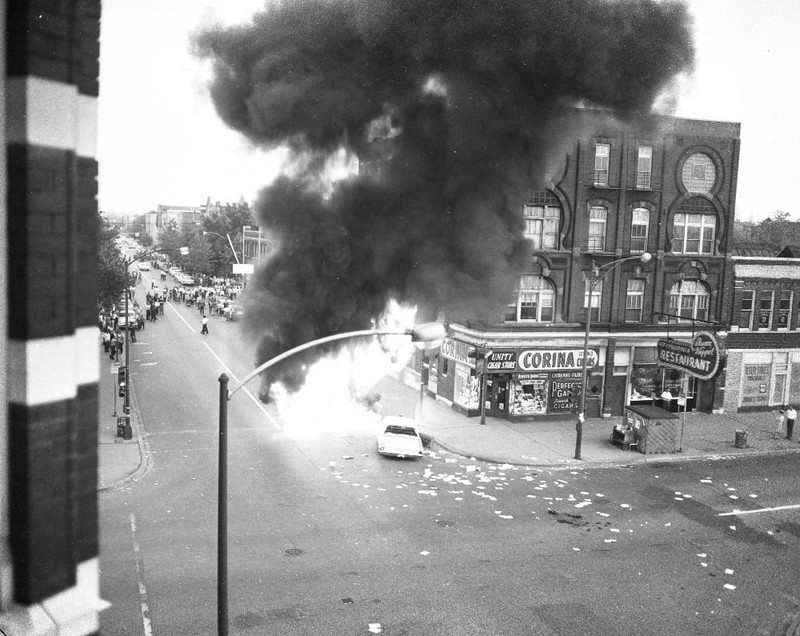 Backstory and Context
In both of the Division Street Riots, the conflict started with a white police officer inflicting unnecessary violence on Puerto Rican men. In 1966, during the first Chicago Puerto Rico Week, a white police officer shot Arcelis Cruz, a Puerto Rican man, in the leg. In 1977, a white police officer shot and killed two men, Julio Osorio and Rafael Cruz. Both of these incidents sparked multi-day riots that led to multiple injuries and arrests. The aftermath of these riots also led to social and political changes in the Puerto Rican community in Chicago.

In 1966 mayor Richard Daley declared that Chicago would celebrate "Puerto Rico Week" every year during the first week of June. After the first day of celebrations Thomas Munyon, a white police officer, shot Arcelis Cruz, a Puerto Rican man, in the leg near the intersection of Division Street and Damen Avenue. When word of this spread throughout the community, the Puerto Ricans started to riot. The riots consisted of attacking police officers by throwing things at them and tipping over police cars and setting them on fire. The riots became more intense because reporters such as Carlos Agrelot would broadcast what was going on. The riots lasted for three days and in the end 16 people were injured and 49 were arrested. However, these riots did lead to positive change in the Puerto Rican community in Chicago. Following the riots there were many conversations about equality and there were many community organizations like the Latin American Defense Organization were formed.

In 1977 after the Puerto Rican Day parade on June 4th, there was an altercation between another white police officer and Puerto Rican men. This time, the officer, Thomas Walton, shot and killed both Julio Osorio and Rafael Cruz in Humboldt Park near the intersection of Division Street and California Avenue. This incited another riot, this time much bigger and more dangerous than the one that occurred in 1966. The riot that ensued involved more than 3,000 people and lasted for a day and a half. Within that day and a half some extreme incidents occurred including a high speed chase with the police and a building being set on fire and rioters throwing rocks at firemen who tried to put out the flames. A man named Domingo Claudio was found dead in the rubble four days after the riot, in the remains of the grocery store that was under his apartment. There was also a bomb that went off in the Cook County Building causing $6000 dollars in damage, although no one was hurt. The Puerto Rican separatist group FALN took credit for the attack. In the end 116 people were injured and 119 were arrested. Unlike the Division Street riot of 1966, there was no direct action taken after the riot of 1977. There were no new community organizations or cultural centers formed. However, these riots did make Puerto Ricans in Chicago have a more radical view of police and inequality.

Through these two riots on Division Street in Humboldt Park, there is a significance to the relationship between the Puerto Rican people and the Chicago police force. Especially after the Division Street riot of 1977, there was little to no accountability from the Chicago government or police force. There was a gag order issued about the riot and police officers involved were not allowed to talk about the riot. The police officer who killed the two men was not prosecuted. This causes distrust and dislike that could easily persist into modern day. The site of Paseo Boricua specifically is a symbol of the Puerto Rican people in Chicago and how they did not give up or give in to the discrimination going on around them. It is also a constant reminder of the past and the people who were lost or fought for the community during the Division Street riots of 1966 and 1977.

Today, Humboldt Park and Paseo Boricua is home to a rich and lively Puerto Rican community. The stretch of Division Street that is nicknamed Paseo Boricua contains many Puerto Rican shops and restaurants along with cultural centers such the National Museum of Puerto Rican Arts and Culture. Currently there are no monuments specific to these riots or those who died in them. However the steel flags marking Paseo Boricua, and Paseo Boricua as a whole, can be seen as monuments commemorating those who fought for Puerto Rican rights during the Division Street Riots.


Sources
Méndez, Mervin (1997) "Recollections: 1966 Division Street Riot," Diálogo: Vol. 2 : No. 1 , Article 6.

The Division Street Riots: 50 Years of Raising Latino Voices. Spanish Coalition for Housing. June 02, 2016. Accessed May 30, 2019. http://sc4housing.org/2801/.

Smith, Scott. Humboldt Park Riots Remembered. Chicagoist. June 14, 2006. Accessed May 31, 2019. https://chicagoist.com/2006/06/14/humboldt_park_riots_remembered.php.

"2 Killed, 49 Injured in Chicago Violence." The New York Times(New York)June 05, 1977. , 1-1.

Lubasch, Arnold H. "Woman Is Charged In F.A.L.N.Blast." The New York Times(New York)September 08, 1977. .