Casa Yari
Introduction
Founded by Yari Vargas and co-owner Hector Ruiz in 2013, Casa Yari is truly Yari's house. Casa Yari is a restaurant that serves Puerto Rican and Honduran cuisine with vegan, vegetarian, and gluten/allergen-free options. As a staple in the Logan Square community, it was voted the Best Restaurant in Logan Square for 2018 Best of Awards and Top 20 Best Desserts in Chicago in 2016 and 2017. Chef Yari embodies the pathways that many Hondurans in the Chicagoland area took before her and her restaurant serves as a historical representation of Hondurans making their mark in Chicago. As Logan Square begins to face gentrification, preserving this locally owned restaurant is important to keeping both Honduran and Puerto Rican culture alive in the area.
Images
The front entrance of Casa Yari at 3268 W Fullerton Avenue, Chicago, IL 60647. The vibrant red entry invites customers in for dine in or carry out options. Noted on the windows is the BYOB option for the restaurant.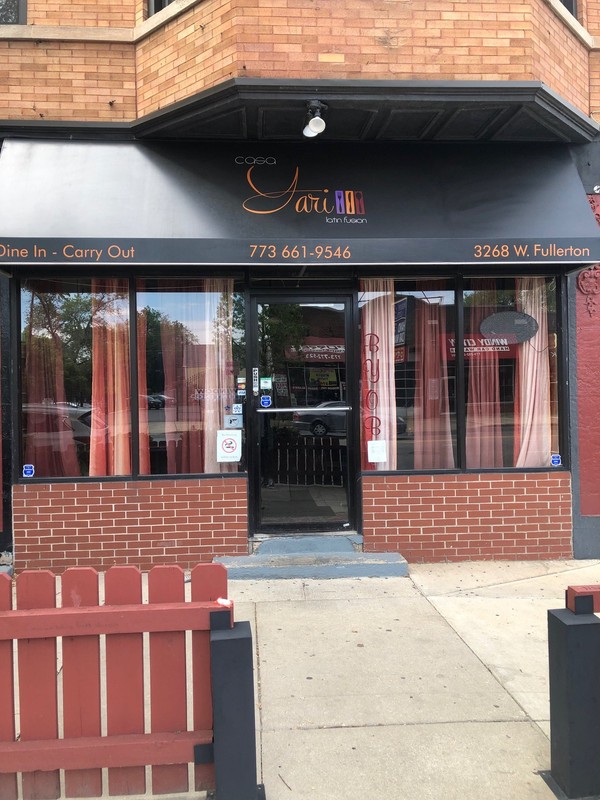 Vegan Honduran Machuca made from mashed sweet and green plantains and topped with avocado, micro greens, and a crispy eggplant smothered in coconut creole sauce. The regular Honduran Machuca is made with their catch of the day and shrimp.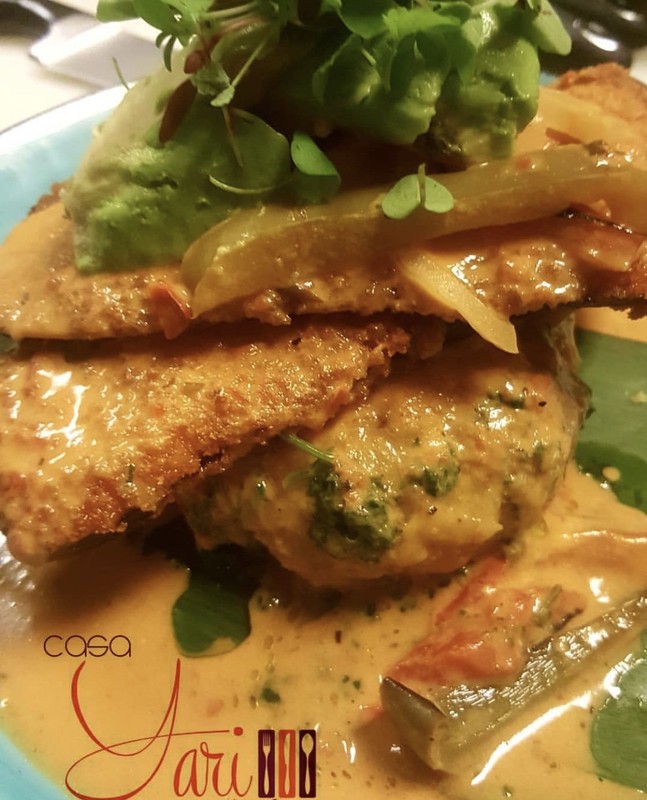 Vegan and gluten free Honduran empanadas stuffed with soy chorizo and potatoes and topped with pickled cabbage, kale salad, and spicy avocado sauce. Picture courtesy of Chef Yari Vargas (casayari).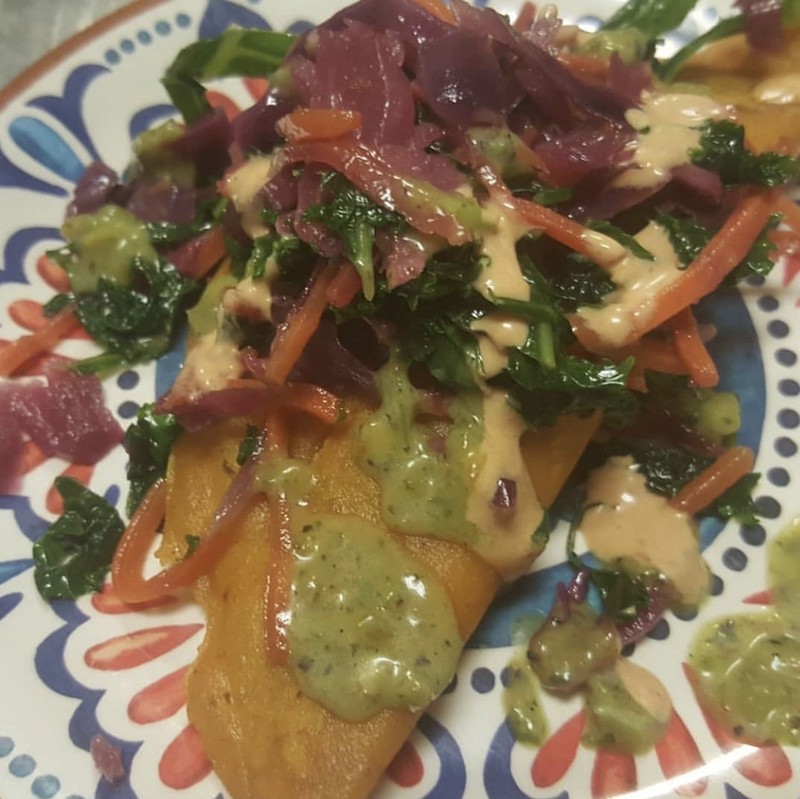 Backstory and Context
Beginning in the early twentieth century, the first Honduran immigrants began arriving in Chicago for a variety of reasons. Many came to the area to study at Midwestern universities to practice medicine, engineering, or other professions. By the 1960, many Hondurans settled in South Chicago, Little Village, and Humboldt Park. These Hondurans came together in the 1970s and 1980s to form formal associations like Hondureños Unidos and La Sociedad Civica-Cultural Hondureña. These associations were committed to preserving Honduran culture and education in Chicago. By the 1990s this became harder because many Hondurans moved to Logan Square, Uptown, South Chicago, West Town, Albany Park, and New City. Generally, Hondurans were drawn to Chicago because of the employment opportunities including construction and factories for the men and domestic jobs for the women. However, when traveling from Honduras to the United States, they face danger and expenses. Once some Hondurans reach the United States, they have to earn enough money to pay their family members back for helping them or send money back because of poverty in Honduras. Many testimonies mention Honduran immigrants working in the food industry to earn this pay because the accessibility of these employment opportunities.
Some of these Hondurans even start their own businesses. Similarly, Yari Vargas has done this more than once. Born and raised in Humboldt Park as a bi-cultural Honduran and Puerto Rican, she wanted a way to showcase her culture through food. She learned to cook from her Puerto Rican mother, uncle, grandma, Honduran father, and Guatemalan mother-in-law. She had learned a lot of her cooking skills from having to cook for her uncle and brother while her mother worked and went to school. Yari officially started her culinary career after moving to Logan Square at 20 years old. She owned an at home catering business while also working a full time job at a commercial kitchen. After ten years of doing this, she worked as a kitchen supervisor or sous chef at a university for five years. She wanted to have her own freedom to showcase her culture and use her creativity how she felt best. However, it was not easy because Puerto Rican cuisine is referred to as fast, cheap, greasy, and unhealthy, while Honduran cuisine is not know at all because of it being a third-world country. She felt like it was her duty to change that. However, she needed a push to finally have the courage to open up a restaurant. With the help of co-owner Hector Ruiz who believed in her dream and goals, she had the help to build the restaurant she wanted. It was because of his trust in her business plan and cooking experience that led this restaurant to be what it is today.
Because of the importance of culture to the restaurant's vision, Yari makes her food from scratch, just like her ancestors did. She does not take shortcuts or add unnecessary ingredients, but instead elevates both cuisines while also teaching people that the food from these cultures are worth showing off and worthy of paying downtown prices. She also cooks with her own seasonings made from scratch and MSG free. Likewise, her father makes sure to bring her back the best ingredients from Honduras to serve her customers. Five years ago, Casa Yari began to convert their menu to include vegan options -- all homemade. She was primarily driven to make the options for vegan and vegetarian cuisine because of her family. Her father has coronary heart disease and her mother is lactose intolerant with high blood pressure and both benefit from plant-based diets. Likewise, her daughter became a vegetarian at three years old, so Yari wanted to learn how to make hearty and flavorful vegan and vegetarian options. Therefore, today, 90% of the menu converts vegan by using seitan, jackfruit, eggplant, soy, hearts of palms, and portabella mushrooms as substitutes to meat items. For example, when they have their Arroz con Pollo special, there is an option with jackfruit instead of chicken. Chef Yari even has 45 different flavors of flan and 15 of them are vegan. Therefore, the food served at Casa Yari is not necessarily "traditional" because of Chef Yari's twist. Although this seems like big success, it has not been easy for Yari. As a Latinx female chef in a male dominated industry, she feels like the industry is divided and that Latinx are the backbone of the industry itself. Also, some of the older generations have critiqued her cuisines from some traditions like the mofongo shaped in a ball and served with a small side of chicken broth and lettuce and tomato. She respects her family recipes by using the same ingredients, but with a twist. Overall, Yari wants to continue her culture in Chicago while also showcasing the new generation.
Today, Logan Square is facing gentrification. In the 1950s and 1960s, working-class Latinos lived in Lincoln Park. However, in the 1980s, more elite families moved in the area and forced the working-class Latinos to move west into Logan Square and Humboldt Park. Similarly, working-class Latinos are being threatened again. According to U.S. Census data, more than 19,200 Latinos moved from Logan Square between 2000 and 2014. Consequently, the area's Latino-owned businesses followed. For example, Panaderia La Central, a 35-year-old Mexican bakery, closed due to slow business. As one of the only Honduran based restaurants in Logan Square, Casa Yari is one of the few places in the are that Honduran culture can persevere through threats of gentrification. Yari even struggles with keeping the business open. It require long hours being on her feet and sacrificing time with her family. As a small business owner, she has to rely on the support of the community and the effects of gentrification threaten their livelihood. Yari wishes that the people that she grew up with were still in the area, but they can no longer afford to live there. She thinks fear of a community changing is not good, but does not want to lose cultural practices like cooking either.
Because of the nature of the neighborhood, Casa Yari deeply appreciates their customers. Hector ensures to remember everyone's names and their dietary restrictions. They even say that their customers have become their family. To Chef Yari, food is deeply connected to family. Yari has been quoted saying, "Food reminds me of family; I cook for everybody, that's who I serve. Most of my customers have become vegan because they started coming to eat with people who are vegan and they were curious so they learned how to be vegan." Therefore, her customers deserves the best she can offer and she aims to expand their culinary experiences.
Overall, the historical importance to a site like this relates back to both the history of Hondurans in Chicago and the cultural trend of gentrification and erasure of Latinx spaces. These actions create subsequent conflict within groups as well as with others. Although Chef Yari evolves traditions, she continues to reinforce the Honduran and Puerto Rican cooking culture into the community and her customers. As she puts her home on a plate, she brings the food that influenced her childhood and adulthood to others. There is a sense of transnationality in her food that reminds them of home and the cultural impact of this is important for immigrants during a time that they may not feel welcome in the United States. As Hondurans in Chicago face discrimination and threats of deportation, a restaurant reflective of their traditions serves as a reminder that their lives are ever evolving, but that like Hondurans before them, they will make a home out of Chicago. As Yari says, "Food is one of the biggest cultures that we can maintain. It's my duty to keep my culture alive through food."
Sources
Caldwell, Kate. Hondurans. Encyclopedia of Chicago. Accessed May 26, 2019. http://www.encyclopedia.chicagohistory.org/pages/600.html.

Meet Yari Vargas of Casa Yari in Logan Square. Voyage Chicago. January 16, 2018. Accessed May 17, 2019. http://voyagechicago.com/interview/meet-yari-vargas-casa-yari-logan-square/.

Chu, Shanti. Inside Casa Yari: Dedicated to Cultural Strength, Change Through Culinary Art. Logan Squarist. November 13, 2018. Accessed May 21, 2019. https://logansquarist.com/2018/11/11/casa-yari-restaurant/.

Zhao, Lu. Hondurans: A new life in Chicago. Social Justice News Nexus. November 14, 2018. Accessed May 29, 2019. http://sjnnchicago.medill.northwestern.edu/blog/2018/11/14/hondurans-new-life-chicago/.

Perry, Grace. Hipster Logan Square Is Done. What Now?. Chicago Mag. June 14, 2018. Accessed June 09, 2019. https://www.chicagomag.com/city-life/June-2018/Hipster-Logan-Square-Is-Done-What-now/.


Additional Information