La Esquina Del Sabor Catracho
Introduction
La Esquina del Sabor Catracho is located in a small, unassuming building on the corner of N Laramie Ave and W Deming place. The front of the building features a sign for the restaurant with a picturesque tropical scene of Honduras and an outline of the country covered in the Honduran flag. The restaurant was opened in 2016 and is owned by Doris Molina, a Honduran immigrant from the region of Olancho. Though the restaurant is located on the Northwest side of Chicago, American influence is slight. There is no English translation of the main menu, and Spanish is the language of operation for customers and those working in the restaurant alike
Images
The desayuno tipico features meat, eggs, beans, plantains, pico de gallo, cheese, and avocado. It is served with a tortilla.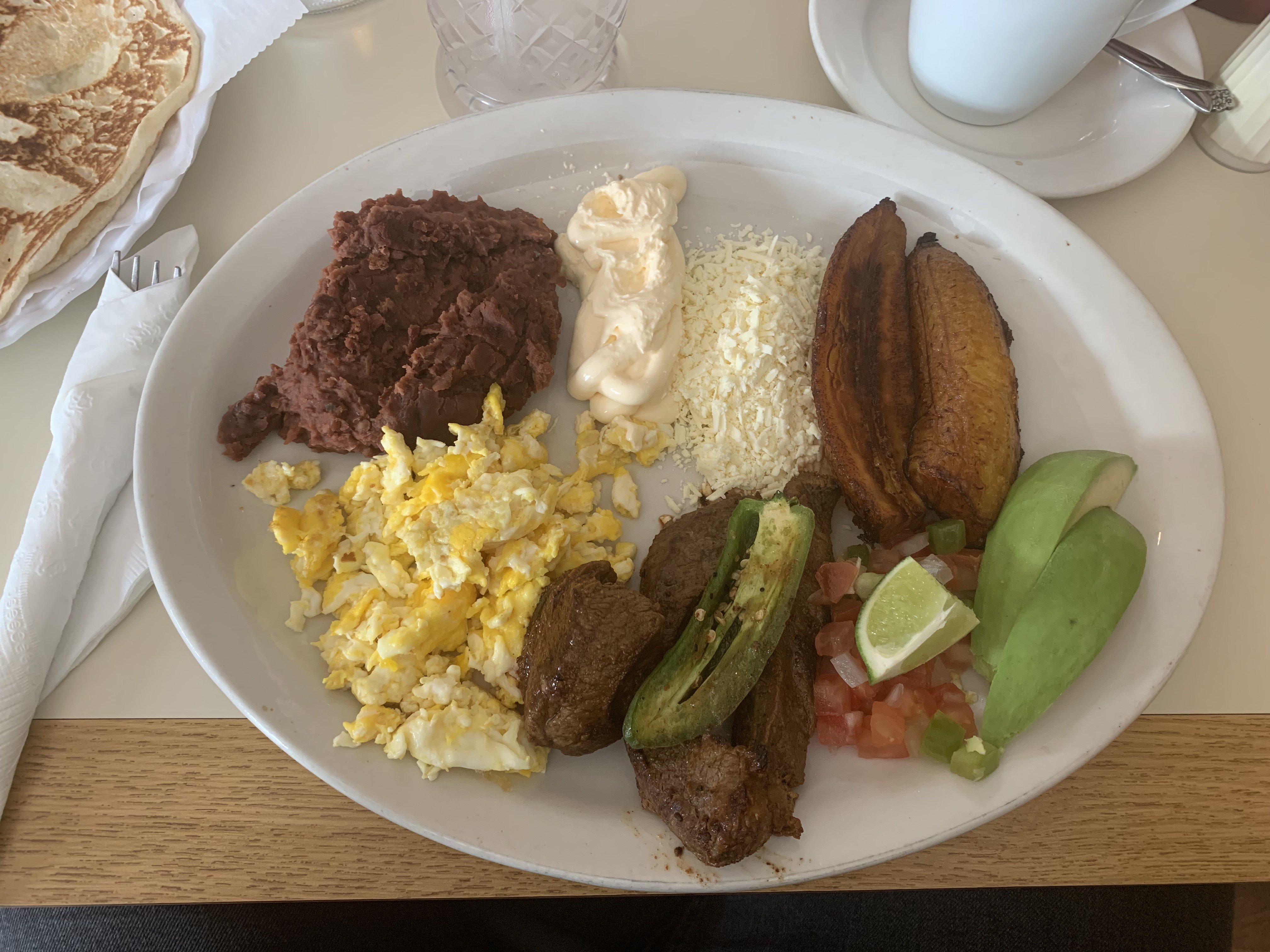 The view of the restaurant from the street.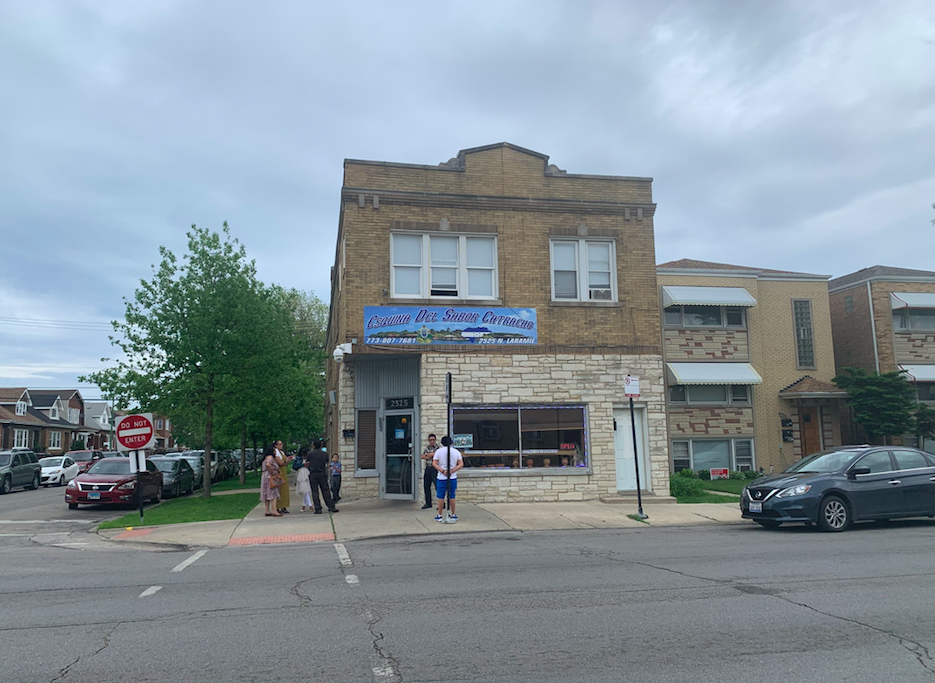 The inside of the restaurant has a quaint feel and is decorated with Honduran souvenirs and flags.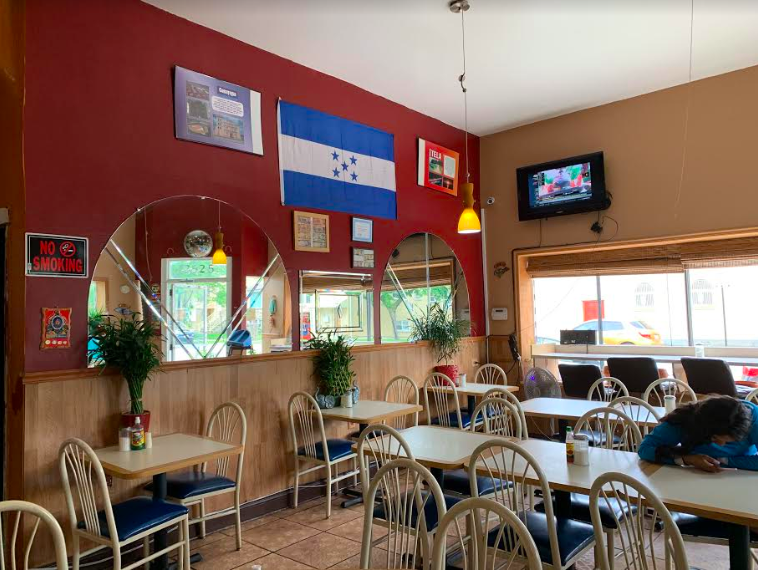 Backstory and Context
La Esquina del Sabor Catracho, which translates to "the corner of Honduran flavor," is located in the heart of the Belmont Cragin neighborhood. The restaurant faces a church, Iglesia de Dios: Embajadores de Cristo, and is just down the street from a music store called La Voz Hispana, a daycare center called Memito's academy, and many other Latino businesses. A quick drive down this stretch of Laramie avenue and it is no surprise that Belmont Cragin's population is 80 percent Hispanic or Latino, according to survey data collected in 2016.1
The modest, two story brick building was built in 1925.2 Before the restaurant opened in 2016, the building housed a bodega owned by a Uruguayan family. When the bodega closed and the restaurant opened, it drew in a crowd of mostly Hondurans, as well as a few El Salvadorans, Mexicans, Guatemalans, and people from other Latin American countries. Still, all of Molina's regular customers are Honduran.3

The menu features a wide array of Honduran classics. A few examples of the traditional Honduran food the restaurant has to offer include desayuno tipico, containing meat, beans, eggs, avocado, plantains, pico de gallo, cheese, and a tortilla, baleadas, and pastelitos de maiz o harina. Molina says her most popular dish is pollo con tajadas, or fried chicken served with plantain slices.

Restaurants and food are an important part of any immigrant community. Food can tie a community to their home country, and provide comfort as they navigate an unfamiliar environment. "Among other strategies, immigrants cope with the dislocation and disorientation they experience in new and unknown spaces by recreating a sense of place around food production, preparation, and consumption, both at the personal and interpersonal levels".4 La Esquina del Sabor Catracho is very authentic, both in the food they serve and in the environment of the restaurant. The crowd when I walked in the restaurant was entirely Latino, and perhaps this is because of the familiar space it provides to a community so far from home.
Honduran immigrants began arriving to the city of Chicago in the early twentieth century.5 Over time, Hondurans have had little success forming formal associations for the diasporic community. Hondureños Unidos was one unsuccessful attempt at organization. It was established in 1970 and then dissolved a few years later.6 La Sociedad Civica-Cultural Hondureña is a current organization that organizes through Facebook, but with only moderate success.
When Molina came to the United States, she chose Chicago because her family already lived in the city. She chose to open a restaurant because she had always enjoyed cooking and found a significant enough Honduran population in Chicago. She noticed a lack of Honduran restaurants in the city, and wanted to provide the food of her home country to the Honduran immigrants living in the city.7

For such a small community with little official organization, small, family restaurants like La Esquina del Sabor Catracho are important for community building. When church lets out on Sundays, Hondurans in Chicago may not have a community center or a host of professionally planned activities, but they will always be able to walk into this restaurant and get a taste of home.
Sources
1 "Community Data Snapshot- Belmont Cragin." cmap.illinois.gov. MetroPulse. Retrieved May 29, 2019.
2 "2525 N Laramie Ave." https://www.redfin.com/IL/Chicago/2525-N-Laramie-Ave-60639/home/13439563. Retrieved May 28, 2019.
3 Doris Molina, interview by author, Chicago, June 9, 2019.
4 Parasecoli, Fabio. "Food, Identity, and Cultural Reproduction in Immigrant Communities." https://muse.jhu.edu/article/549124/pdf. Retrieved May 30, 2019.
5 Caldwell, Kate. "Encyclopedia of Chicago: Hondurans." http://www.encyclopedia.chicagohistory.org/pages/600.html. Retrieved May 5, 2019.
6 Caldwell, Kate. "Encyclopedia of Chicago: Hondurans."
7 Doris Molina, interview by author, Chicago, June 9, 2019.