El Rinconcito Cubano
Introduction
Located in Chicago's Logan Square neighborhood, the opening of El Rinconcito Cubano created a space where Cuban immigrants and Cuban-Americans could be transported back to Cuba. With many antiques, posters, and flags lining the walls, the restaurant fostered a broader sense of bringing together the community. Many people of Cuban heritage would gather here and eat, talk, and learn about what the island was like before Castro took over or just hang out and smoke a cigar. Juan and Magda Suarez opened El Rinconcito Cubano in 1990, as one of the few Cuban restaurants in the Chicago area. They received rave reviews from many different food critics and publications that deemed them as one of the most authentic Cuban restaurants around. Unfortunately, the Suarez family closed the restaurant in October of 2017; they did not give a reason for the closure.
Images
Ropa Vieja with moro and yuca. A shredded beef stew in a tomato sauce with bell peppers. (Source: El Rinconcito Cubano Facebook page)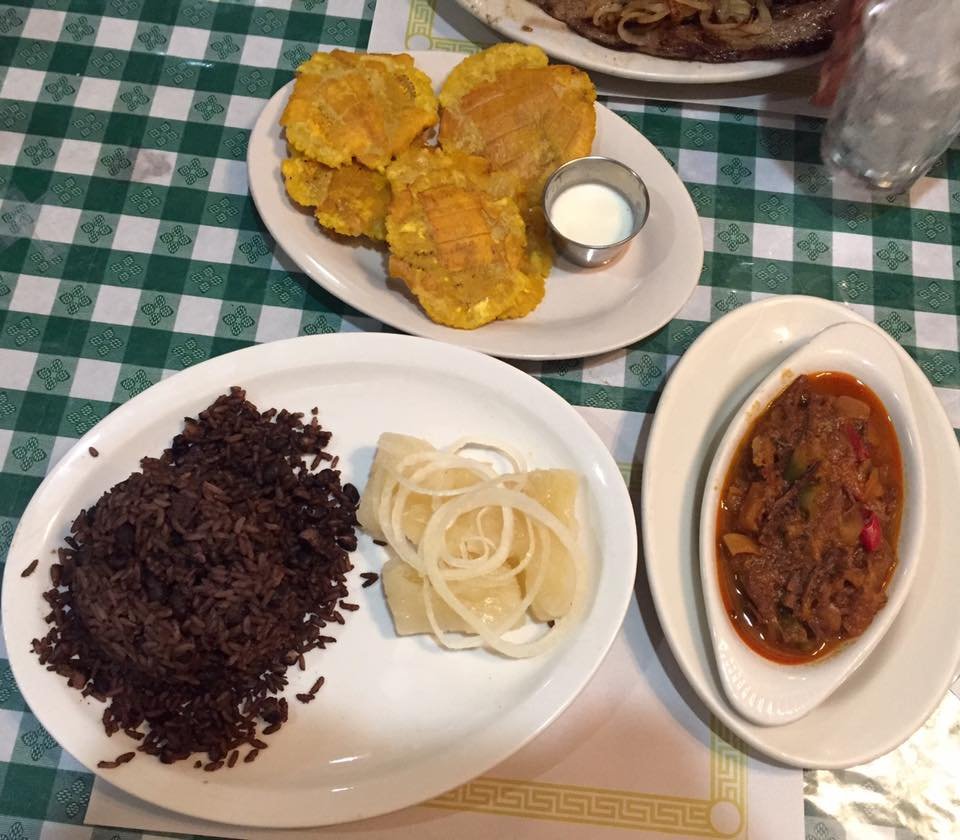 Outside the restaurant. (Source: Zomato)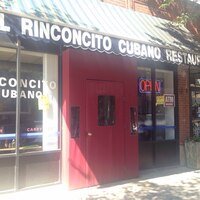 Inside the restaurant. (Source: Airbnb.com)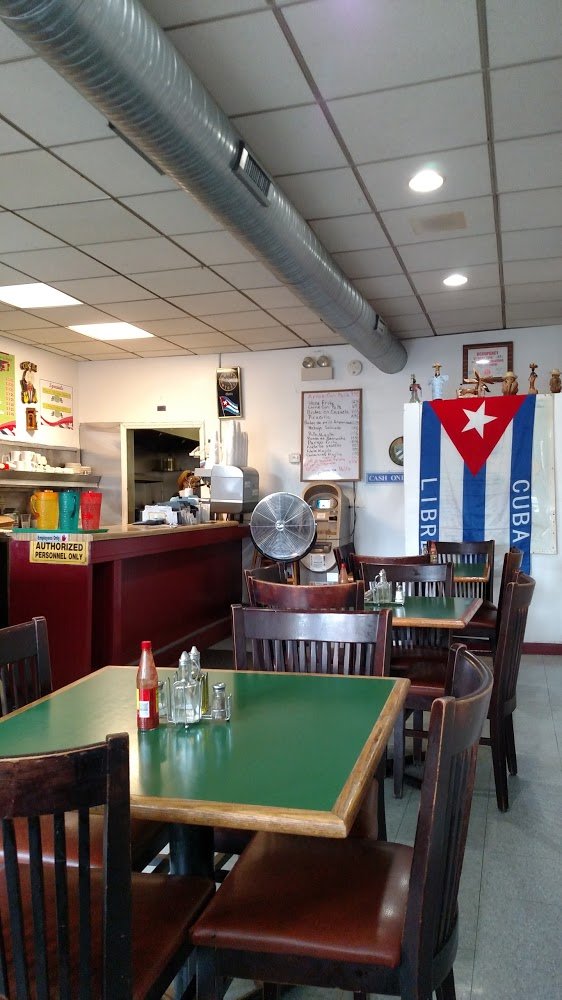 A menu from the restaurant. (Source: Zomato)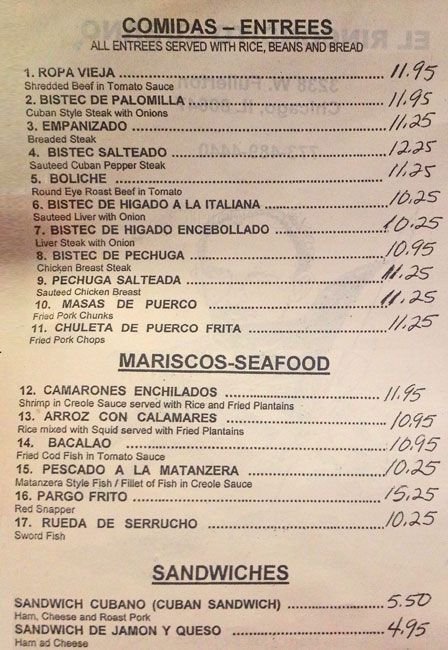 Backstory and Context
Throughout the different waves of Cuban immigration, Cuban migrants received help from different sources. In 1961, the U.S. government created the Cuban Refugee Program to which they spent about one billion dollars on over the course of fifteen years (stopped funding in 1976). This program consisted of monthly welfare checks, healthcare, bilingual education, funds for resettlement, and more. The Catholic Church was also very involved in helping Cuban migrants resettle in different places across the United States. Chicago's Catholic Charities was especially helpful with resettling Cubans in Chicago. *Casa Central, Chicago's largest Latino social service agency then, and the Church World Service, an organization of fourteen Protestant denominations, came together to help Cubans resettle in Chicago by providing housing (many were placed in apartments in Logan Square) and different basic needs to help them feel comfortable so far from home.
Strong opposition to his communist regime is what brought the first wave of migrants to Chicago and is what continued to bring Cubans to the United States for a period of almost forty years. The first wave of migration took place from 1960 to 1962 when Fidel Castro overthrew Fulgencio Batista's regime and put his own communist regime into practice. The majority of these Cuban migrants were white upper class, well-educated citizens and professionals. There was not one specific area where Cubans decided to settle. Cubans lived in neighborhoods on the North Side, western suburbs, Irving Park, and Logan Square. Many Cubans had the intent to move out into the suburbs when they had enough money. However, there was still a strong Cuban presence in terms of business in Logan Square. On a few blocks of Milwaukee Avenue, Cubans owned many of the businesses on a popular shopping strip like jewelry stores, bars, furniture stores, and music stores. Elias Sánchez, a Cuban immigrant, opened up his small grocery store in 1974 which soon turned into a bustling Cuban restaurant called Tania's. Many people would go to Tania's to eat, drink, and dance. It was a place where Cuban people would go to hang out and embrace their culture: a predecessor to El Rinconcito Cubano.
It is unclear when Juan Suarez immigrated to the United States but his wife, Magda Suarez, came to the United States in 1963. Her uncle, Angel Luis Castillo, came to Cuba and brought her back to the U.S.. Sixteen years later, he was killed in an attempted invasion of Cuba. In the late 1980s, Juan and Magda opened up their restaurant, El Rinconcito Cubano, in Logan Square. Serving traditional Cuban dishes like ropa vieja and croquettas, it quickly became known for its delicious, authentic food. All throughout the restaurant were flags, posters, and other antiques highlighting the Suarez's Cuban heritage. Not only was it a place to eat but it was also a space where Cubans could go to and truly feel connected to their cultural roots. Orlando Miranda, owner of Taste of Cuba restaurant in Chicago, said "It wasn't just a restaurant, but a center of the tight-knit Cuban community in Chicago." Many online reviews describe the restaurant as an important part of the community, a place where everyone seems to know each other, and where you can find old Cuban men smoking cigars outside. It became a place where Cubans in Chicago could go and connect with others about their time on the island and what life used to be like.
With an emphasis on the strong community they created at their restaurant, Magda Suarez embraced that notion in every way she could. The third wave of Cuban immigrants came in 1980 on the Mariel Boatlift. Castro had announced that anyone who wanted to emigrate to the United States could do so, from Mariel Harbor, and this brought more than one hundred thousand Cubans to the shores of Florida. During this wave, the migrants were mostly young, single, uneducated men who didn't speak English and were called "Marielitos." Magda always tried to assist Cuban immigrants from the Mariel Boatlift, or "Marielitos." One of the Marielitos was her cousin, Ruben Castillo. Castillo's father was Magda's uncle who brought her to the United States who was then later killed in Cuba. He was detained by the U.S. government in Virginia and according to the article, had been for about a year. Magda contacted immigration lawyers and did everything she could to try and help him. There was no information about what ended up to Ruben Castillo but he was at risk for deportation. Magda Suarez didn't stop at just helping her cousin, she helped a handful of others as well. She would collect clothing and furniture for them, hosted four Marielitos in her own home, and gave one a job at El Rinconcito Cubano. She would try and find employment, as well, for other Marielitos who she couldn't employ at her own restaurant. Magda Suarez said in an interview with The Chicago Tribune, "Many Marielitos come here to eat. The food is cheap, and they feel at home here. All the things we have hanging from the walls bring back memories. They like to talk about the places they left behind." This is another example in how the restaurant facilitated a strong Cuban community.
It is evident that El Rinconcito Cubano played an important role in providing a space where Cubans in the Chicago area could come together and remember their heritage. The Suarez family also became a source of assistance for those Marielitos who needed the extra help in a foreign country. Food is meant to bring people together and in this instance, it took people back to the island they left and allowed for them to reminisce. Although the restaurant closed down in 2017, it is still a significant part of the cultural history of the presence of Cuban people in the city of Chicago.
Sources
Cruz, Wilfredo. City of Dreams: Latino Immigration to Chicago. 2007. University Press of America.

Casuso, Jorge. "Tense vigil for a 'son' still unmet." The Chicago Tribune (Chicago) December 10, 1987.

Casuso, Jorge. "A homeland beyond reach: Chicago Cubans look back at the revolution." The Chicago Tribune (Chicago) January 01, 1989.

González, Mirza L.. Cubans. Encyclopedia of Chicago. . . http://www.encyclopedia.chicagohistory.org/pages/356.html.


Hammond, David. El Rinconcito Cubano. Chicago Reader. . . https://www.chicagoreader.com/chicago/el-rinconcito-cubano/Location?oid=1025411.

Wong, Grace. "Taste of Havana brings Cuban food and drinks to Logan Square, plus other restaurant news." The Chicago Tribune(Chicago)September 24, 2018. .