Shelving Rock Encampment/ Resting Place
Introduction
At this location in 1790, a detachment of soldiers known as the Overmountain Men camped here on their way to their victory over British forces in the Revolutionary War. The site is unique as one of only a handful of remaining sites that are connected to the war and located west of the Appalachian Mountains. Shelving Rock Encampment is part of the Overmountain Victory Trail and less than a mile north of Roan Mountain State Park. The militiamen who camped here in 1790 were on a march to North Carolina to fight the British in a pivotal victory at the Battle of King's Mountain. At that time, the area sheltered by the overhanging rock was much larger than it is today owing to the construction of State Highway 143 in the 1960s. The Overmountain Men used the sheltered area to store supplies like gun powder and without this overhang, they might have been ruined by the heavy rain which fell the night of their stay.
Images
Shelving Rock Overhang as it appears today.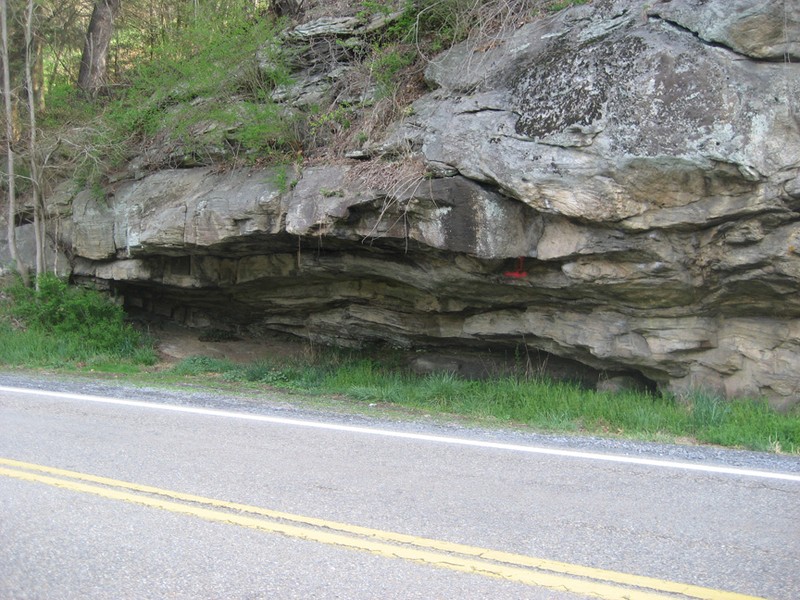 A metal plaque on Shelving Rock reads: "First Night's Encampment of Kings Mountain Men, September 26, 1780. They trusted in God and kept their powder dry. Placed by John Sevier Chapter, DAR, 1910, Reset 1965.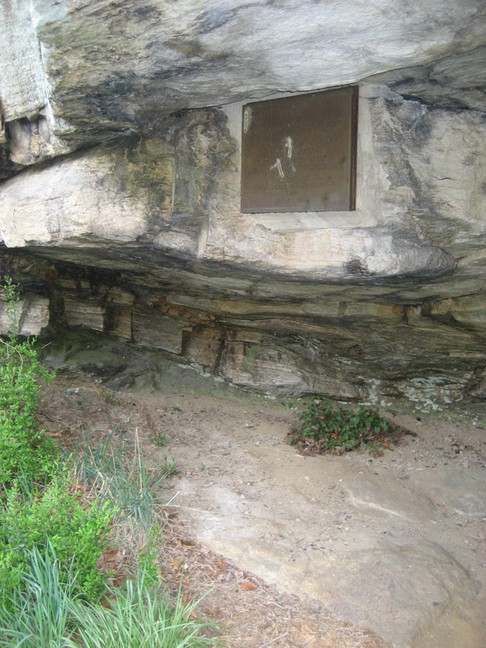 Meadow along the Doe River referred to as Resting Place, as it was used as such by the Overmountain Men the night of September 26, 1780.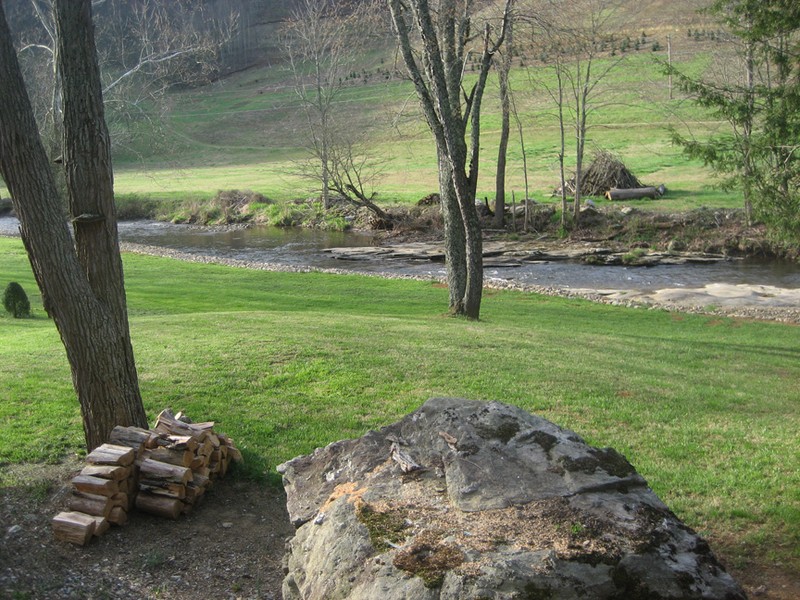 Overmountain Man statue at Sycamore Shoals State Historic Park, Elizabethton, Tennessee.
Trailhead of the 330-mile long Overmountain Victory National Historic Trail, Abingdon Muster Grounds.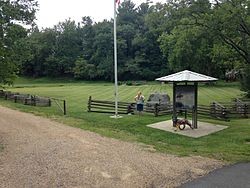 Roan Mountain State Park, Tennessee.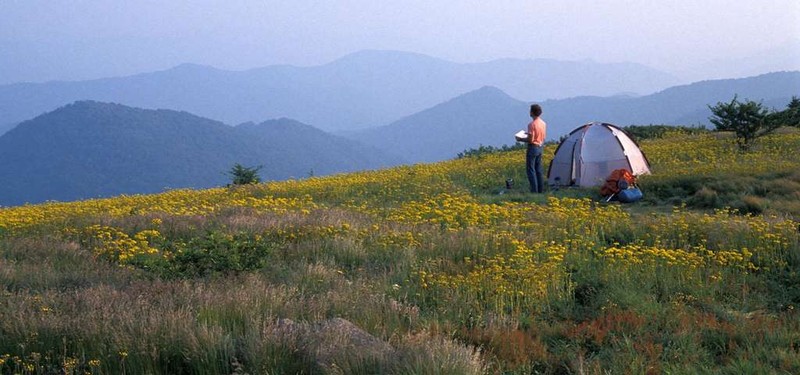 Sign at Overmountain Victory National Historic Trail, Tennessee.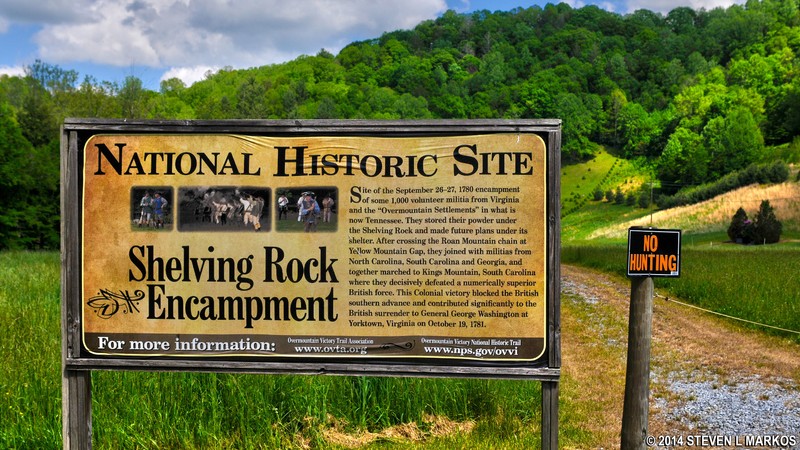 Sycamore Shoals State Park, Tennessee.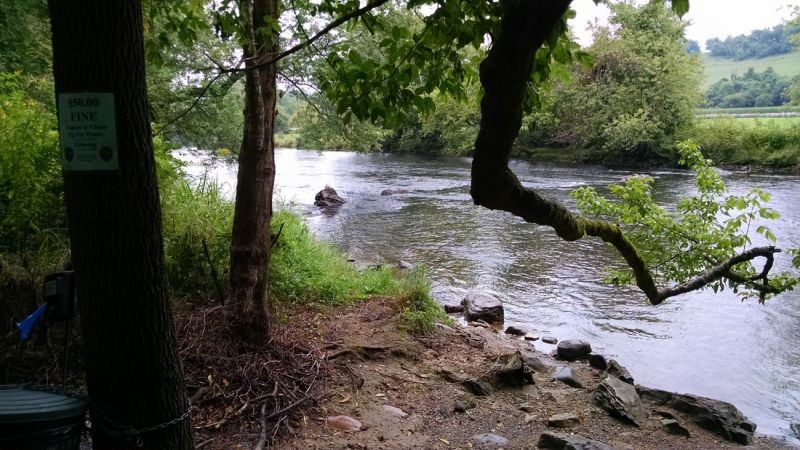 Backstory and Context
The surrounding meadow consists of roughly ten acres bounded by a mountain range to the south and the river valley. In 2007, the property was sold by the heirs of the original owners to a private company with plans to develop home sites. Those plans have been halted because of the Tennessee Department of Environment and Conservation and the Overmountain Victory Trail Association's effort to include the site as part of the Sycamore Shoals State Historic Site and Roan Mountain State Park. These organizations hope to create an interpretive landmark that tells the story of its connection to the Overmountain Men and the Revolutionary War. The site is now utilized each year during Revolutionary War reenactments.

More information about the Battle of King's Mountain
The Battle of King's Mountain is widely thought of today a significant turning point signifying the eventual downfall and defeat of Britain's war effort in America. Before the battle, the land west of the Southern Appalachian Mountains had remained relatively unbothered by, its inhabitants mostly uninvolved in, the fighting between the colonies and the British, although most residents were generally in favor of a colonial uprising to win back their freedom. However, the Overmountain Men (whose name derives from the phrase referencing their homeland: 'over the [Appalachian] mountains') and hundreds if not thousands of other locals nobly accepted their call to patriotic action, when it arrived at last ultimately due to a change in strategy by the British in 1778 resulting from a combat stalemate in other regions, relatively in stride.
Further British developments and strategies that succeeded in states like Georgia and South Carolina inspired much concern for the colonists who feared such developments may lead to the complete re-takeover of several states by Britain. General Washington's initial response to the developments was to deploy Horatio Gates with reinforcements, but it was discovered they were not well-trained and lacked sufficient weaponry far-too-late, as the subsequent battle with the British, in Camden, South Carolina, is today considered one of the worst losses in American Military history. Following his victory in Camden, Colonel Ferguson (of Britain) continued moving further into North Carolina, inspiring a response from Colonel Charles McDowell and Colonel Andrew Hampton (of North Carolina).
McDowell and Hampton felt their chances to combat the British with their initial numbers would be an insurmountable task, and therefore decided to march 160 men through the mountains and into the Watauga Settlement in East Tennessee. Many Overmountain locals, upon hearing of the danger presented by an imminent battle with Ferguson's men, moved their stock and families further back into the mountains and various caves and crevices in hopes of keeping them safe and secure. The remaining Overmountain Men seemed to be the only resistance left standing in the way of Ferguson and his men marching their way even further into colonial territory.
Ferguson sent a written message in a letter to Colonel Shelby (of Tennessee) threatening Shelby and his men to stop combatting the British offensive or they would render themselves brutally fatal victims to the cause. Colonel Shelby met with his men and other colonels who subsequently decided, after three days of debate, to not only continue their fight against the British, but to take direct action in taking the fight to them rather than waiting for them to bring it themselves. Colonels Campbell (of Virginia), Shelby and Sevier (of Tennessee), and McDowell gathered their men together, forming a force of roughly 1,000 fighters, at Sycamore Shoals in Fort Watauga, just outside the city now called Elizabethton, Tennessee. Mounted on horseback and armed with Appalachian long rifles, the men marched southeast through the mountains along Gap Creek, the Little Doe River, and Crab Orchard for over twenty miles before arriving at the referenced Resting Place and Shelving Rock Encampment.
The shelter provided by the encampment was utilized by the Overmountain Men and their comrades to store valuables like gun powder from being ruined by the evening's relentless rainfall. After another meeting which was held under the shelter of Shelving Rock, the colonels and their men decided to advance through the mountains to the Yellow Mountain Gap even more quickly than they had originally planned, eventually reaching Quaker Meadow near the town known today as Morganton, North Carolina on September 30. Joined by more comrades from Wilkesboro and Elkin who had come to fight with them, the Overmountain Men surged on in search of Ferguson and his men. This clash of men resulting from this search is what is known today as the Battle of King's Mountain, named after the area of the landscape along the border of North and South Carolina where the Overmountain Men found Ferguson and his army.
Upon spotting Ferguson, nearly 1,000 men (the Overmountain Men and their comrades) tied their horses to trees at the bottom of the mountain which was enshrouded with trees and brush. They then made their way slyly back up the mountain in the secrecy and security provided by the landscape until close enough to engage. The battle was short and victorious for the Appalachian frontiersman. After Ferguson was fatally shot along with over 150 of his men and over 150 more wounded, the Overmountain Men simply dealt with the remaining combative survivors and took those who were willing and fortunate as captives (nearly 700 of them), and such was the conclusion of the Battle of King's Mountain.
Sources
Alderman, Pat. The Overmountain Men. (Overmountain Press, Johnson City, TN, 1970).
"Battle of King's Mountain." History. February 9, 2010. May 24, 2019. https://www.history.com/this-day-in-history/battle-of-kings-mountain.

Boyer, Paul S. The Oxford Companion to United States History. (Oxford University Press, 2001).
Draper, Lyman C. Kings Mountain and its Heroes: History of King's Mountain, 1780, and the Events Which Led to It. (Peter G. Thompson, Publisher, Cincinnati, 1881).
Gibbons, Anderson. "Revolutionary War at King's Mountain." Revolution Fabrics. July 8, 2018. May 24, 2019. https://www.revolutionfabrics.com/blog/2018/7/8/what-does-the-revolutionary-war-at-kings-mountain-and-revolution-fabric-have-in-common.

Jones, Randell. A Guide to the Overmountain Victory National Historic Trail, "Shelving Rock," Overmountain Victory National Historic Trail, accessed May 24, 2019, http:/​/​bythewaywebf.​webfactional.​com/​omvt/​items/​show/​19.​
Lancaster, Bruce. The American Revolution (ibooks Simon and Schuster) 1971 & 2003.
"Overmountain Victory." National Park Service. Last updated: March 23, 2017. . https://www.nps.gov/ovvi/index.htm.

"Overmountain Victory National Historic Trail." National Park Planner. May 24, 2019. https://npplan.com/national-historic-trails/overmountain-victory-national-historic-trail/attractions-and-trails-overmountain-victory-national-historic-route/abingdon-to-morganton-attractions-overmountain-victory-national-historic-trail/shelving-rock-encampment-overmountain-victory-national-historic-trail/.

"Roan Mountain State Park." Road Trippers. May 24, 2019. https://maps.roadtrippers.com/us/roan-mountain-tn/nature/roan-mountain-state-park.

Roosevelt, Theodore. The Winning of the West, (ebook, http://manybooks.net/titles/rooseveltth11941194211942-8.html) Web site accessed 5/26/2009.
"Sycamore Shoals State Historic Park." Tennessee State Parks. May 2014, 2019. https://tnstateparks.com/parks/info/sycamore-shoals.

"Sycamore Shoals State Historic Park and Elizabethton Linear Trail."
Tennessee Wildlife Resources Agency
. May 24, 2019. https://www.tn.gov/twra/wildlife/viewing-area/east-tennessee/sycamore-shoals-state-park.html.
Additional Information