Mural by Margaret Kimball
Introduction
The mural was created by Margaret Kimball between June 1st and 8th, 2016. She is an illustrator and writer who lived in Cleveland, Ohio. This artwork is created for the INTER|URBAN, a public art project for the Cleveland's public transit rail system. It is inspired by Martha Collins' poem White Pages. Martha Collins is the one of the winners of the Anisfield-Wolf Book Awards in 2007.
Images
Completed Mural freshwatercleveland.com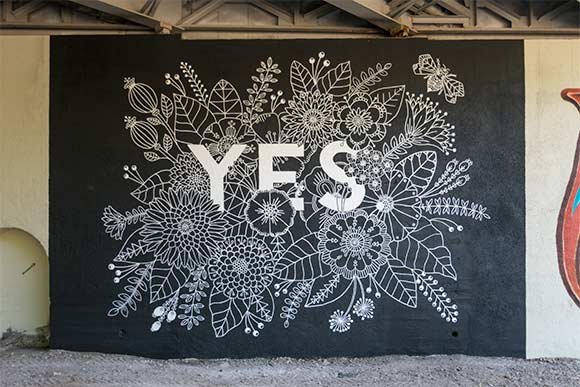 Margaret painting freshwatercleveland.com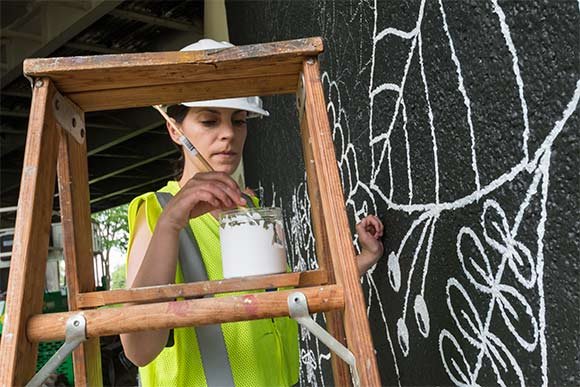 Backstory and Context
The artist: Margaret Kimball
Margaret Kimball is an illustrator and hand letterer. Much of her work is about home and the small forests she ventured during childhood. She works on projects from spot illustrations to hand-lettered logos to murals. Her work can be found on packaging, home decor, gifts, wallpaper, in books, advertising, newspapers, and magazines. Margaret has two MFAs from the University of Arizona, one in visual communication (illustration) and one in Creative Writing (nonfiction). Her BFA is in Studio Art (illustration) from the University of Connecticut.1
Mural inspired by: White Papers
White Papers
was published in 2012. It is a series of untitled poems that deal with issues of race from a number of personal, historical, and cultural perspectives. A quote from Booklist:

Collins continues the inquiry into race that shaped Blue Front (2006) in this startling and provocative collection, exploring the motif and myth of racial 'whiteness.' . . . Within the stark chromatic scale of Black, white, and gray, Collins evokes a dazzling spectrum of palpable emotions, racial tensions, and unraveling binaries.2
Margaret Kimball is featured in the interurban video interview around the 3-minute mark. She explains how her inspiration for White Papers by Martha Collins is focused on the excuses that white people have made not integrating into society. "Yes but not now" "Yes but not in our lifetime" referring to interracial marriages and school integration. "What if we focused on a society that said yes period. Without the but and excuses," She said.
Poem writer: Martha Collins
Martha Collins is one of the Anisfield-Wolf Book Awards winners in 2007. She is a retired Pauline Delaney Professor of Creative Writing at Oberlin College and one of the editors of FIELD magazine and an editor of Oberlin College Press. She established the creative writing Program at the University of Massachusetts-Boston and taught at Oberlin from 1997 to 2007. Collins is from Omaha, Nebraska. She earned a B.A. at Stanford University and holds an M.A. and Ph.D. from the University of Iowa. Before the Anisfield-Wolf Book Awards, her previous honors include fellowships from the National Endowment of the Arts, the National Endowment for the Humanities, the Bunting Institute, the Ingram Merrill Foundation, and the Witter Bynner Foundation for Translation, as well as three Pushcart Prizes. the Alice Fay Di Castagnola Award and a Lannan Foundation Residency Grant.4 Her previous books include two volumes of linked sequences, Night Unto Night and Day Unto Day (Milkweed, 2018 & 2014), and three works that focus on race and racism: Admit One: An American Scrapbook (Pittsburgh, 2016), White Papers (Pittsburgh, 2012), and Blue Front (Graywolf, 2006).5
Anisfield-Wolf Book Awards
"The Anisfield-Wolf Book Awards recognize books that have made important contributions to our understanding of racism and our appreciation of the rich diversity of human cultures." "Cleveland poet and philanthropist Edith Anisfield Wolf established the book prizes in 1935, in honor of her father, John Anisfield, and husband, Eugene Wolf, to reflect her family's passion for issues of social justice." "The Cleveland Foundation, the world's first community foundation, has administered the Anisfield-Wolf prize since 1963."6
INTER|URBAN
"The INTER|URBAN, produced by LAND studio in partnership with the City of Cleveland, the Greater Cleveland Regional Transit Authority (RTA), Northeast Ohio Areawide Coordinating Agency (NOACA), The Anisfield-Wolf Book Awards, and The Cleveland Foundation, is a transformation of Cleveland's public transit rail system into a large-scale public art experience."7 The public art project brought art to commuters on the Red Line. Initially, the project put murals along the railroad. From 2018 it started to install artworks in the trains run on the Red Line.
The 2016 curatorial team Jasper Wong and Fred Bidwell matched the award-winning literature of the Anisfield-Wolf Book Awards with about 20 artists selected from over 300 submissions. It is an ongoing project that more murals will be put out every year.
Sources
1. Kimball, Margaret. About. Margaret Kimball. Accessed May 23, 2019. http://margaretkimball.com/about.

2. Collins, Martha. White Papers. Martha Collins. Accessed May 23, 2019. https://marthacollinspoet.com/book/white-papers/.

3. Jefferson, Tara. Public Art Inspired By Anisfield-Wolf Canon Makes A Splash Across Cleveland. The Anisfield-Wolf Book Awards. June 24, 2016. Accessed May 23, 2019. https://www.anisfield-wolf.org/2016/06/artwork-inspired-by-anisfield-wolf-canon-makes-a-splash-across-cleveland/.

4. Blue Front. Anisfield-Wolf Book Awards. Accessed May 23, 2019. http://www.anisfield-wolf.org/books/blue-front/.

5. About. Martha Collins. . Accessed May 23, 2019. https://marthacollinspoet.com/about/.

6. About the Awards. Anisfield-Wolf Book Awards. . Accessed May 23, 2019. http://www.anisfield-wolf.org/about/the-awards/.

7. About - Art & Culture Connector. InterUrban. . Accessed May 23, 2019. http://interurban-cle.com/about/.


Additional Information