John N. and Elizabeth Taylor House
Introduction
Listed on the National Register of Historic Places, the John N. and Elizabeth Taylor House is a big, Colonial Revival style home in the historic Westwood subdivision. Built around 1909, it is one of the largest and well-preserved houses on West Broadway Street from the early 20th century. When it was built, the home was so impressive that two local promotional publications published pictures of it. In recent years, it was a bed-and-breakfast but is now a private home once again. Although not open to the public, it is easily viewed from the street.
Images
The John N. and Elizabeth Taylor House was built arounc 1909 and is one of the more impressive homes in Columbia.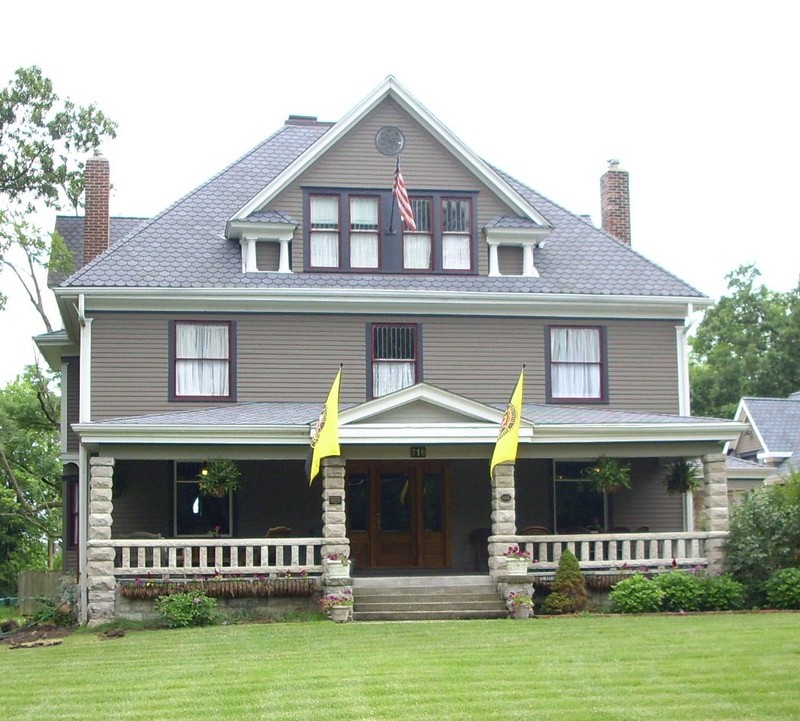 Backstory and Context
John N. Taylor was born in 1850 in Pennsylvania. He went to school until 12 years old then became an apprentice cabinet maker. In 1865, he found work as a cabinet maker in the town of Sigourney, Iowa, where he also got married to local resident Lida Stroup. They would have four children together. They moved to Huntsville, Missouri in 1870 and John started a furniture and undertaking business. He also invested in other business opportunities, including in merchandise or equipment sales.

Sadly, Lida passed away in 1886 but John married Elizabeth, whom he met in Huntsville, four years later and they had seven more children. In the coming years, John opened several other stores in mid-Missouri, including Columbia. He and his family moved into the newly-constructed house in c.1909. It is not clear how long the family there.
Sources
Barker, Jacob. "Now back in private hands, Taylor House is a home again." Columbia Daily Tribune. June 18, 2013. https://www.columbiatribune.com/38015ad6-d842-11e2-a4a0-10604b9f6eda.html.

Sheals, Debbie. "John N. and Elizabeth Taylor House." National Park Service - National Register of Historic Places Nomination Form. May 25, 2001. https://dnr.mo.gov/shpo/nps-nr/01000546.pdf.

Photo: Wikimedia Commons
https://en.wikipedia.org/wiki/John_N._and_Elizabeth_Taylor_House#/media/File:TaylorHouse.jpg
Additional Information