Benedum Campus Community Center, West Virginia Wesleyan College
Introduction
Opened on February 2, 1963, the Benedum Campus Community Center serves many functions for the WVWC community including post office, convenience store, radio station, Service Center, swimming pool, Campus Life offices, and the Community Engagement Center.
Images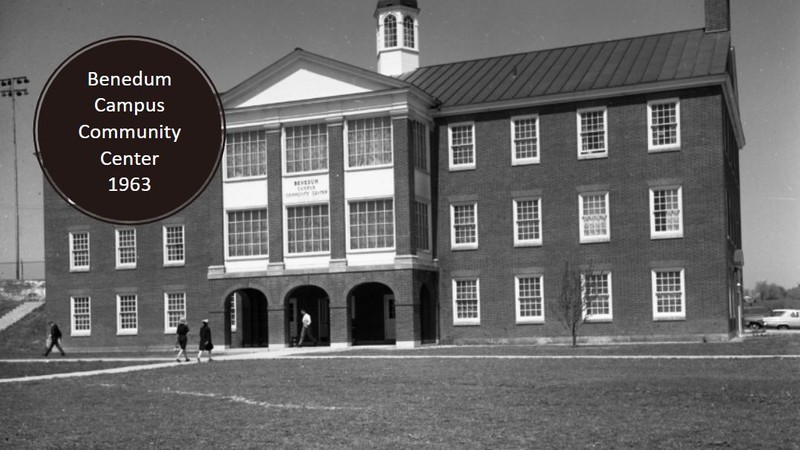 Backstory and Context
When this building opened on February 2, 1963, it replaced a pre-fabricated structure that had been used for many years. Student morale was given a great boost.


Facilities in the center include a swimming pool,post office, coffee shop, book store, radio studios, student organization offices, music listening rooms, six bowling lanes, game room, social hall, faculty lounge, parlor, a roof deck area for dining and dancing, and locker facilities for commuting students. (Plummer)

The goal of the building has remained the same thorughout the years even as the services and details have changed.

Funds from the Claude Worthington Benedum Foundation were a key part of making this building a reality. The Foundation was established by Michael Benedum, a native of Bridgeport, WV, and a devout Methodist, and at one time one of the wealthiest men in America, having made his fortune in the Oil and Gas Business. The Foundation was started in 1944 to honor his son, Claude, who died in 1918 at age 20 in World War I
Sources
Miller, Brett T.. Our Home Among the Hills, West Virginia Wesleyan College's First 125 Years. Buckhannon, WV. West Virginia Wesleyan College, 2016.

Plummer, Kenneth M. A History of West Virginia Wesleyan College 1890-1965. Buckhannon, West Virginia. West Virginia Wesleyan College Press, 1965.