Telephone Central Office
Introduction
Opened November 5, 1895, this Telephone Central Office (Ka'u Kona Telephone and Telegraph Company) marked the completion of the around island circuit for telephone service connecting Hilo, Hamakua and Kohala with Puna, Ka'u and Kona. Luther Aungst was an owner of the Ka'u Kona Telephone and Telegraph Company. In addition to the switchboard and operator, this building served as Mr. Aungst's office and the company headquarters. Hawaiian Telephone built a 'new' exchange next door in 1956. Operators worked there until they were replaced by automated switching equipment in the 1960s. This building also served as the original Holualoa Post Office from May 1897 to June 1900 when the USPS took control of all the Post Offices in the territory of Hawaii. The old Telephone Central Office building is now a private residence - please respect their privacy
Images
Holualoa Telephone Central Office - 1920s (Ueda)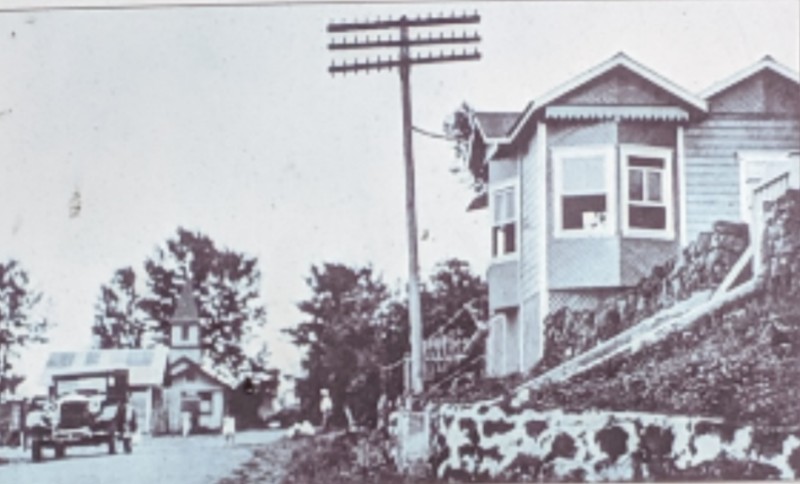 Holualoa Postal Cancellation - Dec 10, 1897 (Rumsey Auctions)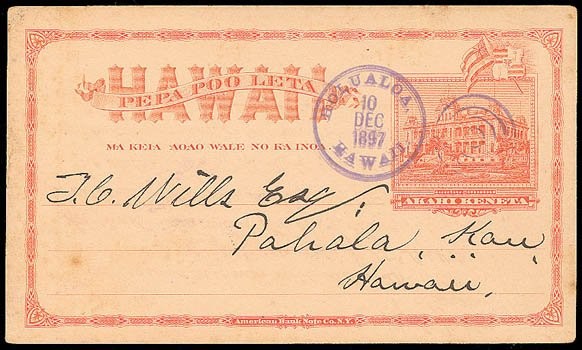 Kona Kau Telephone and Telegraph Company - stock certificate - Mar 14, 1907 to HH Greenwell (Scripophily)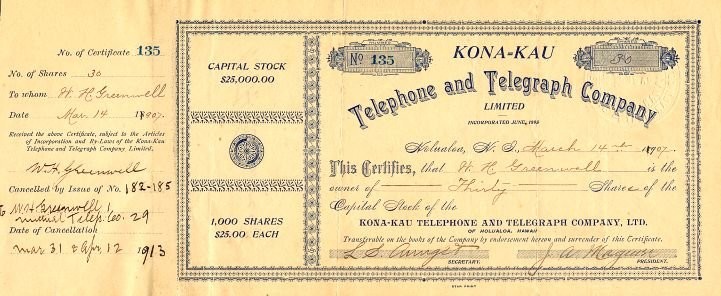 "The telephone office at Holualoa is really quite pretty, situated as it is on a knoll surrounded by kukui trees and painted a light olive with red roof" - Hawaii Gazette Oct 4, 1895, pg 1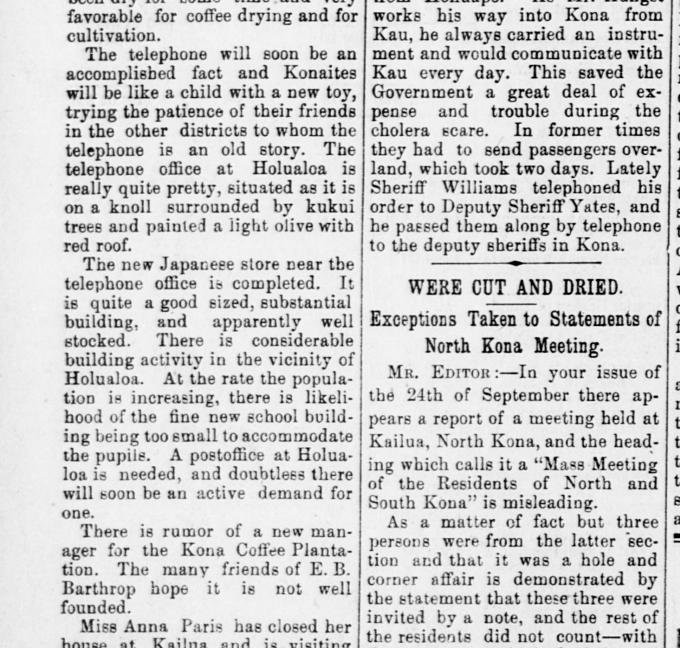 "This saved...a great deal of...trouble during the cholera scare. In former times they had to send passengers overland, which took two days. Lately, Sheriff...telephoned his orders...and..passed them along by telephone to...Kona" HIGaz Oct 4,1895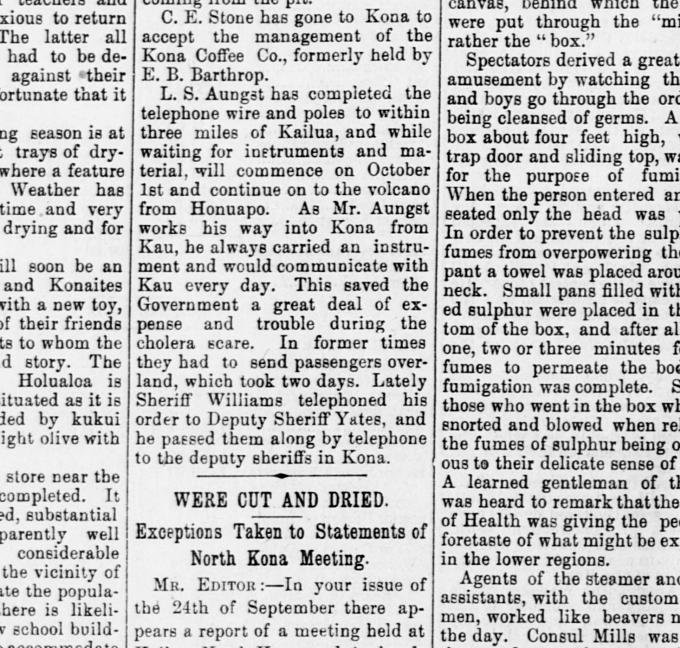 Backstory and Context
Luther Aungst, a Pennsylvanian, was hired in 1890 by Mutual Telephone in Hawaii to improve telephone services on the Big Island of Hawaii. King Kalakaua had already installed telephones in Iolani Palace back in 1879. Aungst and colleague Joseph Pritchard traveled to Germany to acquire state of-the-art equipment for the job.

Aungst secured a royal franachise from the government for the Kona-Ka'u Telephone and Telegraph Company in 1892 (overthrow of the Kingdom of Hawaii began on January 17, 1893). Aungst pushed expansion of the telephone lines from Hilo, personally using mules to drag poles over lava flows south to Ka'u and Volcano Village and north from Hilo to Honoka'a, Waimea, and Kohala. He completed the first around the island telephone service by connecting the west side of the island to the Hilo, Hamakua and Kohala districts' lines. The Holualoa Central Office opened in October 1895.

Aungst also became the first Holualoa Postmaster under Hawaii's independent postal system (Republic of Hawaii) and located the Post Office at the telephone station on May 1, 1897. Hawaii was annexed to the U.S. in 1898 and when it became a territory in June 1900, the United States Postal Service took control of the mail. In the mid 1920s the Post Office moved to to what is now the Holualoa Ukulele Gallery building.

Telephone operators were mostly unmarried women and ethnically Japanese. However, immediately after the Japanese naval attack on Hawaii on December 7, 1941 most operators of Japanese descent were replaced by other ethnic groups until the end of the war.

Hawaiian Telephone built a 'new' exchange building next door in 1956. Operators and equipment moved there until they were replaced by automatic switching equipment in the 1960s.
Sources
Simonds, William A. The Hawaiian Telephone Story. Honolulu, HI. Star Bulletin Printing Co, 1958. pg 20

Tomich, Prosper Quentin. Hawaii: Perspectives on Hamakua History. Honoka'a, HI. P. Quentin Tomich, 2008. pgs 272-275

Siddall, John William. Men of Hawaii: Biographical Reference Library, Complete and Authentic, of the Men of Note and Substantial Achievement in the Hawaiian Islands. Vol. 2. Honolulu, HI. Honolulu Star Bulletin, 1921. pg 321

"Kona Residents are Thankful." Hawaiian Gazette(Honolulu)October 04, 1895. . col 1

"Connected by Wire - Completion of the Kona Kau Telephone Line - Connection at Volcano House." Hawaiian Gazette(Honolulu)October 26, 1895. . "Audible Conversation 245 Miles Around the Big Island - Advertiser Man the First to Use the New Wire" col 1

Oaks, Robert. Hawaii: A History of the Big Island. SC. Arcadia Publishing, 2003. pg 142