Marquette Apartments
Introduction
The Marquette Apartments were built in 1924 at a time when Peoria was in the midst of thoughtfully planning its downtown region. After an influx of government buildings and businesses, such as banks and hotels, arrived in the downtown area, workers sought to live closer to work -- the Marquette Apartments filled that need.
Images
Marquette Apartments, Peoria, IL.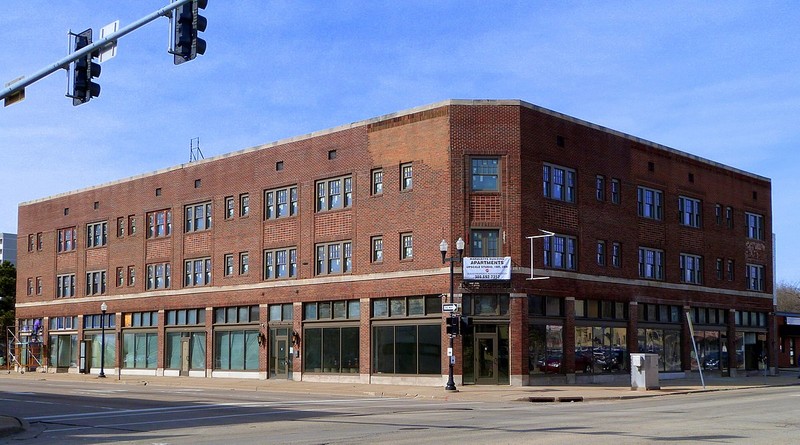 Downtown Peoria during the 1920s.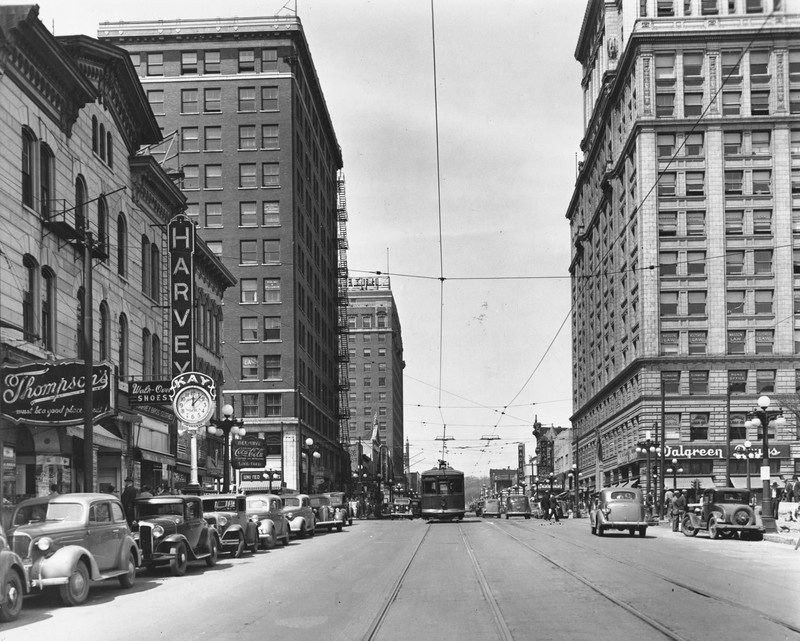 Backstory and Context
Marquette Apartments were built in 1924 to help meet the need for housing in downtown Peoria, as an abundance of workers sought to live near to their place of employment. The building has a three-story mixed-use layout, with commercial space on the first floor and residential apartment on the top two levels. 
During the middle part of the 1920s, Peoria suffered from a single-family housing shortage in its downtown region despite the proliferation of hotel, bank, government, and commercial property construction. Thus, Peoria residents routinely lived in parts of the city removed from the many places of employment located in the central business district. As the nation's economy boomed in the "Roaring '20s," there also existed increased acceptance of apartment living. Indeed, an average of 226,000 multiple-family dwelling units arose in the United States each year from 1924-1928. 
The Marquette Apartments arose during that period (1924) and concurrently helped fill the downtown housing void. As well, the apartment complex arrived at a time when Peoria was in the midst of planning its downtown region to better handle traffic (the first traffic light went up in 1924). The Marquette apartment complex appealed to unmarried, white-collar workers (including women) with its inexpensive dwellings, somewhat mirroring that of places like Manhattan and Chicago. Meanwhile, the first floor offered space for commercial use such as retail space. 
It should also be noted that while Prohibition had a profound effect on local farmers tied to Peoria's once prolific distillation and brewing industry, many of them found new success selling such commodities as corn syrup and cattle feed. The move to help Peoria's roadways coincided with 1923 Hull Waterway Bill, which provided funds to construct a system of locks and dams that kept the Illinois River open for easy navigation to move agricultural products to the nation (and to the world). So, while it is easy to associate any local economy with the broad nature of the Roaring '20s, it must be recognized that the development of downtown Peoria also represents the towns ability to adapt. 
The Marquette Apartments were designed not for wealthy nor for the poor, but for those working at banks, hotels, government offices, and other white-collar positions, which speaks volumes about the economic climate of Peoria during the 1920s. The development of the business district in Peoria did not initially come with a housing plan, thus apartments like the Marquette complex filled a need, while also allowing for retail and commercial space on its lower floors. Hence, the building stands today as a reminder of a changing economy and Peoria's engineered urban development. 
Sources
Babcock, Richard F., and Fred P. Bosselman. "Suburban Zoning and the Apartment Boom." University of Pennsylvania Law Review 111, no. 8 (1963): 1040-091. doi:10.2307/3310792.
Hild, Ted. "Nomination Form: Marquette Apartments." National Register of Historic Places. nps.gov. April, 2016. https://www.nps.gov/nr/feature/places/pdfs/16000901.pdf. 
Leyland, Marilyn Voss. "Peoria & Prohibition: Political Solutions for Political Problems." Peoria Magazine. February, 2015. https://www.peoriamagazines.com/ibi/2015/feb/peoria-prohibition. The political choices that helped farmers during the 1920s are easily seen, but one can also be find evidence that they also might have helped bootlegging, despite having the appearance of cracking down on illegal liquor sales and distribution. 
Photo Sources
Marquette Apartments: By Ian Poellet - Own work, CC BY-SA 4.0, https://commons.wikimedia.org/w/index.php?curid=56317106
Downtown Peoria during the 1920s: Picture from https://www.peoria.org/ and can also be found at https://www.pinterest.com/enjoypeoria/
Additional Information