Lynch-Raine Administration Building, West Virginia Wesleyan College
Introduction
Built on the site of the Seminary Building after the fire of 1905, at first it was simply called the New College Building. From 1908-28 it was referred to as College Hall. Beginning in 1929 it became The Administration Building. In 1953 it was renamed for two former WVWC board presidents (Judge Charles Wesley Lynch; and lumber industry leader John Raine, founder of Rainelle, WV) who guided Wesleyan through World War I and the Great Depression.
Images
Photo by Danny Green, 2019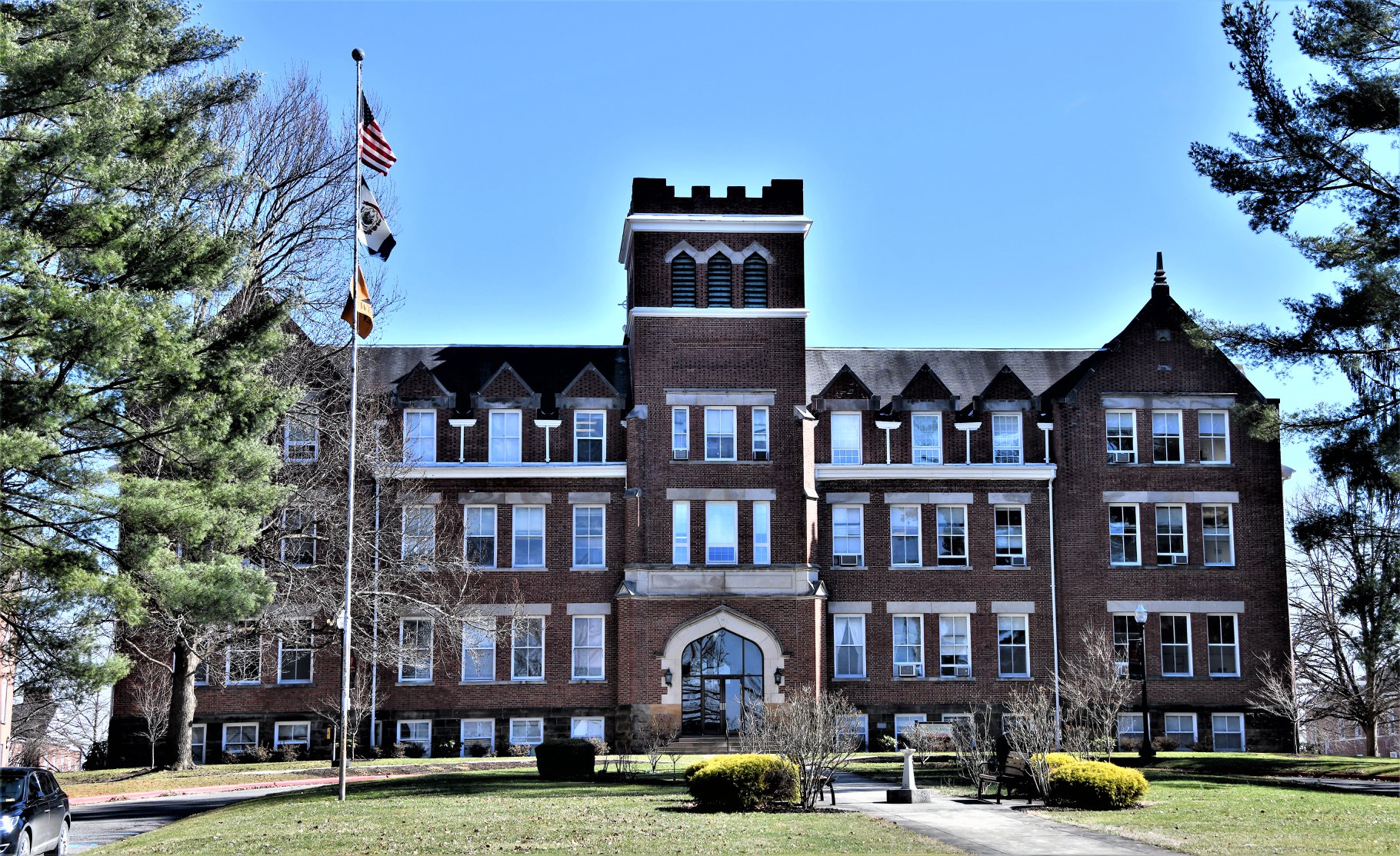 1929 Murmurmontis photo of the Administration Building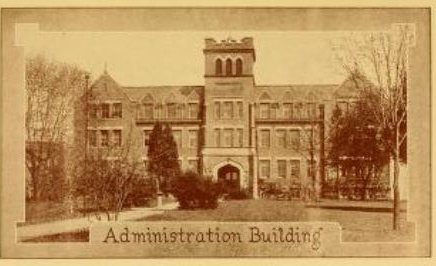 Backstory and Context
When the Seminary Building burned in 1905, the school had to make some decisions. First, would there be any school at all, and second of all, would it remain in Buckhannon. President John Wier's answer was an emphatic yes to both of these. He immediatedly went out and spoke passionately to philanthropists and supporters to secure funding.

Among those who contributed were Dr. D.K. Pearsons of Chicago ($10,000) and Andrew Carnegie ($18,000). Dr. Pearsons was among the first millionaires in Chicago. He and his wife had no children, but dedicated themselves and their fortune to support church related liberal arts schools. He had previously donated $25,000 to the school when it was the West Virginia Conference Seminary. He encouraged his friend, Andrew Carnegie, to help as well during the "great calamity." (Plummer, Kimball)

The new facility was able to provide even better for the needs of the school, with an enlarged auditorium on the first floor replacing the one on the third floor of the older building and better classrooms for the growing student body.

Administrative offices and classrooms are located here now,and the 3rd floor is now the Thomas H. Albinson, II School of Business having been so named in 2014. Albinson was a 1976 graduate of Wesleyan and was serving on the Board of Trustees at the time of his death in March 2016.

The back part of the Lynch-Raine Administration Building is the Atkinson Chapel. It has a separate entry on Clio.
Sources
Haught, Thomas W. West Virginia Wesleyan College First Fifty Years 1890-1940. Buckhannon, West Virginia. West Virginia Wesleyan College Press, 1940.

Kimball, Daniel. Daniel K. Pearsons, His LIfe and Works. Elgin, IL. Bretheran Publishing House, 1912.

Miller, Brett T.. Our Home Among the Hills, West Virginia Wesleyan College's First 125 Years. Buckhannon, WV. West Virginia Wesleyan College, 2016.

Plummer, Kenneth M. A History of West Virginia Wesleyan College 1890-1965. Buckhannon, West Virginia. West Virginia Wesleyan College Press, 1965.




Additional Information