Iowa Memorial
Introduction
Iowa had 11 regiments in the Battle of Shiloh on April 6-7, 1862. There were 6664 Iowa soldiers engaged in the battle. The total number of Iowa casualties was 2409 including killed, wounded and missing. This, no doubt, was the greatest loss of Iowans in any battle in any war. Iowa regiments included the 2nd, 3rd, 6th, 7th, 8th, 11th, 12th, 13th, 14th, 15th and 16th. Iowa regiments formed the heart of the line at the Hornets Nest. On the morning of April 6, 1862, 40,000 Confederate soldiers under the command of Gen. Albert Sidney Johnston poured out of the nearby woods and struck the encamped divisions of Union soldiers occupying ground near Pittsburg Landing on the Tennessee River. The battle of Shiloh was fought on April 6th and 7th resulting in a union victory, commanded by Ulysses S. Grant. 65, 085 Union soldiers and 44,968 Confederates fought – of the 110,053, an estimated 23,746 casualties ensued from the battle, with almost 3,000 more Union soldiers either killed, wounded, or missing & captured than the Confederate side.
Images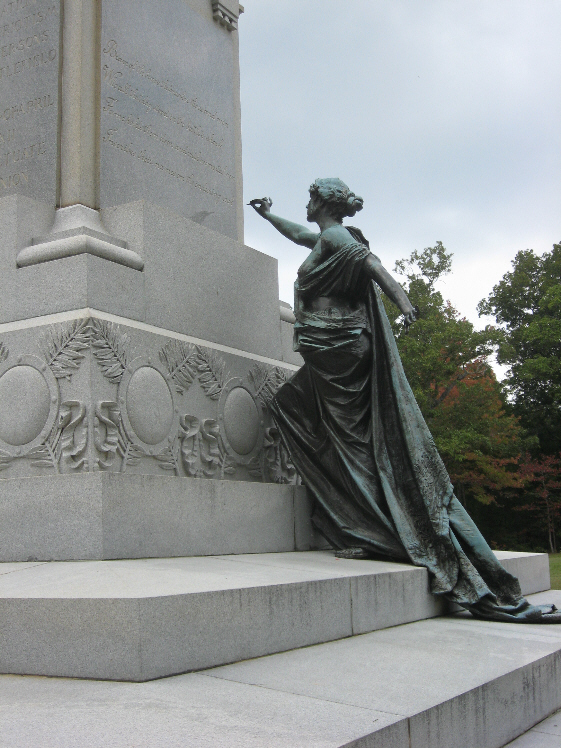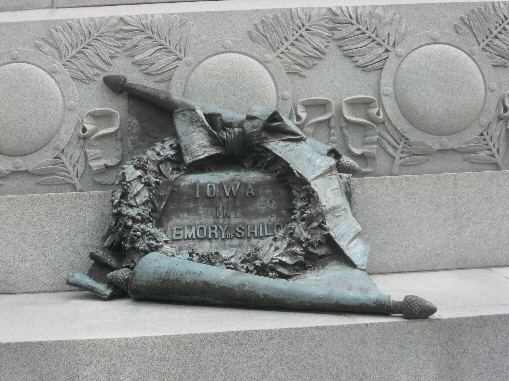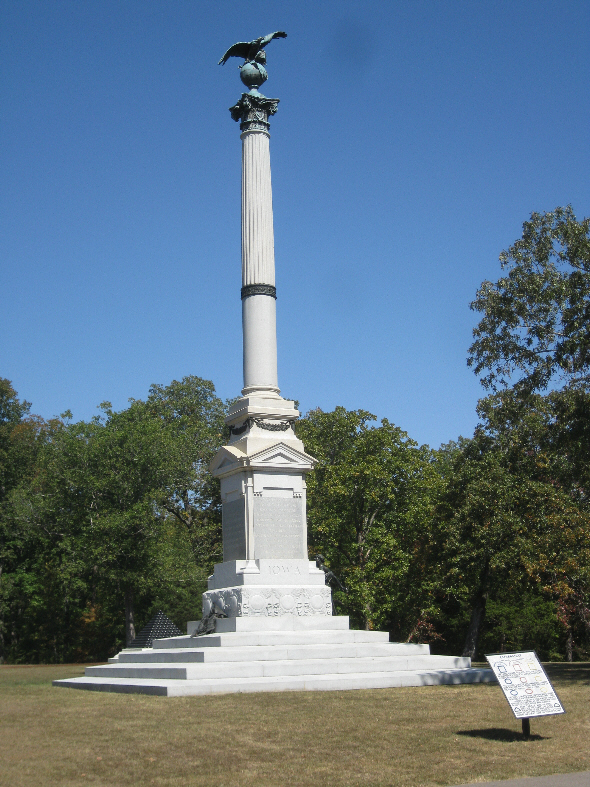 Backstory and Context
By mid-February 1862, United States forces had won victories in the West at Mill Springs, Kentucky, and Forts Henry and Donelson in Tennessee. These successes opened the way for invasion up the Tennessee River to sever Confederate rail communications along the important Memphis & Charleston and Mobile & Ohio railroads. Forced to abandon Kentucky and Middle Tennessee, Gen. Albert Sidney Johnston, supreme Confederate commander in the West, moved to protect his rail communications by concentrating his scattered forces around the small town of Corinth in northeast Mississippi.
In March, Maj. Gen. Henry W. Halleck, commanding U.S. forces in the West, advanced armies under Maj. Gens. Ulysses S. Grant and Don Carlos Buell southward to sever the Southern railroads. Grant ascended the Tennessee River by steamboat, disembarking his Army of the Tennessee at Pittsburg Landing, 22 miles northeast of Corinth. There he established a base of operations on a plateau west of the river, with his forward camps posted two miles inland around a log church called Shiloh Meeting House. Halleck had specifically instructed Grant not to engage the Confederates until he had been reinforced by Buell's Army of the Ohio, then marching overland from Nashville. Once combined, the two armies would advance on Corinth and permanently break western Confederate railroad communications.
General Johnston, aware of Federal designs on Corinth, planned to smash Grant's army at Pittsburg Landing before Buell arrived. He placed his troops in motion on April 3, but heavy rain and difficulties encountered by marching large columns of men, artillery, and heavy wagons over muddy roads, delayed the attack. By nightfall, April 5, his Army of the Mississippi, nearly 44,000 men present for duty, was finally deployed for battle four miles southwest of Pittsburg Landing.
At daybreak, Sunday, April 6, the Confederates stormed out of the woods and assailed the forward Federal camps around Shiloh Church. Grant and his nearly 40,000 men present for duty were equally surprised by the onslaught. The Federals soon rallied, however, and bitter fighting consumed "Shiloh Hill." Throughout the morning, Confederate brigades slowly gained ground, forcing Grant's troops to give way, grudgingly, to fight a succession of defensive stands at Shiloh Church, the Peach Orchard, Water Oaks Pond, and within an impenetrable oak thicket battle survivors named the Hornets' Nest. Johnston initiated a surprise attack on Grant's camps around Shiloh Church and drove the Federal forces back to a defensive perimeter on the heights above Pittsburg Landing on the Tennessee River. During the afternoon, Johnston was wounded in the leg and bled to death. He was replaced by Gen. Pierre Gustave Toutant Beauregard, commander of the Army of the Mississippi. As darkness fell, Beauregard called a halt to the fighting and pulled his weary soldiers back from the landing, where they were being shelled by two gunboats, USS Lexington and USS Tyler. He believed Grant's army was beaten and that Buell's army was miles away.
Overnight, reinforcements from Buell's army reached Pittsburg Landing. Beauregard, unaware Buell had arrived, planned to finish the destruction of Grant the next day. At dawn, April 7, however, it was Grant who attacked. Throughout the day, the combined Union armies, numbering over 54,500 men, hammered Beauregard's depleted ranks, now mustering barely 34,000 troops. Despite mounting desperate counterattacks, the exhausted Confederates could not stem the increasingly stronger Federal tide. Forced back to Shiloh Church, Beauregard skillfully withdrew his outnumbered command and returned to Corinth. The battered Federals did not press the pursuit. The battle of Shiloh, or Pittsburg Landing, was over. It had cost both sides a combined total of 23,746 men killed, wounded, or missing, and ultimate control of Corinth's railroad junction remained in doubt.
Sources
Pfingsten, Bill. Iowa Memorial. The Histoical Marker Database. August 19, 2009. Accessed May 09, 2019. https://www.hmdb.org/marker.asp?marker=random.

Gaard, Tom. Iowa Monument at Shiloh. Iowa Civil War Monuments. . . http://www.iowacivilwarmonuments.com/cgi-bin/gaarddetails.pl?1219962678.

American Battlefield Trust. The Battle of Shiloh. American Battlefield Trust. . . https://www.battlefields.org/learn/articles/shiloh.

Smith, Timothy B. The Untold Story of Shiloh: The Battle and the Battlefield. Edition 1st. TN. Univ Tennessee Press, 2008.


Additional Information