Sakakawea Statue (Sacajawea statue)
Introduction
1910 statue of Sakakawea, the Shoshone-Hidatsa woman who helped to guide and translate for the 1804-1806 Lewis and Clark expedition. A descendant of Sakakawea modeled for artist Leonard Crunelle's sculpture. A replica of the statue was placed in the United States Capitol Visitor Center in 2003.
Images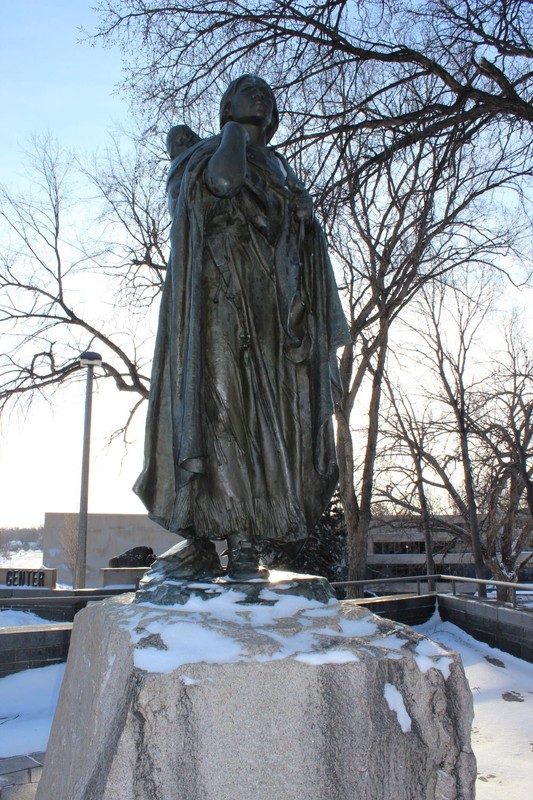 Reverse of Sakakawea statue with North Dakota capitol in background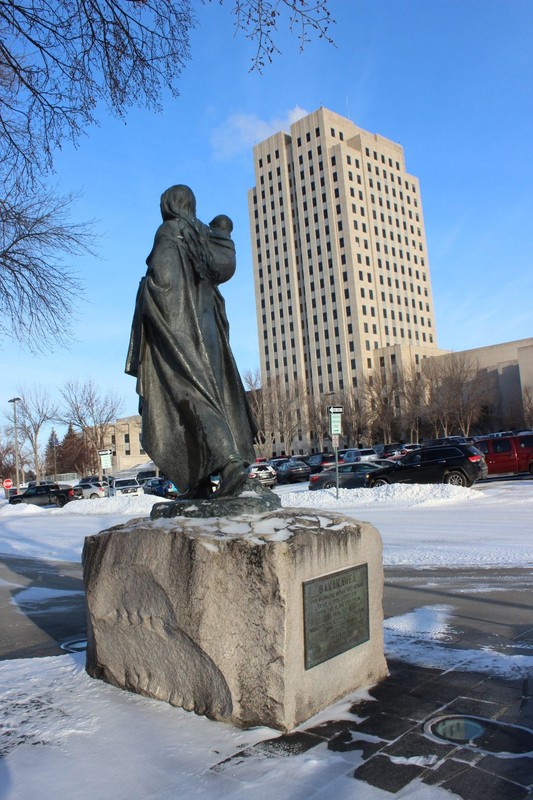 Backstory and Context
This monument honors Sakakawea (also rendered Sacagawea or Sacajawea), the only female and only indigenous member of the Lewis and Clark expedition of 1804-1806. The Shoshone-Hidatsa woman served as a guide and interpreter.

Sakakawea was raised Shoshone but was captured by Hidatsa raiders in what is now known as Montana in about 1800. She was approximately age 11 at the time of her capture. She spent the next 5 or 6 years living among the Hidatsa at Knife River, and may have become formally adopted into Hidatsa culture. By 1804 she was married to French-Canadian trader Toussaint Charbonneau, who lived among the Hidatsa.

Scholars debate the most accurate rendering of the subject's name. Although she was born and raised Shoshone, she appears to have taken a Hidatsa name by the time she encountered Lewis and Clark in 1804. Traditionally she was called Sacajawea by many white Americans. Meriwether Lewis recorded her name as Sah-ca-gar-me-ah in his expedition journal on May 20, 1805, and indicated that it meant Bird Woman. Informed by that entry, Sacagawea is now widely accepted as the most accurate spelling. But North Dakota state agencies and the Three Affiliated Tribes have long used Sakakawea. This spelling is drawn from a U.S. government ethnographic report on the Hidatsa published in 1877. Both are imperfect attempts to render the Hidatsa name Bird Woman.

Explorers Meriwether Lewis and William Clark were sent by President Thomas Jefferson to explore the newly acquired Louisiana Purchase and to initiate peaceful relations with the Native Americans living in that area. Lewis and Clark's "Corps of Discovery" journeyed from St. Louis, Missouri, to the Pacific Ocean and back. They traveled primarily by keelboat. They spent the winter of 1804 at Fort Mandan, which they constructed near Knife River in present-day North Dakota. They hired Touissant Charbonneau to join their expedition as an interpreter. Charbonneau, Sakakawea, and their newborn son Jean Baptiste, traveled west with them. Sakakawea became the only female member of the Lewis and Clark Expedition.

Sakakawea's role in the expedition has often been romanticized and perhaps exaggerated. We know from Clark's journals, however, that she served as a linguistic and cultural translator when the Corps passed through the lands of the Shoshone. At times she also helped to guide the expedition and gathered food to supplement the company's meat-heavy diet. She also served an important symbolic role, because her presence and that of her infant son signaled the Corps' peaceful intentions.

This 12-foot-tall statue of Sakakawea and her baby, Jean Baptiste, was sculpted by Chicago artist Leonard Crunelle. A descendant of Sakakawea, Mink (also known as Hannah Levings Grant) modeled for the statue. The North Dakota Federation of Women's Clubs and North Dakota schoolchildren raised funds for the monument. Some 5,000 people attended its day-long dedication ceremony on October 14, 1910. Today, it stands at the entrance to the North Dakota Heritage Center & State Museum.

A replica of the statue now stands in the United States Capitol. Traditionally, each U.S. state was permitted to place statues of two prominent individuals in the Capitol's Statuary Hall. When Statuary Hall became too crowded, many of the sculptures were relocated to other parts of the capitol complex. The replica of Crunelle's original sculpture was made by Tom Bollinger, a native of Bismarck. It was dedicated in the U.S. Capitol Visitor Center in 2003, in time for the bicentennial of the Lewis and Clark Expedition.



Sources
Sakakawea's Journey to Washington, D.C.: North Dakota's Presentation of the Statue of Sakakawea to the U.S. Capitol Statuary Hall. Bismarck, North Dakota. State Historical Society of North Dakota, 2005.

Biek, Robert F.. A Visitor's Guide to the North Dakota Capitol Grounds: Buildings, Monuments, and Stones. Bismarck, ND. State Historical Society of North Dakota, 1995.

Scharff, Virginia. Twenty Thousand Roads: Women, Movement, and the West. Berkeley, CA. University of California Press, 2002. https://www.ucpress.edu/book/9780520237773/twenty-thousand-roads