James Bowie Statue
Introduction
The statue of James Bowie is one of the 14 statues erected for the 1936 Texas Centennial celebration. This large bronze statue is located in Texarkana, Texas, in Bowie County. The exact location of the statue 33° 25.796′ N, 94° 2.606′ W. The marker is at the intersection of North State Line Avenue and Hazel Street, it is on the left when traveling north on North State Line Avenue. The statue is near 800 North State Line Avenue, Texarkana TX 75501. This site is public and outside and located near the Central Christian church.
Images
This is a picture of James Bowie.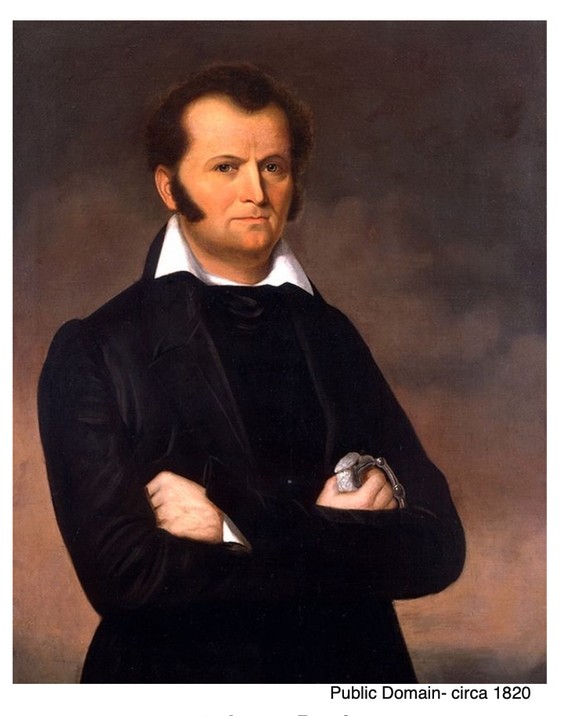 This is a picture of the real-life large bronze statue of James Bowie.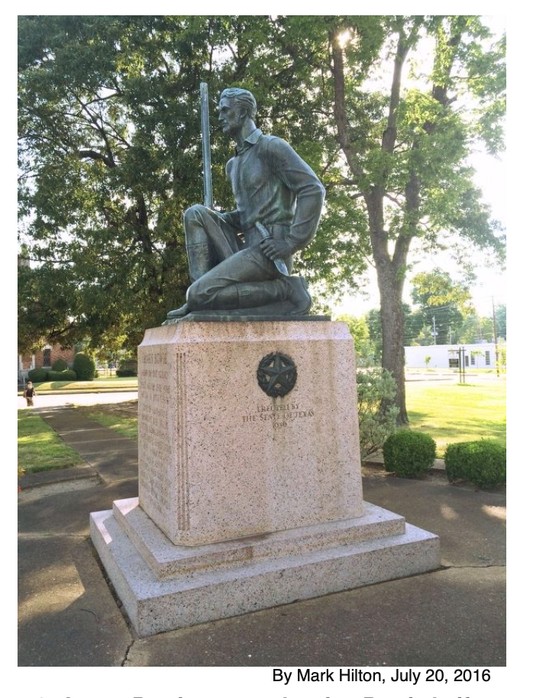 Backstory and Context
James Bowie was born on March 10, 1796 and died March 6, 1836. He was a 19th-century American pioneer. He was born in Kentucky but was raised in Louisiana. He grew up as a land speculator but quickly began to gain fame through the Sandbar Fight. He married the daughter of a Mexican Vice governor of the province. He was mostly known for The Alamo, but also for his knife. James Bowie was a fighter and a brawler. He was known for killing an opponent of his with a huge knife. He was also a hero during the battle of The Alamo. James Bowie became known to be a fighter and fought until the end. He was killed during The Alamo along with his other defenders.
The Alamo was a war that Texas fought against Mexico in 1836. The main defender that became famous in the Alamo is James Bowie. Bowie specifically became known to be the "Bowie Knife". He got into a couple of fights and he pulled out his knife and claimed the name ever since. Bowie was a great leader and helped during the battles of the Texas revolution, but before that he obtained friendships with Indians in search of silver and gold.
Later on, Bowie lead the Battle of Concepcion and in the Grass Fight near San Antonio. He was noble and a fighter. He was a hero and died at the Battle of the Alamo. He obtained a disease called "Pneumonia", which is lung inflammation caused by a viral infection. The historical significance that Bowie has is he died defending the Texas fort. He was a Texas rebel who contributed to the independence of Texas. Without people like James Bowie who fought for the independence of Texas, they would not be able to fight for future historical movements. For example, without the establishment of Texas becoming its own state, who knows if there would have been a civil rights movement that involved Texas. Texas could have simply just have stayed Mexican territory. It is important to understand that all of the historical events that have happened lead up to the history of today.
James Bowie is a historical figure that is very important to the history of Texas. Bowie was a brawler and played an important role in the independence of Texas. The statue created to physically show is a long-lasting legacy. What he fought for and what he did will always remain a part of history and will always be honored in Texas. This statue is available for the public to see and honor James Bowie Legacy.
Sources
Hilton, Mark. James Bowie. July 20, 2016. Accessed May 07, 2020. https://www.hmdb.org/marker.asp?Marker=96572.
Alexander Healy, George Peter. James. Bowie. Accessed May 07, 2019. https://www.hmdb.org/marker.asp?Marker=96572.
Anderson, Michael E. "Defenders of the Alamo: Who Were They, and Why Did They Do It?" Torch 89, no. 3 (Spring 2016): 8–11.
Dane, Jeffrey. "James Bowie legend: fact or fable? In the first of six parts, the author examines Bowie's early years." Blade Magazine, January 2016, 40+. General OneFile (accessed February 22, 2019).
Williamson, William. Handbook of Texas Online, "BOWIE, JAMES," accessed February 22, 2019, http://www.tshaonline.org/handbook/online/articles/fbo45.
Uploaded on June 12, 2010. Modified on March 30, 2017. Published by the Texas State Historical Association.
"James Bowie Historical Marker." Historical Marker, 7 Aug. 2016, www.hmdb.org/marker.asp?Marker=96572.
Additional Information