Ace of Clubs House
Introduction
Located at 420 Pine Street in Texarkana, Texas, the Ace of Clubs House, also known as the Draughon-Moore House, is a National Register property and a Recorded Texas Historical Landmark with some distinct features. Built in 1885 as a private residence this Italianate, Victorian home is in the shape of a club, from a deck of playing cards. This house is considered to be one of the most unique in the country with three octagonal wings and one rectangular wing adjoining at a central octagon shaped stair hall. A twenty-foot tower and spiral staircase make this home even more unique.
Images
This is the front view of the house from the street. In this picture some of the unique shape is portrayed.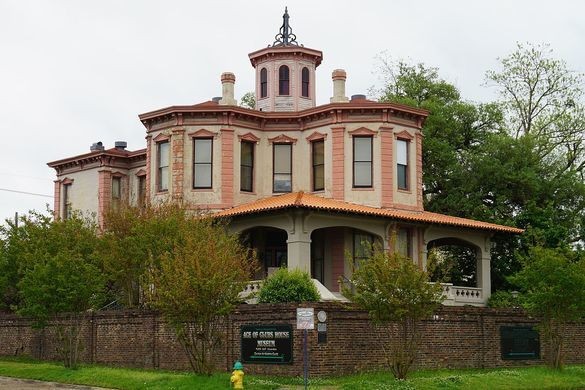 This picture is a view of the top of the house in which the club shape is more clearly shown.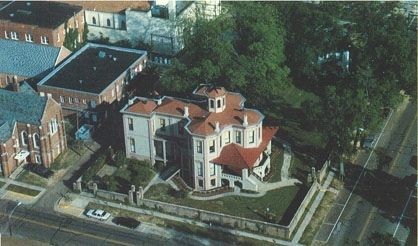 This is the spiraling staircase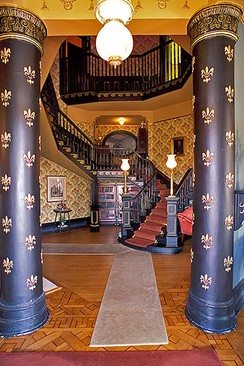 This is the dining room in the Ace of Clubs House, one of many unique rooms this museum has to offer.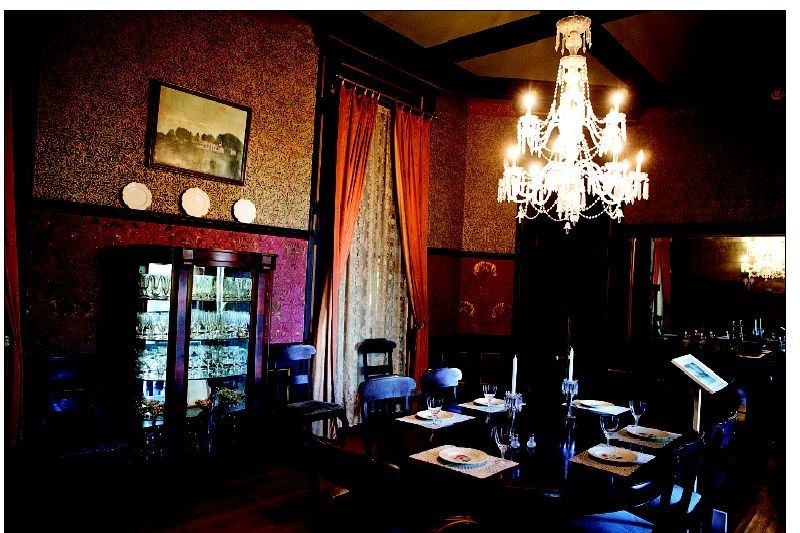 Backstory and Context
There is some local lore as to how this house came to be and got its unique shape and features. The legend is that the house was built by Confederate Veteran Captain James Draughon after he won $10,000 in a poker match with the ace of clubs. He then decided to build a mansion befitting of its origin. Three families lived here in its span as a residence. The last owners of this house, the Moores, then donated the house to the Texarkana Museum System in 1985. The house was remodeled, two years later in 1987 and has served as a museum in Texarkana ever since. Inside, its rooms provide a peek into Texarkana high society from 1880 to 1940. Its rooms are ornate and extravagant, and they were inhabited for nearly one hundred years. Now this house is one of the most unique places not only in Texarkana, Texas but in the country.
Sources
Atlas Obscura. "Ace of Clubs House." Accessed February 18, 2019.
https://www.atlasobscura.com/places/ace-clubs-house



Becque, Fran. Fraternity History and More. "The Ace of Clubs House, a Must See in
Texarkana, Texas. Accessed February 21, 2019. https://www.franbecque.com/the-ace-of-clubs-house-a-must-see-in-texarkana-texas/.


Texas Forrest Trail. "Texarkana: Draughon-Moore Ace of Clubs House." Accessed
February 12, 2019. http://texasforesttrail.com/plan-your-adventure/historic-sites-and- cities/sites/draughon-moore-ace-clubs-house.