Col. James Graham House
Introduction
Located in Lowell, West Virginia, the Graham House was built in 1770 by Col. James Graham (1741-1813). Standing on the north bank of the Greenbrier River, the Graham House was located near Fort Greenbrier, which was also built by Graham. The Graham House is now open to visitors as a historical museum. As you visit the site, clear your mind and imagine the Greenbrier Valley with no other dwellings, and soak up the serene beauty that the Graham family enjoyed as they lived there.
Images
Col. James Graham House (photo by Steven Hart)
Saunders One Room Schoolhouse (photo by Steven Hart)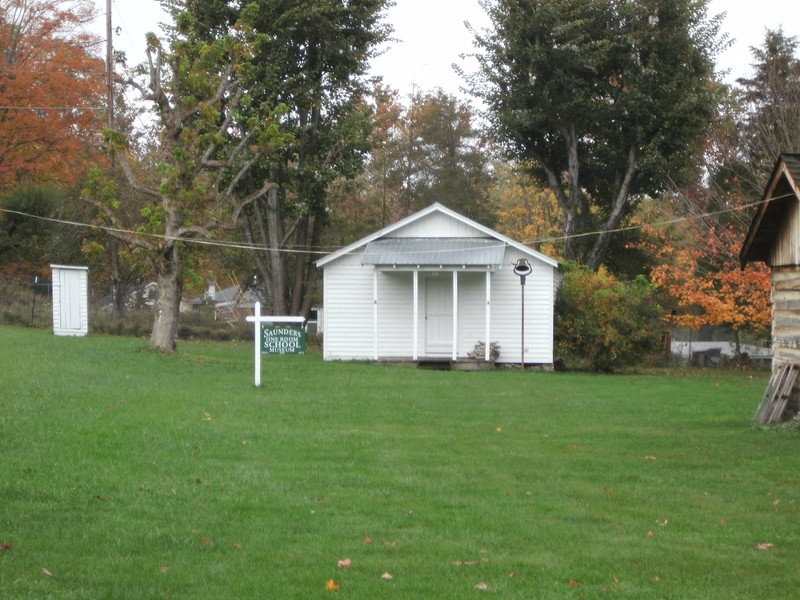 Backstory and Context
Col. James Graham Sr., his wife Florence, and their children were the first settlers in the area now known as Lowell in present-day Summers County, West Virginia. Due to Indian resistance to new British settlements and an earlier attack, this region was considered far too dangerous to settle. However after two years of calm, Graham felt it was safe to venture westward and now settle the area. When the Graham family moved into the area they had three children and afterwards had seven more. The house is of log construction, as were most dwellings at that time, but is very large for the period in which it was built; it was considered a mansion, by the standards of the time. The house has been added onto since its original construction and has had "modern updates" such as indoor plumbing and electricity. Out buildings that were used as a kitchen, bedrooms, and slave quarters were later torn down and replaced with additions to the house. Other than these changes, the main part of the house is still in its original condition.
In the years before 1777, with the growing concerns of Indian threats, Graham helped build Fort Greenbrier on the south bank of the Greenbrier River. The fort was commanded by Capt. John Van Bibber served as protection for the growing Lowell community. In the spring of 1777, Shawnee Indians, who had been carrying out raids in the area, attacked the Graham house. During the raid John ten-year-old Graham, a visiting neighbor, and a slave were killed. The neighbor was killed in the main house when an Indian shot through the closed door. He was helping Graham secure the door during the attack. The slave named Sharp and two of the Graham children, John and Elizabeth, were sleeping in the out building that was used as a kitchen and had a loft for a bedroom. The Indians broke into the building where they found Sharp hiding and scalped and killed him. They then shot through the floor after hearing the children crying, hitting John in the leg. Because of his injuries, he was considered too much trouble to kidnap and therefore was killed and scalped. Eight year old Elizabeth, however, was taken captive and transferred to Chillicothe, OH, where she was adopted by a squaw of one of the chiefs. She was well cared for and never was the victim of any abuse by the Indians. Elizabeth even learned to love her captors and their ways. In 1785, almost eight years later, Graham finally ransomed her release and she returned home to Lowell.1
The Graham House is located on State Route 3 in Lowell, WV which is approximately fifteen miles east of Hinton, West Virginia. The house is now a museum and is open to the public on weekends. The Graham House was listed on the National Register of Historical Places in 1976. Also on the site is the Saunders One Room Schoolhouse Museum. This is a very educational place to visit, as it depicts life as it was in Colonial Times and the hardships faced by the early settlers of the Virginia region. For more information about operation hours contact:
Graham House Preservation Society
HC 73 Box 158
Pence Springs, WV 24962
Tel: (304) 466-3321
Sources
1.http://freepages.genealogy.rootsweb.ancestry.com/~jordanjones/Graham/GrahamDavid1899/index.htm
Additional Information