Cass County Courthouse
Introduction
The Cass County Courthouse is the oldest County courthouse in continous use in the State of Texas. The courthouse was constructed in 1859 and has been in continous use since 1861. The courthouse is unique due to it's antebellum architecture is unique among courthouses still in use in Texas. In 1934 the county added a second level to the courthouse and redesigned the roof. Additionally, the current painted stucco finish was added. Through the years the structure was modified with an addition drop ceilings and fluorescent lighting. The courthouse was restored to it's 1934 appearance including the removal of the addition. The Courthouse has been a central part of Cass County even after losing part of the county to an newly formed Marion County during reconstruction. The County Seat of Cass County is Linden, Texas is a city with a strong musical heritage and claims to be the birthplace of at least 3 well known artists Scott Joplin (Texarkana also claims to be his birthplace), T-Bone Walker and Don Henley. Linden dubs it's-self "Music City Texas" and has a famous music venue just down the street.
Images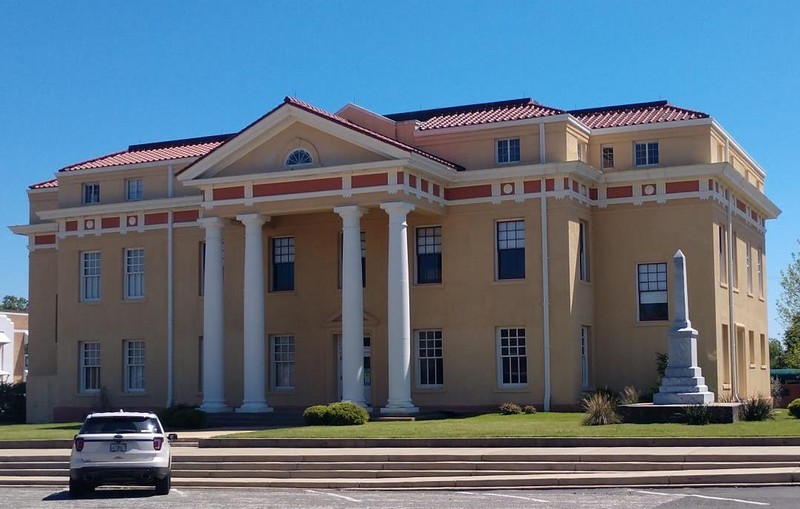 Sources
Texas Historical Commission. Cass County Courthouse - Linden. . Accessed May 10, 2019. https://www.thc.texas.gov/preserve/projects-and-programs/texas-historic-courthouse-preservation/restored-courthouses/cass.

Wikipedia. Cass County Courthouse (Texas). . Accessed May 10, 2019. https://en.wikipedia.org/wiki/Cass_County_Courthouse_(Texas).

Harper, Jr., Cecil. Handbook of Texas Online. Cass County. . Accessed May 10, 2019. https://tshaonline.org/handbook/online/articles/hcc07.