Canterbury Shaker Village
Introduction
Originally founded in 1792, Canterbury Shaker Village has been the site of a non-profit museum since 1969. At its peak in the 1850s, the community was comprised of 300 members who lived and worked in 100 buildings on 3,000 acres. Gradually, membership declined and the last Shaker sister died in 1992. Today, this museum complex is dedicated to preserving the legacy and heritage of the Canterbury Shakers and the village features 25 original and restored buildings constructed by the Shakers as well as four historically-accurate replicas. These buildings are located within a complex that spans over 690 acres and also contains forests, gardens, nature trails, and mill ponds. The village is open to the public from May through November and offers guided tours, various educational and arts programs and numerous special events. The village was also designated as a National Historic Landmark in 1993.
Images
An aerial shot of the Canterbury Shaker Village reveals its large size.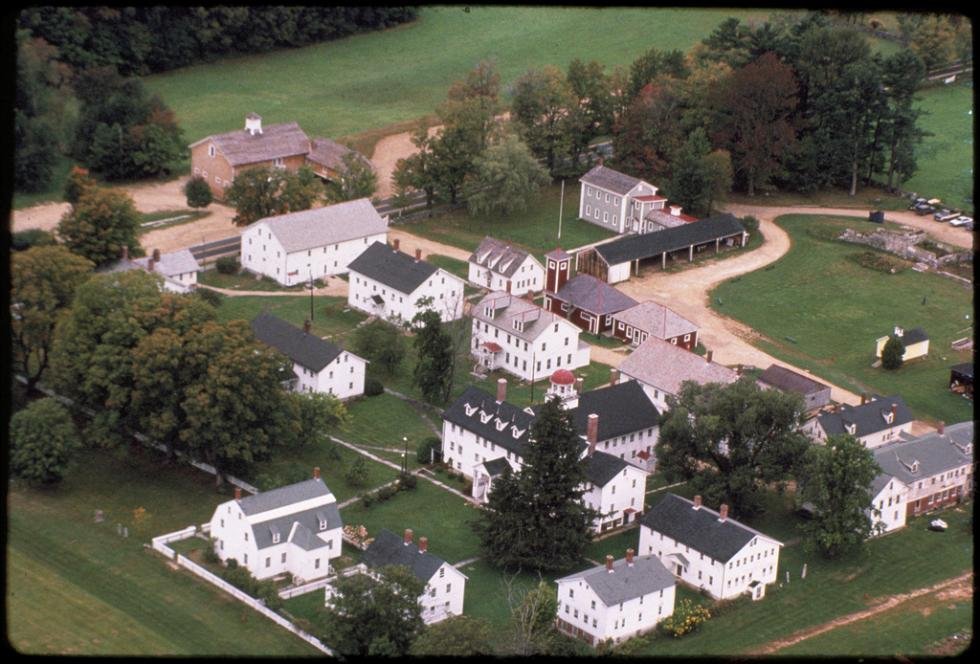 The village in all its autumnal glory. The restored 1792 Meeting House sits in the background.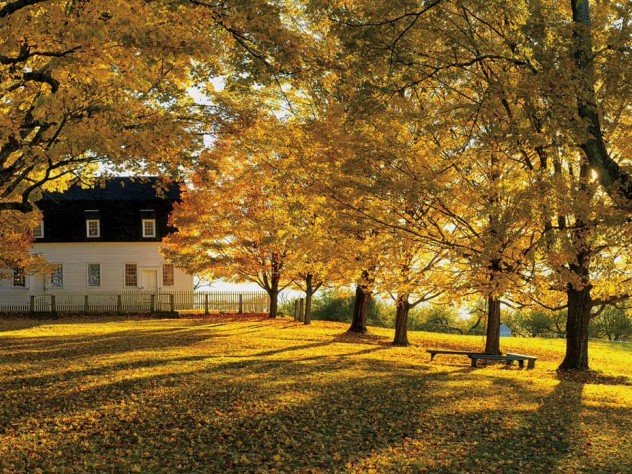 Notice the modern equipment used by the Shakers to manufacture their brooms.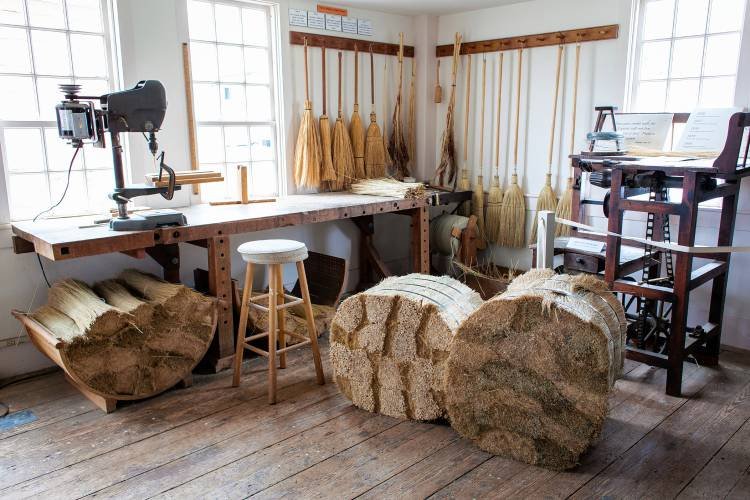 The gardens within the village are maintained by local volunteers and the produce is sold to the public.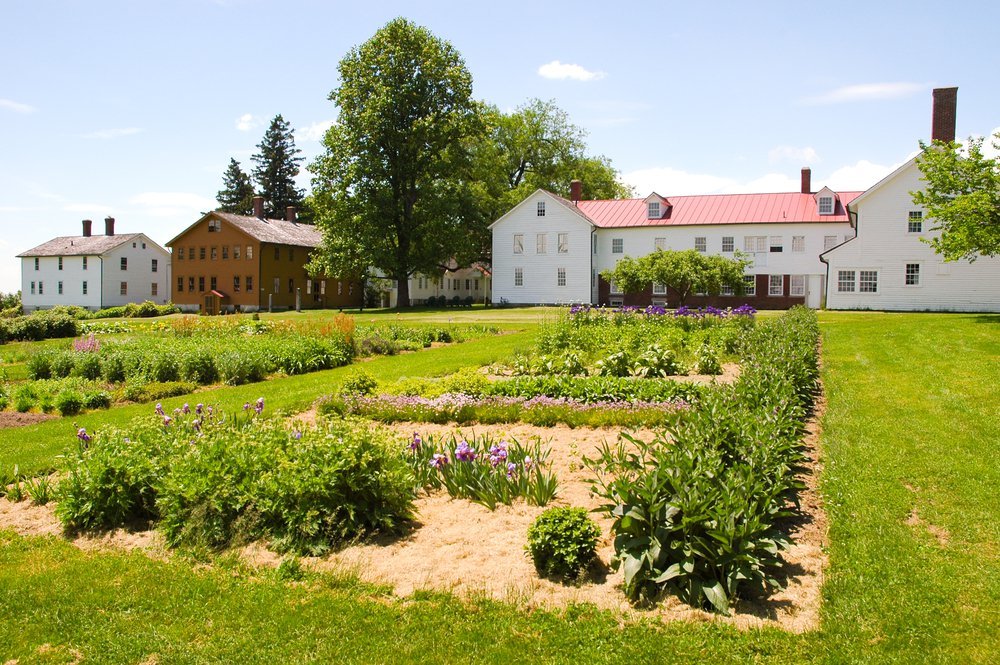 In keeping with Shaker tradition, even the Christmas decorations are simple yet effective.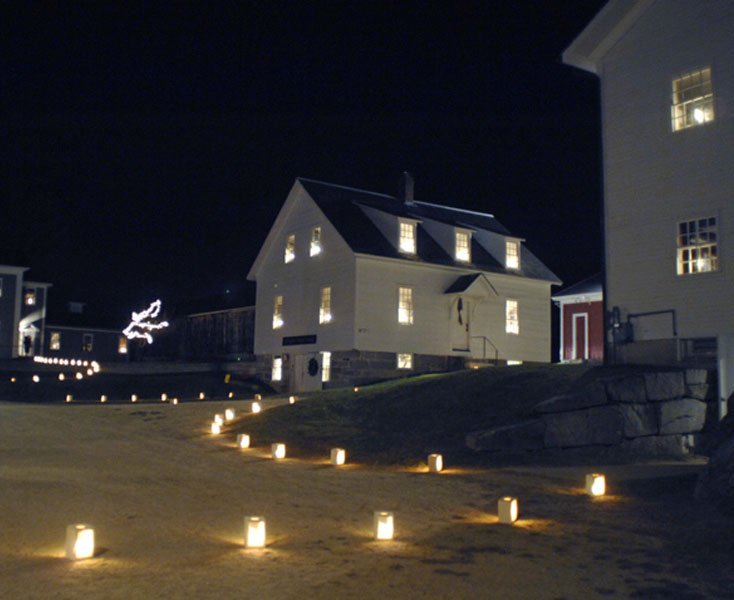 Backstory and Context
The Shakers were a Christian religious sect formed in England in the mid-18th century. Referred to as Shakers due to their practice of ecstatic dancing during worship, the United Society of Believers, led by Mother Ann Lee, expanded to the American colonies in 1774 and established their first community at Watervliet (now Colonie), New York. They eventually established 19 communities from Maine to Kentucky. The Shakers adhered to a set of unique religious and societal practices that included communal ownership of property, pacifism, dancing during worship, gender equality, celibacy and an excessively austere lifestyle. However, unlike the Quakers, the Shakers launched various industries (especially furniture production), adopted new technologies, and re-invested in their communities. The last known Shaker community exists at Sabbathday Lake, Maine and has only two members remaining.
In 1782, Shakers Israel Chauncey and Ebenezer Cooley traveled to Canterbury and converted several prominent families who eventually donated the land upon which the Canterbury Shaker community was built in 1792. The Canterbury Shakers gradually grew their community through conversions and adoptions and peaked at 300 members in 1850. Community members, aside from religious services, produced wool clothes, brooms, and Shaker boxes. They also sold food and seeds. The community also embraced technology as they patented a steam-powered washing machine and a revolving platform to evenly brown bread in an oven. They also installed a telephone in 1901 and built their own electricity-generating powerhouse in 1910.
As with all other Shaker communities, the one at Canterbury experienced a gradual decline in membership after the Civil War. By 1916 there were only 49 (47 sisters and 2 brothers) members residing at Canterbury and the village opened to the public in 1969. It became exclusively a museum in 1992 when its last sister, Ethel Hudson, passed. Currently, the village is home to the only intact, first-generation Meeting House (1792) and Dwelling House (1793). Other buildings include the Schoolhouse, Infirmary, and Horse Barn. The Shaker Museum houses thousands of Shaker artifacts, manuscripts and photographs and the village is also home to the Dewey School, a nature-based pre-K school and an extensive arts program. Additionally, Canterbury offers various educational programs for all ages and hosts various annual special events to include its opening day Heifer Parade, a 5k cross country race, Gala and Auction, Craft Days, music festival and vintage car show. Please call or visit their website for dates and times.
Sources
"The Shakers." Canterbury Shaker Village. Accessed May 6, 2019. http://www.shakers.org/education/the-shakers/
Mausolf, Lisa. "National Historic Landmark Nomination Form." United States Department of the Interior/National Park Service. August, 1992. Accessed May 6, 2019. https://npgallery.nps.gov/NRHP/GetAsset/NHLS/75000129_text
Brown, Nell. "Radical Living: Canterbury Shaker Village's enduring appeal." Harvard Magazine. September-October, 2017. Accessed May 6, 2019. https://harvardmagazine.com/2017/09/canterbury-shaker-village
Harrington, Jane. "New Hampshire's Shaker History: The enduring simplicity of the Shakers." New Hampshire Magazine. September 18, 2013. Accessed May 6, 2019. https://www.nhmagazine.com/new-hampshires-shaker-history/
Additional Information