MansField High School
Introduction
The clash over Mansfield High School was the prelude to the Little Rock Nine. As a result of the 1954 U.S. Supreme Court ruling in Brown v. Board of Education, the Mansfield school district was ordered to desegregate by Texas federal judge Joe Estes. In 1955, Floyd Moody and his cousins, Charles Moody and Nathaniel Jackson, attempted to be the first Black students to integrate Mansfield High School. This effort was led by the uncle of Floyd Moody, a local NAACP leader. The school was not integrated until 1965.
Images
racial slurs written on cars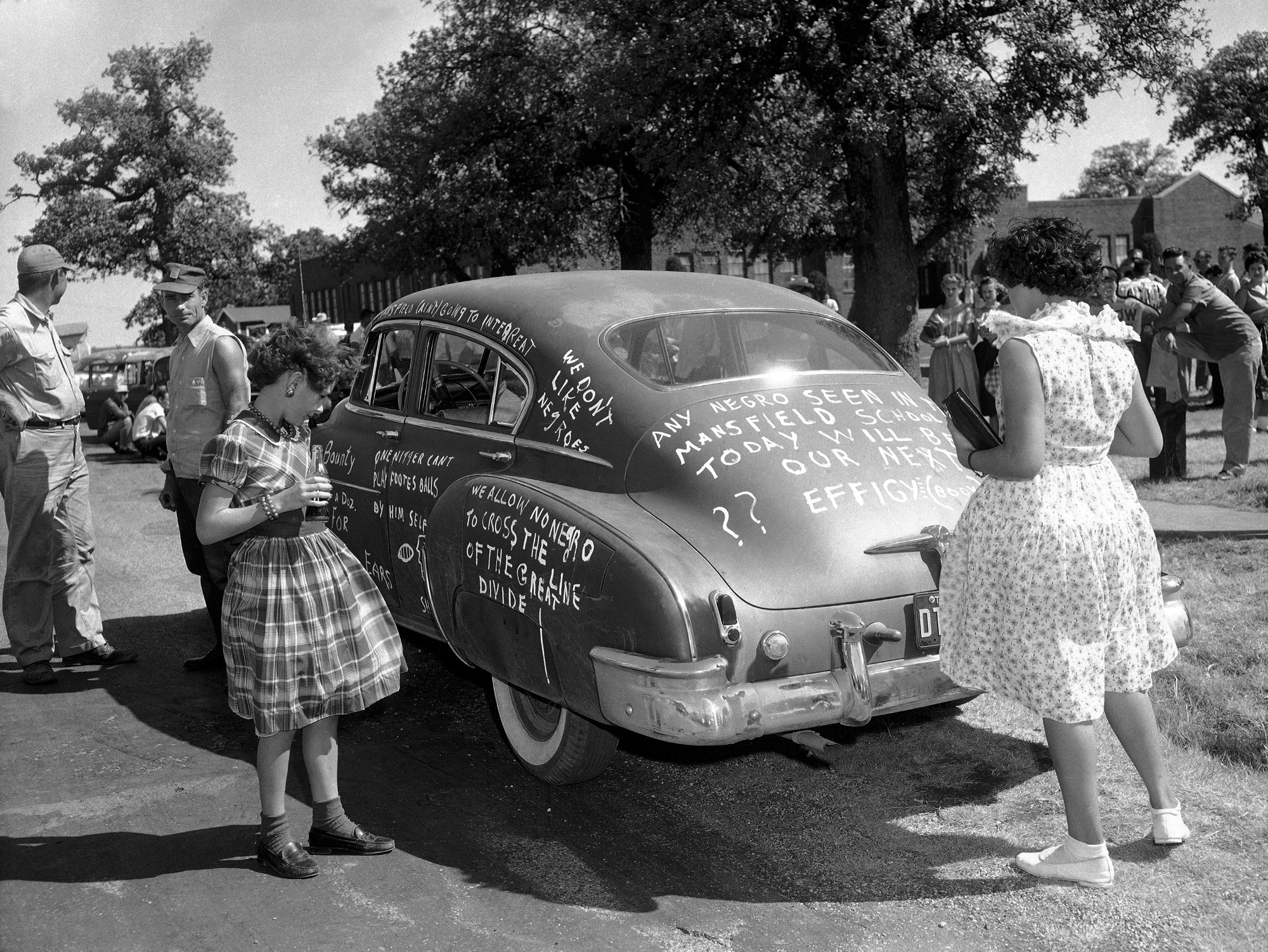 african american hung on the school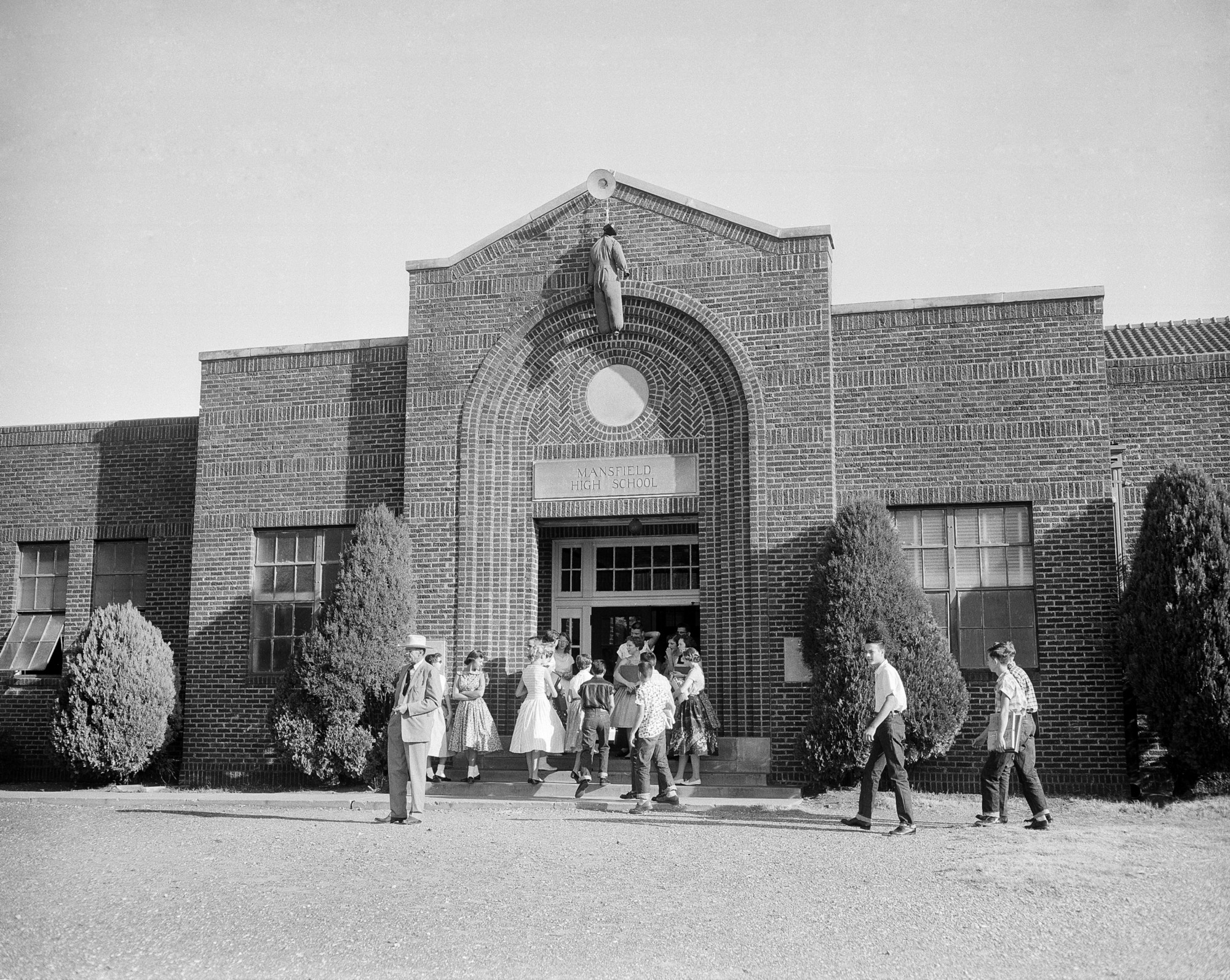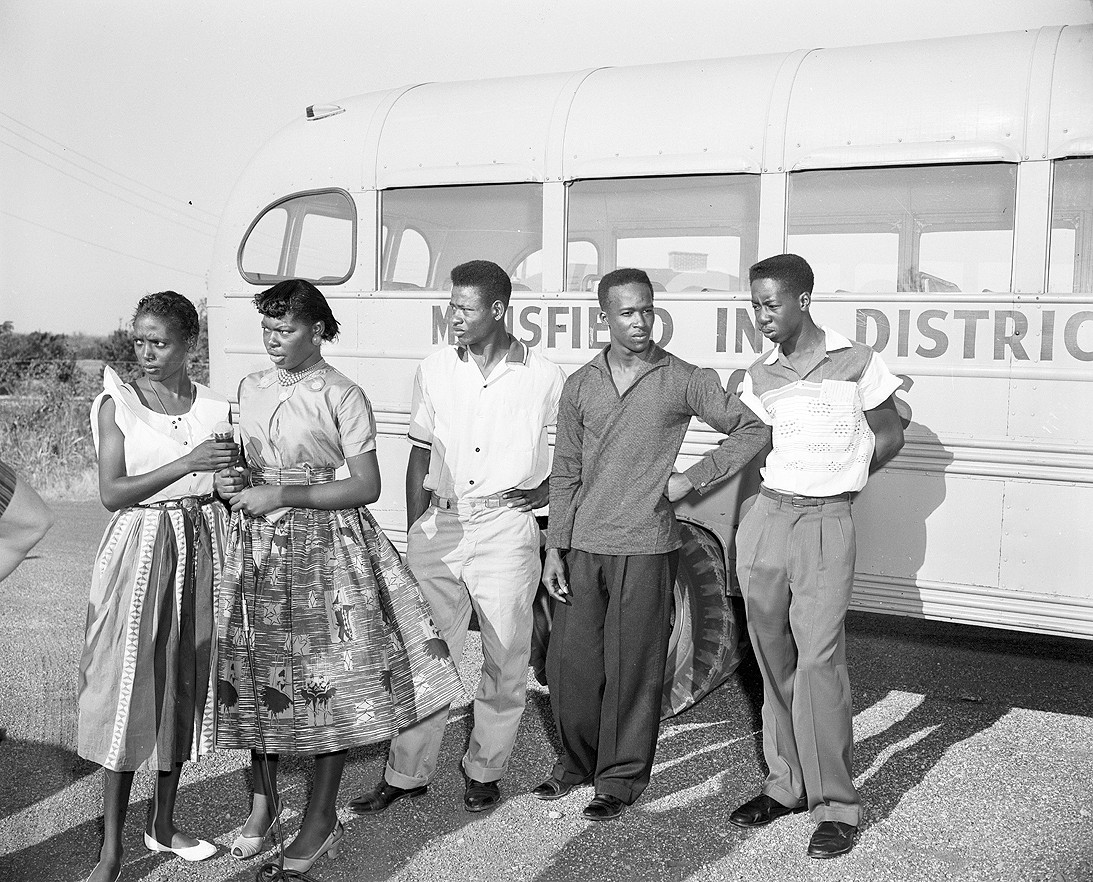 Backstory and Context
Mansfield High School opened in 1909 in Mansfield, Texas. Following state segregation laws, it was an all-white school. In 1954, the United States Supreme Court declared public segregation unconstitutional in Brown v. Board of Education. This Supreme Court ruling made it necessary for all public schools throughout the country to desegregate "with all deliberate speed." In response, some school districts developed strategies to resist integration. Mansfield became the first Texas school district directly affected by the Brown ruling. Although the school board approved a measure to allow the Mansfield High School to desegregate, Mayor William Arnold "Bud" Halbert and Police Chief C.G. Harwell promised that they would not follow along with the Board's decision.
As of 1955, the Mansfield Independent School District (ISD), which had close to 700 white and 60 Black students, segregated its African American students into a four-room elementary school in the city. High school students had to ride a bus to Fort Worth and then walk twenty blocks to the all-Black I.M. Terrell High School. That same year, the Mansfield branch of the National Association for the Advancement of Colored People (NAACP) filed a lawsuit on behalf of three Black high school students (Charles Moody, Nathaniel Jackson, and Floyd Moody), insisting that they should be able to attend the high school in their community. The NAACP hired an attorney from Fort Worth, L. Clifford Davis, to represent their interest to the school board.
Disgusted by the lawsuit, on August 30 and 31, 1956, an angry mob of 400 whites made a wall around Mansfield High School to prevent the enrollment of these three African American students. White residents hung three African American people and reporters and observers were attacked. During the rally, Sheriff Harlan Wright tried to confront the angry mob, but he was threatened. Stores closed as a show of support and vigilantes met all cars entering town, trying to stop those in support of integration. The Governor of Texas at the time, Allan Shivers, strongly disagreed with the Brown decision. He called out the Texas Rangers and ordered them to prevent any Black students from entering the school. Shivers ignored the federal court order for integration, authorizing Mansfield ISD to send its Black students to Fort Worth, Texas.
The incident at Mansfield High School was the nation's first example of such overt resistance. The incident encouraged more violent events in Little Rock, Arkansas, a year later and at the University of Mississippi in Oxford in 1962. In 1965, faced with the loss of federal funds, the Mansfield school district finally desegregated.The Mansfield school district spent a decade defying the federal school integration order – one of the longest struggles in the nation during that period. Moody's younger brother, Charles Edward Moody, along with Brenda Norwood, were among the students in that first integrated class. Since that time, the demographics of the area have changed significantly. In 1956, Mansfield schools had 700 white students and 60 Black students. It is now one of the area's most diverse districts, with 37 percent Anglo students, 26 percent African-American, 25 percent Hispanic and 6 percent Asian.
Sources
[1}Bill. "60 Years Ago, 3 Black Teens Tried to Enroll in Mansfield High - 'never' Was the Reply." Star. March 30, 2016. Accessed April 20, 2019. https://www.star-telegram.com/news/local/community/arlington/article68837362.html.
[2] N., George. "MANSFIELD SCHOOL DESEGREGATION INCIDENT." The Handbook of Texas Online| Texas State Historical Association (TSHA). June 15, 2010. Accessed April 20, 2019. https://tshaonline.org/handbook/online/articles/jcm02.
[3] Ladino, Robyn Duff. Desegregating Texas Schools: Eisenhower, Shivers, and the Crisis at Mansfield High: Robyn Duff Ladino. Austin: Univ. of Texas Press, 1996.