Mar-a-Lago Club
Introduction
Mar-a-Lago, also a National Historic Landmark since 1980, was a private home that was converted into a resort. Marjorie Merriweather Post built and resided in this Mediterranean-style estate from January 1927 until her death on September 12, 1973. Post left the estate to the federal government for use as a wintertime presidential or head of state retreat. However, the cost of maintaining the property and concerns about security led the government to decide to relinquish the property. This allowed real estate developer Donald Trump to buy the property in 1985 and transform the mansion into The Mar-a-Lago Club a decade later. Since becoming President of the United States in January 2017, Donald Trump has used Mar-a-Lago to host political events and official state business at the resort, leading to controversy about the propriety of public funds being used to finance the operation of the resort.
Images
Front view of Mar-a-Lago. Photo from the Mar-a-Lago website.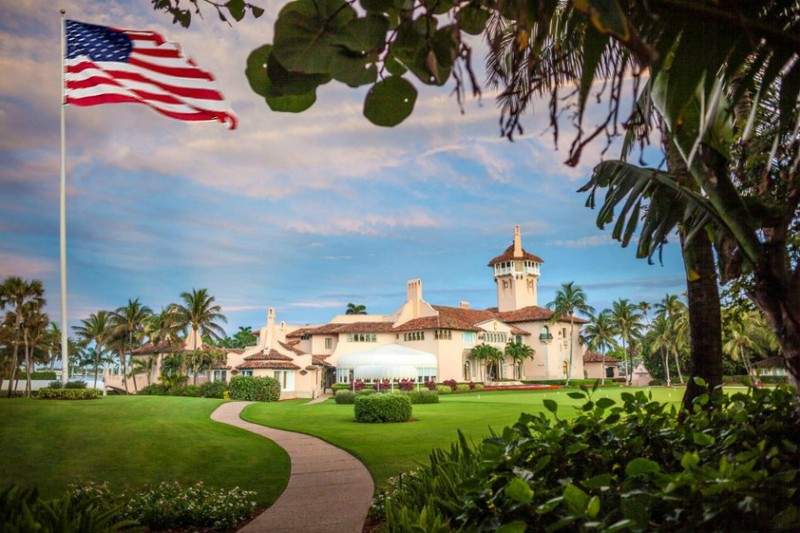 View of the twenty thousand-square-foot Grand Ballroom built in 2005 with twenty-four karat gold leafing. Photo from the Mar-a-Lago website.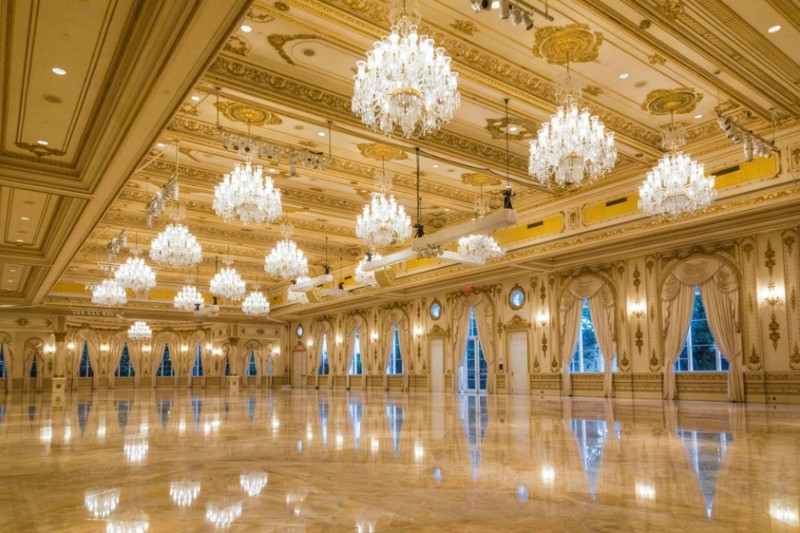 Back view of Mar-a-Lago. Photo from the Mar-a-Lago website.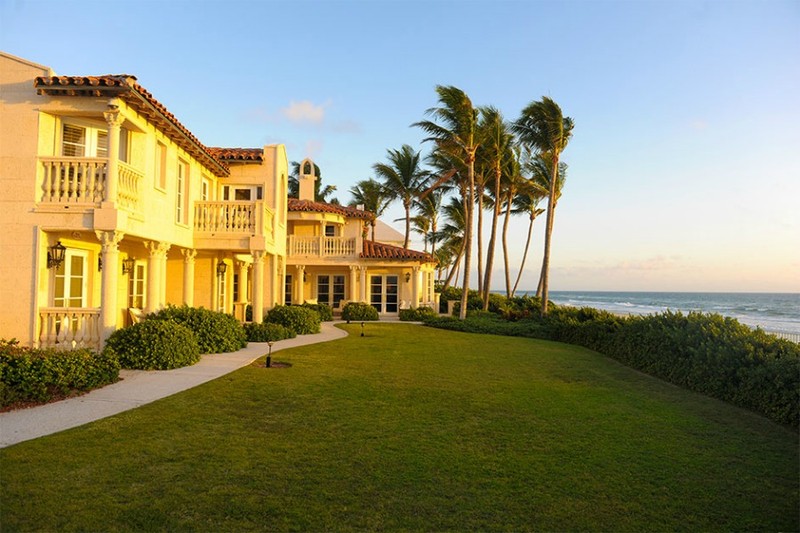 Living room inside Mar-a-Lago with a gold-leaf ceiling inspired by the Academia's "Thousand Wing Ceiling" in Venice. Photo from the Mar-a-Lago website.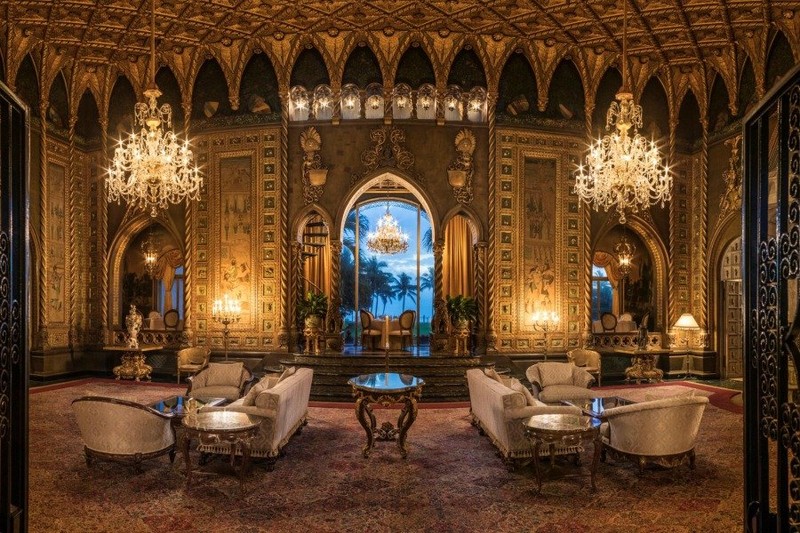 Backstory and Context
Construction of Mar-a-Lago began in 1923. Avid socialite and General Foods Corporation founder Marjorie Merriweather Post had wanted a home in Palm Beach to exercise her passion for entertaining people. At the time, Palm Beach had lots of undeveloped land, allowing Mrs. Post seventeen acres between the Atlantic Ocean and Lake Worth—now the Intracoastal Waterway—which inspired the name Mar-a-Lago, Spanish for "sea to lake."1 To design her dream Hispano-Moresque style estate, she hired prominent architects Marion Wyeth to frame the exact size, placement, and design of the floor plan, and Joseph Urban to develop more intricate details. Wyeth and Urban ordered three boatloads of antique Dorian stone from Genoa, Italy, for the exterior walls, arches, and some interior walls because the stone aged well, could easily be carved, and had small marine fossils.2 Urban recruited Viennese sculptor Franz Barwig and Barwig's son to carve the sculptures and hired Hungarian artist Louis Jambor to make frescoes on the patio walls.3 When work on Mar-a-Lago finished in 1927, Mrs. Post had spent $7 million—equivalent to over $90 million in 2019. 600 skilled workmen had built Mar-a-Lago's 68 bedrooms and 33 restrooms with gold fixtures; a dining room that resembled parts of Rome's Chigi Palace; a living room with a gold leaf ceiling inspired by Academia's "Thousand Wing Ceiling" in Venice; silk tapestries from a Venetian palace; and a seventy-five-foot tower for viewing.4
Mrs. Post entertained thousands of guests in these sumptuous rooms over the next forty-six years. In 1929, she invited underprivileged children to watch the Ringling Bros. and Barnum & Baily Circus perform charity fundraising acts that featured clowns, trapeze artists, and the world's smallest mule. She also allowed counseling and occupational therapy rooms for World War II veterans in 1944, offering training for carpentry, printing, and sculpting, and hosted the International Red Cross Ball in 1957 and several times more.5 Eventually, Mrs. Post wanted to sell her property to the state of Florida for advanced scholars to use, but maintenance costs turned the government away. So, by 1968, she willed Mar-a-Lago to the U.S. government for use a winter Winter White House.6 At one point, in July 1974, President Richard Nixon took a thirty-minute tour of the estate.7 But the government also could not resolve security and financial concerns and so returned to property to Post's daughters in 1981. Four years later, Donald Trump obtained the mansion for about $8 million, $17 million less than the initial price.8
Donald Trump used Mar-a-Lago as a private home until April 1995, when the estate officially became The Mar-a-Lago Club. Today, new features include an oceanfront swimming pool, beauty salon, spa, five red clay championship tennis courts, and a croquet court, as well as the twenty-thousand-square-foot Grand Ballroom with twenty-four-karat gold leafing added in 2005.9 He also kept Mrs. Post's three bomb shelters that she had installed during the Korean War.10 Famous Mar-a-Lago guests include Prince Charles, Bill and Hillary Clinton, Arnold Schwarzenegger, Tony Bennett, Barbara Walters, Paul Anka, Regis Philbin, and Joan Rivers.11 Then-Mr. Trump distinguished Mar-a-Lago from other Palm Beach resorts by including Jews and African-Americans in a club membership and by becoming the island's first private club owner to admit an openly gay couple soon after it opened.12 These firsts, along with new features, have grown the club's membership to make the estate worth $160 million in 2018—sixteen times what Mr. Trump paid in 1985.13However, becoming President generated new controversy that has shed a negative light on what was once considered the jewel of Palm Beach.
Mar-a-Lago has been at the center of controversy since President Donald Trump took the oath of office. After his inauguration, President Trump took four trips to Mar-a-Lago between February and March 2017 that cost American taxpayers approximately $13.6 million; $10.6 million covered government aircraft and boats, and $3 million covered lodging, meals, and incidental expenses. One trip involved meeting Prime Minister Shinzo Abe of Japan and his wife (both met the President for a second time at the resort in April.). Additionally, Mar-a-Lago earned $60,000 in expenses from these four trips, fueling claims that the President benefits from this government spending and provides Mar-a-Lago free publicity.14 Despite the controversy, President Trump has granted Mrs. Post's wish that the President of the United States would one day utilize Mar-a-Lago.
Sources
1. Kettler, Sara. 2017. "Marjorie Merriweather Post & the History of Mar-a-Lago." Biography. A&E Networks Television. March 14, 2017. www.biography.com/news/mar-a-lago-history.
2. "History." n.d. Mar a Lago Club. Accessed April 13, 2019. www.maralagoclub.com/Default.aspx?p=dynamicmodule&pageid=100013&ssid=100035&vnf=.
3. Curl, Donald W. "Joseph Urban's Palm Beach Architecture." The Florida Historical Quarterly 71, no. 4 (1993): 442-3.
4. Kettler, "Marjorie Merriweather Post & the History of Mar-a-Lago.
5. Luongo, Michael. 2017. "The Ironic History of Mar-a-Lago." Smithsonian. November 2017. www.smithsonianmag.com/history/history-mar-a-lago-180965214/; Kettler.
6. Luongo, Michael. 2017. "The Ironic History of Mar-a-Lago."
7. "Nixon Inspects Palm Beach Estate Willed to U.S." 1974. The New York Times. July 8, 1974. www.nytimes.com/1974/07/08/archives/nixon-inspects-palm-beach-estate-willed-to-us.html?searchResultPosition=1.
8. Luongo; Trump, Donald, and Tony Schwartz. 1987. Trump: The Art of the Deal. New York, NY: Random House, 25-6.
9. "History." n.d. Mar a Lago Club.
10. Webb, Kristina. 2018. "Little-Known Feature of Trump's Mar-a-Lago: Bomb Shelters." The Palm Beach Post. November 20, 2018. www.palmbeachpost.com/news/20170810/little-known-feature-of-trumps-mar-a-lago-bomb-shelters.
11. "An Oasis in the Florida Keys: Donald Trump's Mar-a-Lago." Mar a Lago Club. Florida Design. 2005. www.maralagoclub.com/files/Florida%20Design%20Magazine-%20Donald%20Trump_s%20Mar%20a%20Lago.pdf.
12. Haberman, Maggie. 2017. "Mar-a-Lago, the Future Winter White House and Home of the Calmer Trump." The New York Times. January 1, 2017. www.nytimes.com/2017/01/01/us/trump-mar-a-lago-future-winter-white-house.html.
13. Peterson-Withorn, Chase. 2018. "Donald Trump Has Gained More Than $100 Million on Mar-a-Lago." Forbes. April 23, 2018. www.forbes.com/sites/chasewithorn/2018/04/23/donald-trump-has-gained-more-than-100-million-on-mar-a-lago/#18e699eb5adc.
14. "Presidential Travel." Government Accountability Office. January 2019. www.gao.gov/assets/700/696512.pdf.
Additional Information