Protest Against Segregation at Fairyland Park, 1961-1964
Introduction
Fairyland Park was a Kansas City institution between 1923 and 1977, but the park did not admit African Americans (with the exception of one day per year) until 1964. Kansas City community college student Gloria Newton worked with other students and community leaders to organize the first protest against segregation at the park in 1961. In that year, adult members of the NAACP and CORE parked their cars at the entrances of the park and refused to move unless they were allowed to entre. Each driver was arrested and spent the night in jail, but this "park-in" protest inspired other protests that would eventually compel the park's management to change their policy. A key turning point came in 1963, when popular opinion turned against the park after the mass arrest of white and Black protesters.
Images
The Youth Council of Kansas City's NAACP chapter produced this flyer to protest discrimination at Fairyland Park. This image can be found in the local history collection of the Kansas CIty Public Library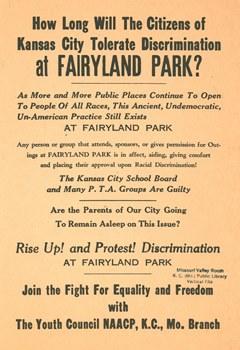 Sherry Lamb Schirmer, A City Divided: The Racial Landscape of Kansas City, 1900-1960-click the link below for more information about this book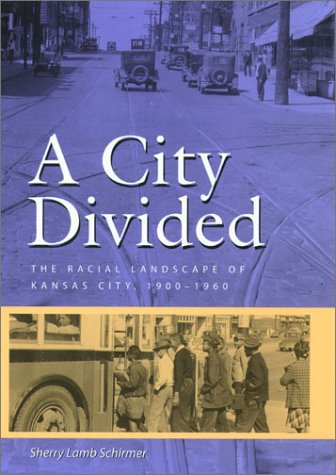 Backstory and Context
In recognition for her activism in challenging Jim Crow in Kansas CIty, Gloria Newton was selected to attend a meeting at the White House with President John F. Kennedy and Martin Luther King Jr. World's of Fun opened in 1974, leading to the closure of the aging Fairyland Park three years later.
Sources
Information and images from KCUR's Report by Laura Ziegler, http://kcur.org/post/years-ago-summer-meant-almost-everyone-headed-fairyland-park, accessed 10/18/2014 And Jason Roe's summary and bibliography of integration in Kansas City: http://www.kclibrary.org/blog/week-kansas-city-history/and-then-it-happened
Additional Information