Fairyland Park (1923-1977)
Introduction
Established in the1920s, Fairyland Park became a mainstay of summer life for most area residents with roller coasters, a swimming pool, bumper cars, and numerous other attractions. However, Fairyland did not admit African Americans for nearly three-quarters of its time operating in Kansas City. Beginning in 1961, protests led by local college student Gloria Newton pressured the park to reopen its doors to all, and although it took some time, the protesters won out with the park admitting everyone beginning in 1964. Fairyland experienced decline throughout the 1970s, eventually closing its gates in early 1978 after pressure from the newer, more up-to-date Worlds of Fun and major damage from a winter storm. Today, a few offices and a police station are located at the site where Fairyland operated for more than fifty years.
Images
A postcard depicting an aerial view of Fairyland Park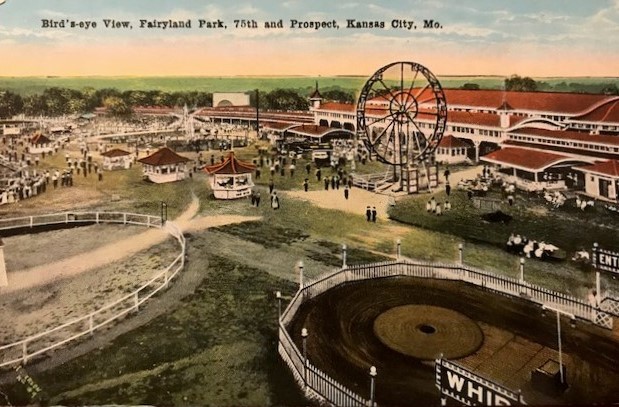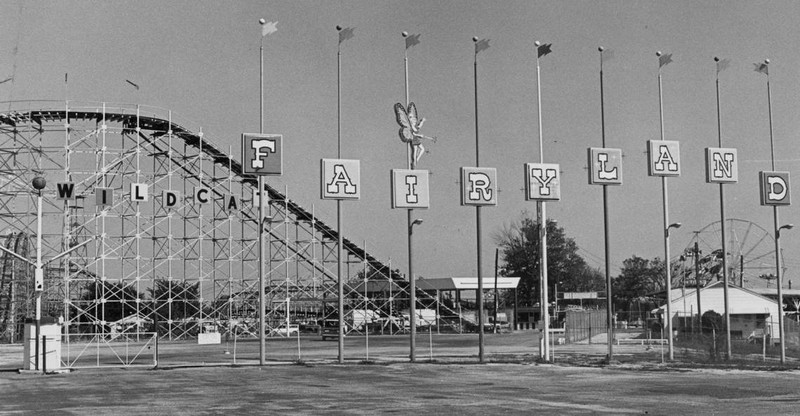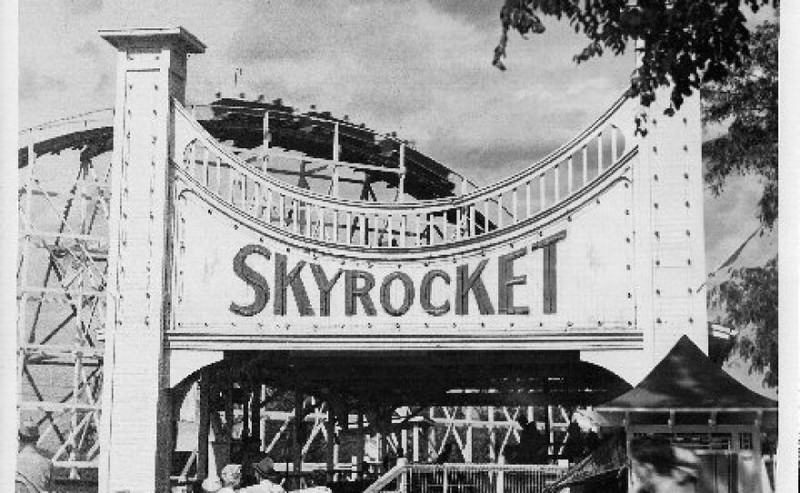 The Youth Council of Kansas City's NAACP chapter produced this flyer to protest discrimination at Fairyland Park. This image can be found in the local history collection of the Kansas CIty Public Library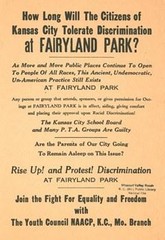 Backstory and Context
Salvatore "Sam" Brancato immigrated to the United States from Sicily in 1896. After settling in Kansas City, he eventually entered the real estate business, opening up Fairyland Park on 75th and Prospect in 1923. The park was owned by Brancato and his family for all its years of operation. Fairyland boasted three roller coasters at its peak in the 1950s, as well as a Ferris Wheel and a swimming pool that exceeded Olympic size. After purchasing another park, named"Kiddieland," which was located at 85th and Wornall, the rides were moved here, and many younger attendees were welcomed.
The park was a Kansas City institution between 1923 and 1977, but the park did not admit African Americans (with the exception of one day per year) until 1964. The only exceptions were made for employees and private groups. Kansas City community college student Gloria Newton worked with other students and community leaders to organize the first protest against segregation at the park in 1961. In that year, adult members of the NAACP and CORE parked their cars at the entrances of the park and refused to move unless they were allowed to enter. Each driver was arrested and spent the night in jail, but this "park-in" protest inspired other protests that would eventually compel the park's management to change their policy. A key turning point came in 1963 when popular opinion turned against the park after the mass arrest of white and Black protesters. The protesters won out the following year, with the park opening to all in 1964. In recognition of her activism in challenging Jim Crow in Kansas City, Gloria Newton was selected to attend a meeting at the White House with President John F. Kennedy and Martin Luther King Jr.
The end came for Fairyland Park in 1978. Four years earlier, Kansas City's Northland welcomed the newer, more modern Worlds of Fun, drawing much of Fairyland's audience base there instead. The last straw, though, came in the winter of 1977 to 1978, when the struggling park took major damage from a significant winter storm. Some people suspect the true reason for its closure was declining attendance and the winter storm was just a catalyst speeding the process along, but regardless, the park never reopened after that winter. The Brancato family tried to revitalize their park, talking of hosting a swap meet or zoo on the same site, but this never came to pass.
The Wildcat roller coaster was dismantled in 1990 and moved in pieces to Frontier City in Oklahoma City. The remains of the rest of the amusement park sat crumbling on site as late as 1998. After being slowly demolished over the early part of the twentieth century, the ruins were finally gone as of 2004, a quarter century after the park closed its doors. More recently, the Kansas City, Missouri Police Department built a new campus where Fairyland used to stand.
Sources
Roe, Jason. This Week in KC History - And Then It Happened, Kansas City Public Library - KC History. Accessed October 18, 2014. https://kchistory.org/week-kansas-city-history/and-then-it-happened.
Ziegler, Laura. Years Ago, Summer Meant (Almost) Everyone Headed To Fairyland Park, KCUR. May 30th, 2014. Accessed October 14th, 2014. https://www.kcur.org/community/2014-05-30/years-ago-summer-meant-almost-everyone-headed-to-fairyland-park.
Vendel, Christine. Groundbreaking Friday for new KC police station, KC Star Archive. June 14th, 2007. Accessed February 18th, 2023. https://web.archive.org/web/20160304133247/http://nl.newsbank.com/nl-search/we/Archives?p_product=KC&p_theme=kc&p_action=search&p_maxdocs=200&p_topdoc=1&p_text_direct-0=119CADE6D9B09960&p_field_direct-0=document_id&p_perpage=10&p_sort=YMD_date:D&s_trackval=GooglePM.
Image Sources
Curious KC

Kansas City Star

KCUR

Additional Information