Site of De La Garza House, Gardens and Mint - Historical Marker
Introduction
This spot is historically significant because it is likely where San Antonio's first mint (a facility that manufactures coins) was located. The mint was part of a large home complex owned by the prominent De La Garza family, who built the house in 1734. The home covered a whole city block and featured gardens and three-foot thick walls. A historical marker describing the home is attached to the corner of the Rand Building on Soledad and Houston streets. The mint was founded in 1818 by Jose Antonio De La Garza (1776–1851?), who received permission from the Spanish crown to mint coins, which were called "jolas". The home was demolished in 1912.
Images
The marker is in the bottom center of the picture.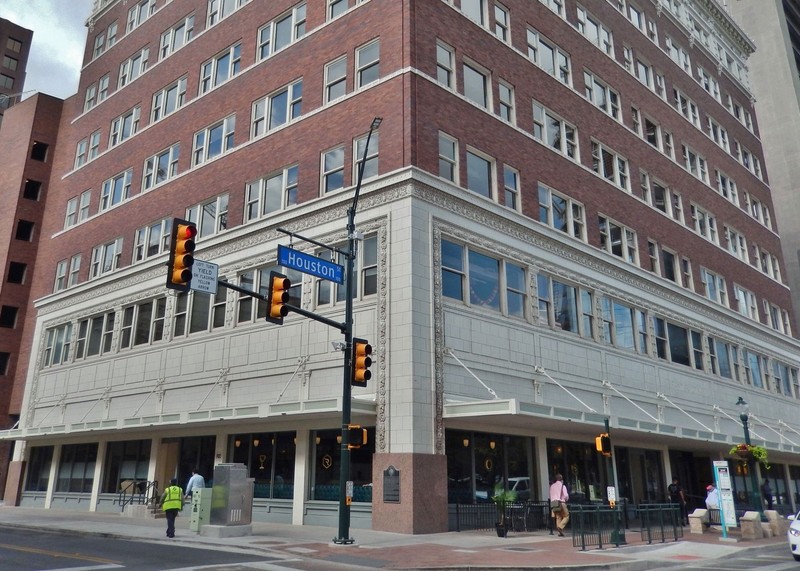 Backstory and Context
José Antonio de la Garza was born on May 31, 1776. As an adult, he became a prominent landowner and was elected mayor of San Antonio in 1813 and then again in 1832. The coins he minted had his initials, "JAG", and the year 1818. The other side had a star symbol, which some consider to be where the idea of the "Lone Star" originated. The coins were minted for approximately a year and a half.

In 1824, Garza was awarded two large properties in present-day Bexar County, making him one of the largest landowners in the county. He later bought the San Francisco de la Espada Mission around 1834. Garza moved to another home in the 1840s in the southeast part of the county. It appears he died on May 5, 1851 according to the newspaper The Texas State Gazette.

Because of its thick walls, it took six months to demolish the house. Workers found a large stash of hidden money and a cannonball embedded in a wall, which presumably dates to the Siege of Bexar in 1832—an early battle of the Texas Revolution.

Sources
Orozco, Cynthia E. "Garza, Jose Antonio De La." Handbook of Texas Online. Accessed May 1, 2019. https://tshaonline.org/handbook/online/articles/fgaac.

"Site of De La Garza House, Gardens and Mint." The Historical Marker Database. Accessed May 1, 2019. https://www.hmdb.org/marker.asp?marker=118527.

Photo: The Historical Marker Database
Additional Information