This entry includes a walking tour! Take the tour.
Introduction
Sam Patch, born in 1807 in Pawtucket, Rhode Island, became the first known recorded daredevil in history. Patch and other mill workers often jumped falls into the Blackstone River to pass the time with amusement. But unlike his fellow millhands, Patch sought out more thrill than what he was getting from these small leaps. He started jumping off higher and higher platforms, where the other mill boys dared not to follow. Despite his notoriety later in life, Sam Patch was not always in the business of taking risks. He originally worked in New England traveling from mill to mill in order to find work in a rapidly industrializing economy.
Images
An image of the plaque that is placed on Sam Patch's grave located in Rochester, New York.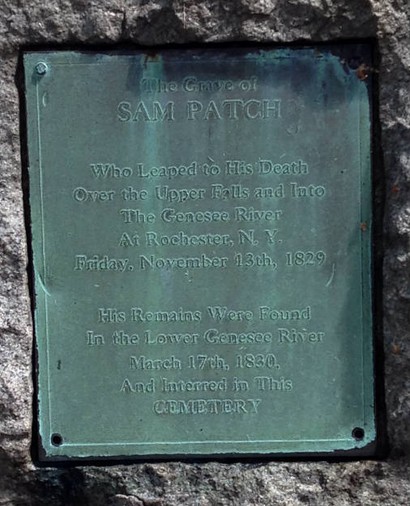 An image of Sam Patch's grave located in Rochester, New York.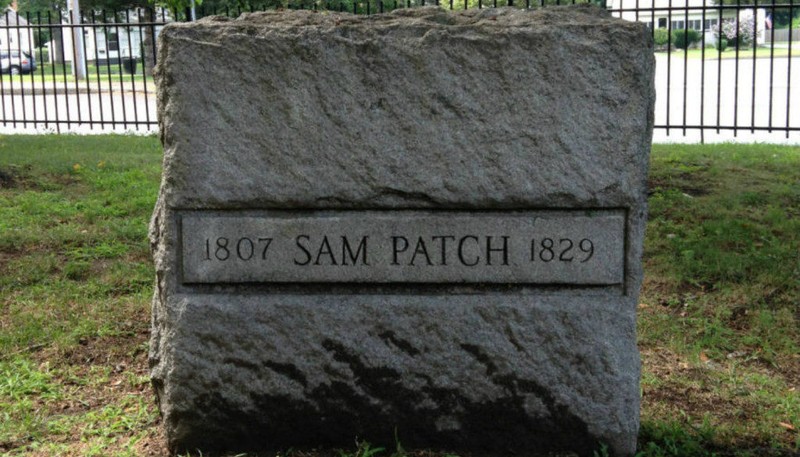 Backstory and Context
Sam Patch should have given up on Rochester, moved and saw other falls… maybe he would have lived past the age of 29. However, he decided to once again attempt a jump into the Genesee River.
Sam Patch had placed himself in eternal fame, but destined himself to an early grave in Charlotte Cemetery. This cemetery is located near where his body was found after jumping from the falls. According to some sources, there was a wooden board placed over his grave that read: "Sam Patch – Such is Fame."
Sources
Ruth, Rosenberg-Naparsteck. (Summer 1991). "The Real Simon Pure Sam Patch" (PDF). Rochester History. Rochester Public Library. 
Johnathan, Croyle. "1829: Sam Patch, America's First Daredevil, Meets a Sad, Violent End in Rochester." Newyorkupstate.com. November 16, 2018. Accessed April 10, 2019. 
Ella, Morton. "America's First Professional Daredevil Leapt Over Niagara Falls-Twice." Atlas Obscura. June 09, 2016. Accessed April 10, 2019. 
Paul E., Johnson. Sam Patch, the Famous Jumper. New York: Hill and Wang, 2003.