Merced County Courthouse Museum
Introduction
The Merced County Courthouse was constructed in 1875 and is one of the oldest buildings in California. It was designed by Albert A Bennet, who also designed Californias state Capitol. The building is built in the Italianate style. The courthouse building has been very well preserved with only one addition in 1913. The courthouse's architectural style has been called "the best example of the Italian Renaissance revival remaining between Sacramento and Los Angeles." Today, it no longer serves as the main courthouse, however, it is home to the Merced County Courthouse Museum. The museum is maintained by the Merced County Historical Society and features exhibits such as the Superior Courtroom, blacksmith shop, schoolhouse, and other, temporary exhibits. The building was placed on the National Register for Historic Places in 1975.
Images
The Merced County Courthouse was built in 1875 and is a fine example of Italian Renaissance architecture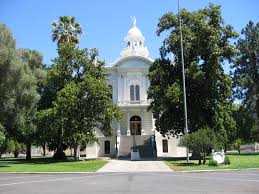 Backstory and Context
The Merced County Courthouse design was awarded to A. A. Bennett through a competition. When Bennett won, he was awarded 500 dollars plus 6% of the building cost. The construction was done by A.W. Burrell and Company for 55,970 dollars. The Italian Renaissance style in which the building was constructed was typical for public buildings before the 20th century. The building is three stories and 60 feet tall. It is modeled similarly to an Italian Palazzo. The building's roof features a cupola with a wooden statue of Minerva, the Roman goddess of Wisdom. An identical courthouse in Fresno, California, was also completed in 1875, and it is assumed that this was also constructed by Bennett due to their similarity, however, it was later demolished.
Sources
Cosentino, Pat. National Register of Historic Places Inventory - Nomination Form: Merced County Courthouse, National Park Service. July 7th 1975. Accessed April 5th 2021. https://npgallery.nps.gov/NRHP/GetAsset/5404c44f-31d5-4e1a-9c36-a3cd29a736aa.
Additional Information