San Antonio Casino Club Building
Introduction
The San Antonio Casino Club Building is a historic, triangle-shaped structure situated along the San Antonio Riverwalk at the intersection of Crockett and Press Streets. Erected in 1927, it is unique not only for its shape but for the fact that its design combines Art Deco architecture with Mayan detailing. It also features a stepped central above the main entrance. The club was founded in 1925 when two clubs (the Casino Club, established 1854; and the San Antonio Club, established 1881) merged. The San Antonio Casino Club Building once featured club rooms, dormitories, dining rooms, and a ballroom. Today, it is now an apartment building with a restaurant on the ground floor. It was added to the National Register of Historic Places in 1980. The art collection is now located at the Gilcrease Museum in Tulsa, Oklahoma.
Images
The San Antonio Casino Club Building was built in 1927 and is one of the more unique landmarks in the city. It is now an apartment building.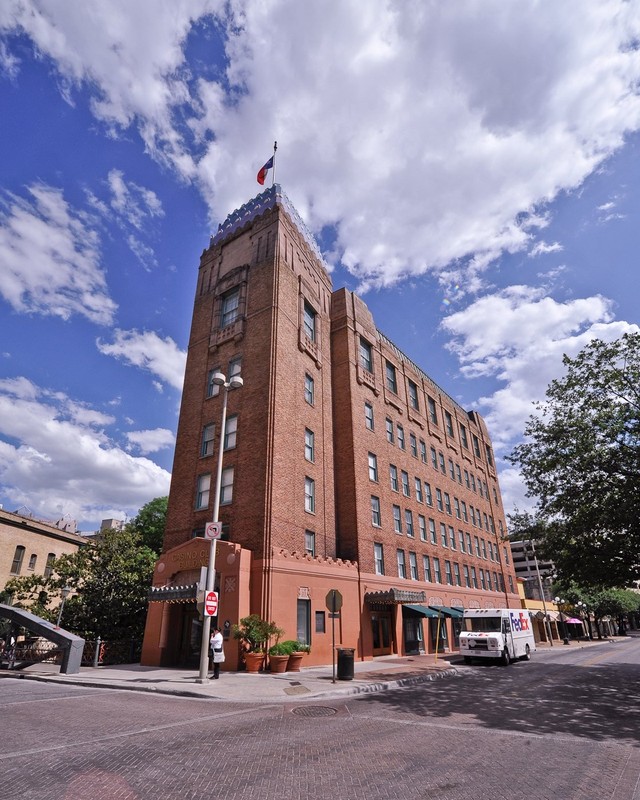 Backstory and Context
Membership to the club was limited to German men who gathered to socialize, play games, read, and discuss literary related topics. Apparently, a number of distinguished guests visited the club (the Casino Club) in its early years including generals Ulysses S. Grant and Robert E. Lee. The club remained very active until the Great Depression, which took a toll on the club's finances. The club was forced to sell the building in 1940.

In 1942, oilman Thomas Gilcrease bought it to use it as the headquarters for his company. Gilcrease also housed his collection of Western art in the building. He sold the building in 1952 to an insurance company. During the next 20 years or so, it was mostly vacant. At some point, presumably in the 1980s, the building was converted into apartments. As for the club itself, it appears that it remained active until the 1960s.
Sources
"About the Casino Club Building." Casino Club Building. Accessed May 1, 2019. http://casinoclubbuilding.com/about.htm.

Cameron, Minnie B. "Casino Club." Handbook of Texas Online. Accessed May 1, 2019. https://tshaonline.org/handbook/online/articles/vnc01.

McDonald, Colin. "Cityscape, Casino Club Building." Mysanantonio.com. March 31, 2013. https://www.mysanantonio.com/news/environment/article/Cityscape-Casino-Club-Building-4396971.php.

Rickards, Lenora B. "San Antonio Casino Club Building." National Park Service - National Register of Historic Places Nomination Form. January 8, 1980. https://atlas.thc.state.tx.us/NR/pdfs/80004078/80004078.pdf.

"San Antonio Casino Club Building." The Historical Marker Database. Accessed May 1, 2019. https://www.hmdb.org/marker.asp?marker=30603.

Photo: The Historical Marker Database
Additional Information