Site of the Home of Dr. Ferdinand Ludwig Herff - Historical Marker
Introduction
This marker indicates where the home of prominent San Antonio physician, surgeon, and civic leader Dr. Ferdinand Ludwig Herff (1820-1912) was once located. The marker is located along the River Walk on the south of side of the Nix Medical Center building. Herff studied medicine in Germany then immigrated to Texas in the late 1840s and finally settled in San Antonio in 1850. He was a pioneer in plastic surgery, cataract extraction, tuberculosis treatment and, importantly, understood the importance of cleanliness when providing patients with medical care. Herff also served as an alderman from 1850-1851 and on the Texas State Board of Medical Examiners in 1880. He was well known in San Antonio and throughout Texas for his skills and innovations as a doctor.
Images
The marker is attached to the south wall of the Nix Medical Center building. Photo: The Historical Marker Database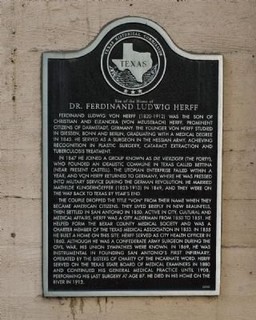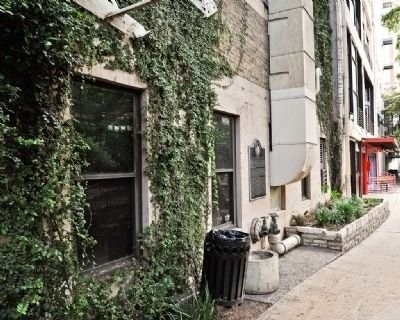 Dr. Ferdinand Ludwig Herff (1820-1912)
Backstory and Context
Herf was born in Darmstadt, Germany to an aristocratic family; his father served as Chief Justice of the Hessian Supreme Court and his uncle was the president of the University of Bonn, one of the universities Herf would attend as a young adult. He also studied at the University of Berlin and the University of Giessen, where he finished his medical training. During these years he learned innovative medical techniques and ideas that would serve him well later in life.

After graduating from Giessen, Herff joined the Hessian army as a surgeon in 1843. It was during this time that he developed some of the techniques mentioned above. He left the army in 1846 and made his first trip to Texas in 1847 as part of a utopian community called "Die Vierziger" (The Forty, in English). They founded a now non-existent commune called Bettina near the present-day town of Castell. Due to a number of issues, including the members' inability to cope with living on the frontier, it ultimately failed and Herff returned to Germany where he rejoined the Hessian army.

The late 1840s was a tumultuous and violent political period in Germany. Herff earned a reputation for his successful treatment of battle casualties and strict attention to cleanliness, which reduced infection rates. He and his wife, Mathilde, immigrated permanently to Texas in 1850 and settled in San Antonio and would remain for the rest of his life. Since there were no hospitals there at the time, Herff treated patients and performed surgeries in homes, hotels, and even outside.

Herff's decades-long career was one of many achievements. These include performing the first successful cataract operations (on a Comanche man) in the state, one of the first hysterectomies in the country, and one of the first appendectomies in the state. Other notable medical procedures include removing two large bladder stones from a Texas Ranger using chloroform, correcting a depressed skull fracture to reduce the effects of epilepsy, removing an arrow from a person who traveled 100 miles to get help, and operated on his daughter-in-law how had an ectopic pregnancy (the fertilized egg is located outside of the uterus).

On a broader level, Herff helped establish the Bexar County Medical Society in 1853 and what is now the Texas Medical Association in 1876. He was also the co-founder of the city's first hospital in 1869, which is now Santa Rosa Hospital. During the Civil War, he served as a physician for the Confederates despite being a supporter of the Union. He continued to practice until 1908 when he was 87 years old. He performed his last surgery during that year. He passed away on May 18, 1912. He is buried at City Cemetery No. 1.
Sources
Belasco, Jessica. "Herff had a major impact on local health care." San Antonio Express-News. February 2, 2015. https://www.expressnews.com/150years/education-health/article/Dr-Ferdinand-Herff-had-major-impact-on-local-6103351.php.

"Site of the Home of Dr. Ferdinand Ludwig Herff." The Historical Marker Database. Accessed April 30, 2019. https://www.hmdb.org/marker.asp?marker=30554.

Stembridge, Vernie A. "Herff, Ferdinand Ludwig." Handbook of Texas Online. Accessed April 30, 2019. https://tshaonline.org/handbook/online/articles/fhe27.

Photos:
- The Historical Marker Database (historical marker)
- UTSA Libraries Special Collections (Dr. Ferdinand Ludwig Herff)
Additional Information