Maggie Daley Park Skating Ribbon
Introduction
In the heart of the beautiful Windy City, lies the must see Maggie Daley Parks' ice skating ribbon. The name of the park came from former first lady of Chicago, Maggie Daley, who died in 2011 of breast cancer. Designed by landscape architect, Michael Van Valkenburgh, thought of the idea to connect Millennium Park and Maggie Daley park by the BP Pedestrian Bridge. The park is also being built on top of a 4,000 capacity parking garage. After 2 years of building and 60 million dollars later Maggie Daley Park had its ceremonial ribbon cutting on December 13th, 2014. Unfortunately, the park did not officially open until June 2015.
Images
View of Maggie Daley Park and Chicago skyline.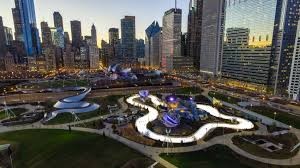 Maggie Daley Park Skating Ribbon in mid December.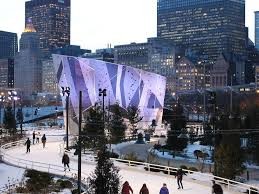 Backstory and Context
It's not the things inside the park that should be remembered, it's the name of the park. Maggie Daley, who was Chicago's first lady for 22 years, helped the community and was deeply committed to improving the lives of children and making the city culturally rich for all of its citizens. After fighting breast cancer for nearly 10 years and being apart of Chicago history there is no better way of being re-payed than with a 60 million dollar park and skate ribbon in your name.

Chicago brought in award-winning landscape architect, Michael Van Valkenburgh associates, to build Maggie Daley Park on 20 acres of land and on top of a parking garage that holds 4,000 cars. Van Valkenburgh's design for Maggie Daley Park mediates between the active Millennium Park and the more traditional style of Daley Bicentennial Plaza. Van Valkenburgh's design splits up the park, first is the "active axis" with interactive features that allows you to be active and do stuff. Whereas the "passive axis" brings back the idea of a park being a quiet refuge and the best thing about the passive axis is that it lies on a series of low hills made up of 18,400 cubic yards Geofoam that gives visitors a great view of the park and the skyscrapers. Although 10,000 trees were planted, they won't mature for at least a decade, so in the meantime there is a sequence of thirteen 50-foot-high lighting tripods. Maggie Daley Park has many destinations in it but the Skate Ribbon is the most visited out of all them.

The Skating ribbon is in the "active axis" part of the park. The ribbon extends for one-quarter mile and has a capacity of 700 skaters. This ice rink isn't like the traditional ones, this one allows you to enjoy breathtaking views of the Chicago skyline as you glide along the ice and most importantly, it's twice size as a normal ice rink. It's absolutely free to enter the park but it does cost money to skate on the skate ribbon, it's $12 Monday-Thursday and $14 on weekends and holidays. They do have a couple of packages in case you don't want to wait in line or whatever the case is but you have to make the purchase 72 hours in advance. Skating with your friends, drinking hot chocolate, a perfect skyline and beautiful lights above you, are the things that come to mind when thinking about the Skate Ribbon but none of this could've been done if it wasn't for the history of Maggie Daley and the things she did for everyone. Whether you're young, or just young at heart, Maggie Daley Park Skate Ribbon has quickly become a must-see in downtown Chicago.

Sources
Becker, Lynn. 6 things you need to know: Maggie Daley Park. Chicago Architecture Center. . Accessed April 29, 2019. http://www.architecture.org/news/chicagos-playscapes/six-things-you-need-to-know-maggie-daley-park/.

Skating Ribbon. The Official Website of the Chicago Park District's. . Accessed April 29, 2019. https://maggiedaleypark.com/things-to-do-see/skating-ribbon/.

Maggie Daley Park. Wikipedia. February 11, 2019. Accessed April 29, 2019. https://en.wikipedia.org/wiki/Maggie_Daley_Park.

Donahue, Wendy. Maggie Daley ice ribbon: Know before you go. Chicago Tribune. December 23, 2014. Accessed April 29, 2019. https://www.chicagotribune.com/lifestyles/parenting/ct-sun-1228-jk-frozen-fun-20141223-story.html.


Additional Information