The Trenton War Memorial and Patriot's Theater
Introduction
Built and opened in 1932, the Trenton War Memorial was originally erected to honor those from Mercy County, New Jersey who served and died in World War 1. Boasting a theater seating 1800 viewers, the memorial still serves its original purpose of being a community asset to this day. After a thorough remodeling and updating, it was rededicated to all of New Jersey's fallen.
Images
Trenton War Memorial Rededication Marker, taken by Gary Nigh, November 2007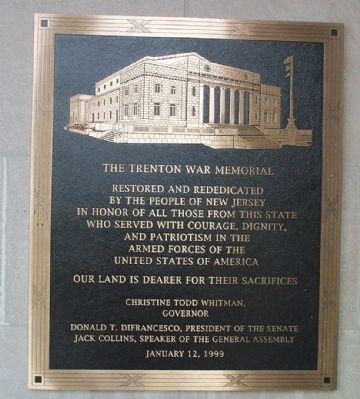 A look at the theater via New Jersey's official web-page.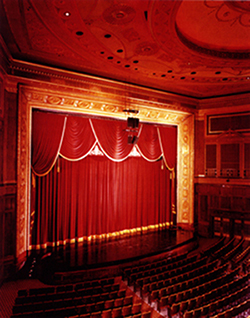 Backstory and Context
The War Memorial was originally built to honor those who had fallen in World War 1, acting as a community center. The War Memorial Committee wanted to create a dignified memorial that would provide for public utility. In addition to the theater, there are also stately rooms for conferences as well as a ballroom for formal events.

Come 1999 after five years of work, the memorial was renovated and reopened to the public. Renovation made great efforts to preserve historic value while upgrading the theater for modern usage. Upon completion, the memorial was also rededicated to include all of New Jersey's war dead throughout history.

To this day, the theater is still in use and host multiple events through out each year. People who host shows are able to rent the theater rooms as well. The price varies depending on if it is for profit or non-profit. You can also rent other rooms as well depending on the price and what it is for.
Sources
Patriots Theater at the War Memorial. Official Site of the State of New Jersey. . . https://www.nj.gov/state/memorial/index.shtml.


Nigh, Gary. The Trenton War Memorial. The Historical Marker Database. December 01, 2007. . https://www.hmdb.org/PhotoFullSize.asp?PhotoID=11851. Photo of the Redication Marker



Additional Information