Spencer Cemetery
Introduction
At the top of Burley Hill in Cameron, WV, Spencer Cemetery commands a view of the surrounding mountains. The cemetery contains only a single monument known as a treestone, with two headstones. The Spencer treestone is unique for its double trunks and missing death date for Effie Spencer. The monument was added to the National Register of Historic Places in 2012.
Images
A view of the Spencer Cemetery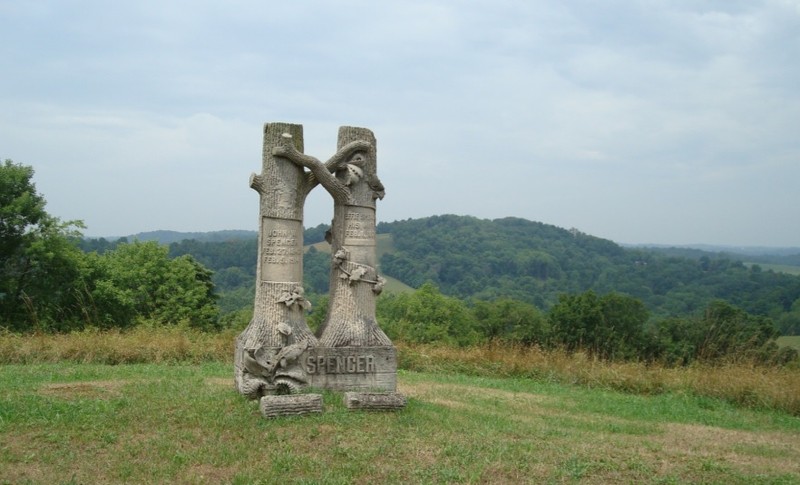 A close-up of the headstones for John and Effie Spencer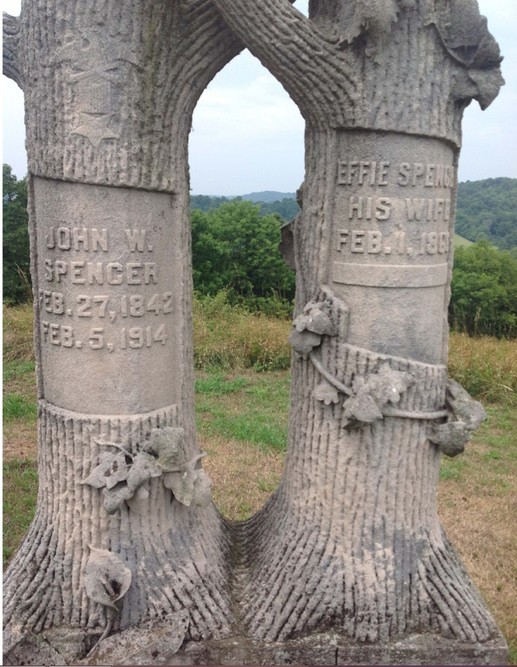 Backstory and Context
  The Spencer Cemetery is very small, containing just a single monument and two headstones. Once the property a wrought iron fence around the perimeter, but that was later removed due to rust. The cemetery's monument was erected in honor of John W. Spencer who died in 1914. It is made of carved limestone and is about ten feet high. The monument is carved into the shape of two trees with a rectangular space on each trunk for the inscriptions. Monuments like this one were popular in the Victoria period and often referred to as three stones. On the monument are headstones for both John Spencer and his wife Effie. Though John Spencer's headstone features both dates of birth and death, his wife's date of death was never engraved. 
  The Spencer Cemetery has never been an organized, public cemetery and is instead a private family lot. Cemetery's like this one are common in rural Appalachia as many farms were located too far from cities and churches to make funerals there practical. Instead, families would designate parts of their own property as a family cemetery. What originated out of necessity became a deep-rooted tradition. Many Appalachians in the area continued to bury their relatives in small, family-owned cemeteries despite having better access to other options. These cemeteries are often divided into family units with each matriarch or patriarch surrounded by their immediate kin. Today, these family cemeteries are beginning to be less common. 
  Spencer Cemetery is not as extensive as many other Appalachian family plots and holds only the graves of Effie and John Spencer. The couple had no children to have been buried with them. John had children with his first two wives, Mary Ellen Hess Spencer and Rebecca Spencer, but both wives and their children are buried elsewhere in the area. The marker indicated that Spencer served in the Grand Army of the Republic and was a Union veteran of the Civil War. Spencer would likely have been stationed in Wheeling with the West Virginia Independent Exempts Infantry which was tasked with protecting the newly formed state capital. 
  Aside from the now removed wrought iron fence, the cemetery remains an excellent example of the treestone and Appalachian family cemetery. In 2012 the cemetery was added to the National Register of Historic Places. The designation was granted for both the age of the cemetery and the well-preserved monument. The Spencer treestone remains an excellent example of the then-popular monument style. 
Sources
Lucey, Cathy. Spencer Cemetery. WV Department of Arts, Culture, and History. . Accessed April 27, 2019. http://www.wvculture.org/shpo/nr/pdf/marshall/12001051.pdf.
Additional Information