Park Shops
Introduction
Named for Charles B. Park and built in 1914, the Park Shops is where classes such as Woodworking, Machinery, and Welding were taught from 1914-1949. The building has been extensively renovated and currently holds several light-filled atriums and exposed-brick lecture halls along with a video studio for the campus Distance Education office and a popular coffee shop.
Images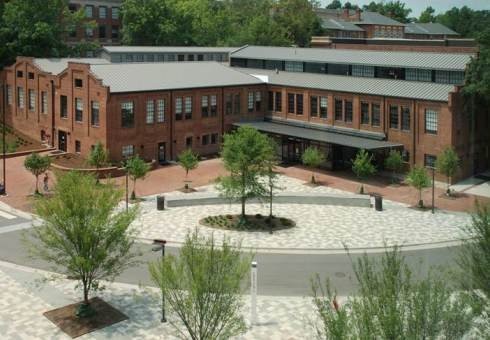 Backstory and Context
Born in Raleigh, Professor Park started as a machinist for the Seaboard Air Line Railway before serving as a professor from 1890-1934 and a forge shop instructor from 1890-92. He also later held leadership positions such as the superintendent of the Mechanical Engineering Department shops and the Heat, Light and Power Plant. Additionally, he played an integral role in Raleigh's city planning by acting as chairman of the first City Planning Commission and participating in naming many of Raleigh's streets.
Sources
Park Shops. NC State University. 2019. 04/27/2019. https://projects.ncsu.edu/facilities/buildings/park.html