Administration Building
Introduction
This building was built in the early 20th century. In its lifetime, it was once home to both the library and the Georgia Museum of Art. After they outgrew the building, it became the Administration Building. The office of the University of Georgia's President is located here.
Images
Picture of the building's exterior. Taken from the Univeristy of Georgia's Building index.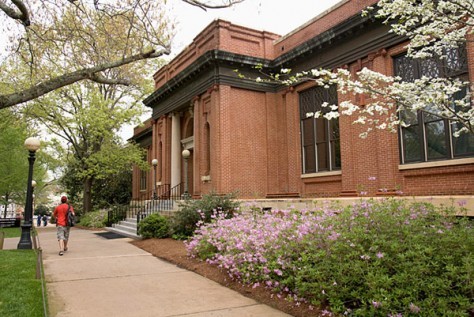 Backstory and Context
The Administration Building is a red brick building located next to Terrell Hall and Old College. It is a two story building, with a Black trim wrapped around the building. The front of the building, facing west, has two wooden doors with windows and two white columns on either side of the doors. On the south side of the building there is a gated patio space with some chairs surrounded by greenery. The north side of the building has the handicapped entrance, another patio space with some benches, and the parking lot for the building with three reserved spots. The east side has a back entrance for employees.
The building was built in 1905 to house the school's library, which before then had been located in what is now the Holmes-Hunter Building.1 Its construction was funded by George Foster Peabody and this new "fire-proof" building was to hold the library's 30,000 volume collection.2 During the 1940s, the building's basement also became home to the Georgia Museum of Art.3 Then in 1952, the art museum would take over the whole building when the Ilah Dunlap Little Memorial Library was built to house the ever growing collection of books.4The building would then remain unchanged until the 1990s when the museum was able to move to its new building located on East Campus.5 The building then went through some renovations, which were completed in February of 2000.6
The building currently houses four offices. The President, the Senior Vice President for Academic Affairs and Provost, the Senior Vice President for External Affairs, and the Senior Vice President for Finance and Administration are all located in this building.
Sources
1-4: A Timeline of the University of Georgia Libraries. University of Georgia Libraries. . . https://www.libs.uga.edu/history.

5: History. Georgia Museum of Art. . . http://georgiamuseum.org/history/.

6: Administration Building. University of Georgia Office of University Architects for Facilities Planning. . . https://www.architects.uga.edu/projects/administration-building.