Stonewall Jacksons Headquarters Museum
Introduction
This Hudson River Gothic Revival style house, a Virginia and National Historic Landmark, was used as headquarters by General "Stonewall" Thomas Jackson during the winter of 1861-1862. Stonewall described the house as "a beautiful situation," according to Mrs. Jackson. This home has the most memorabilia and personal objects from Jackson than any other museum. The home was not turned into a museum until 1960 when Lieutenant Colonel Lewis Tilghman Moore offered his home to be a museum for Jackson. The museum honors the memory of General Jackson's military genius as Robert E. Lee's most valuable officer.
Images
Stonewall Jackson Headquarters Museum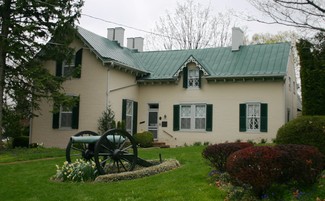 The interior of the museum.

The land and acres of the home.

Backstory and Context
Stonewall Jackson lived in this home located in Winchester, Virginia from November 1861 to March 1862. Jackson had taken over the Valley District and moved here with his wife, Mary Anna. The house was originally built by William Fuller in 1854 on a five acre lot. The house was originally owned by Lewis T. Moore who invited Jackson to his home to be used by Stonewall for his headquarters. He immediately fell in love with the cottage like home because of the number of rooms and the wall paper. Stonewall Jackson wrote in a letter that he had never seen more beautiful paper than this before. Today the house still has the same wall paper, although it has been updated.
From this home Stonewall Jackson planned his campaigns and his Shenandoah Valley defenses. The home was named "Alta Vista" by William Fuller. While living here Jackson fell in love with the people and environment the city had. Jackson referred to it as their "winter home" but his wife knew that he wanted it to be their permanent home after the Civil War. In the 1960s Jackson home was bought and converted into a museum that includes many artifacts and personal items Jackson had left behind.
The museum has Jackson's personal prayer table on display and his initialed prayer book. Along with that, the house also includes h
is campaign desk and chest that are especially noteworthy pieces of the items. The
wallpaper is an elegant gilt paper that Jackson had picked out, but has been updated recently. This museum honors Stonewall Jackson and all the hard work he did during his military career. Tours are given daily by helpful tour guides between April and October.
Sources
http://oldtownwinchesterva.com/business-directory/attractions-museums/stonewall-jacksons-headquarters-museum/ http://en.wikipedia.org/wiki/Stonewall_Jackson%27s_Headquarters_Museum
Additional Information