The Cozy Inn
Introduction
The Cozy Inn is a restaurant in Salina Kansas where past and present join together to create a one of a kind hamburger experience. This six-stooled diner is located in the historic downtown district by the Smoky Hill Museum. Extraordinarily, the Cozy Inn remains true to a 1922 diner experience permitting visitors to step back in time. A Cozy Inn hamburger, known to locals as Cozies, is a taste of home to the Salina community, but its impact reaches much farther. All burgers are cooked on the original grill and locals will tell you it is almost impossible to escape the well-known "Cozy" smell. Due to this, one can still smell like visitors did back in 1922. As modern fast foods take over the world, the unconventional, unique, and historical Cozy Inn place it on the list of the top tourist experiences in Kansas.
Images
This image shows how popular The Cozy Inn was as eager customers waited in line. People would line up in order to get their 5 cent burger and were truly excited.
This image shows the founders of The Cozy Inn.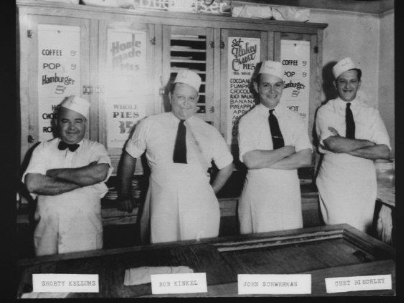 A more recent image of the menu in The Cozy Inn.
A current image of the interior in the six-stooled diner.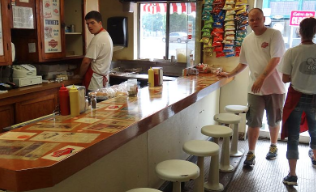 An exterior view of The Cozy Inn.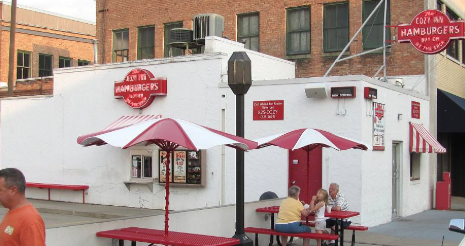 Backstory and Context
The Cozy Inn originated in 1922 when former semi-pro baseball player Bob Kinkle purchased the building. The tiny diner is located on 7th Street, which is right in the heart of downtown Salina. This put the Cozy Inn at walking distance to schools and businesses within the district, and due to the proximity, the restaurant was and still remains as a very convenient place to eat. It has served as a cheap and easy meal for generations as kids walking from school, and workers on lunch break, stopped in to get a taste. The Cozy Inn continued its popularity through World War II as Army installations in the area attracted soldiers. By 1972, it was determined that over 54 million Cozies had been purchased and that they were selling at a rate of 8,000 a week. As people moved and relocated, the memory of the Cozy Inn spread.

Between the years of 1978 and 1984, a bigger grill was installed into the restaurant, in hopes to produce hamburgers quicker. Consequently, the old grill was taken out and put under the cook's porch and not to a dump, as the rumors go. However, after this action, complaints came in that the burgers just were not the same. Due to this, the old grill was reinstalled and still remains. This grill holds about 50 "cozies" and leaves a taste of the past in every burger that it produces.

Together, Bob and Katherine Kinkle ran the restaurant until Bob's death in 1960. After Bob's death, his wife kept the legend alive. The Cozy Inn is now owned and operated by Steve Howard. However, one can still get the same type of hamburger that sizzled in 1922. Cozy Inn hamburgers cannot be made into deluxe orders or even customized at all. Cozies consist of one-ounce of ground hamburger laden and grilled with onions, enhanced with pickle slices, and topped off with mustard or ketchup. With that said, there is a caution to all wishing to get a taste, because some say the Cozy Inn uses about 15 tons of onions a year. This aroma perfumes all visitors with an authentic scent that lasts much longer than the food and can be attested to by all who have eaten there.

Like all historic sites, the Cozy Inn is a unique place that has its fair share of stories. Due to the smell, younger workers have reported that their mothers make them strip their clothes and shower before going into the house. One young woman recounts her mother asking for a famous Cozy Inn hamburger as one of her dying wishes. Famous actors such as Billy Bob Thornton, Adam Sandler, and John Travolta have been said to purchase Cozies while in the area. It has been mentioned in numerous forms of media including television shows, magazines, and websites as one of the best hamburgers in the entire state. Owner Steve Howard said in an interview that

"You can still see the excitement of people as they walk into the Cozy Inn," and "On really busy days it is interesting to go outside and look at all the different license plates of those that have traveled to eat our burgers."10
The only renovations that have been made to the Cozy Inn were in 2003 when the owner added a pick-up or walk-up window to help visitors escape the onion odor, and 3 outdoor eating tables with umbrellas. Despite these renovations, the original porcelain stools and countertop still remain. To add to the atmosphere, the inside of the Cozy Inn is plastered with newspaper clippings and memorabilia to commemorate its story.
The Cozy Inn is a step back in time that gives all visitors the opportunity to experience the history of a hamburger in the same lens that those in 1922 did. It is an ordinary person's place that produces extraordinary memories. Almost every person who has visited can recount a story of the smell, atmosphere, and smiles that Cozies have created. For those feeling nostalgic, the recipe for Cozies can be found on their website or they can be ordered from anywhere. The Cozy Inn will continue to provide generations of people with historical experience, and even though there is no true price on a historical tradition, a legendary Cozy only costs a dollar and nineteen cents nowadays.
Sources
1. David Clouston, "Walk-up window back at Salina landmark," The Salina Journal, September 6, 1997.
2. Gordon D. Fiedler Jr., "Smell of Success," The Salina Journal, April 12, 2012.
3. Guernsey, Jeff. The Cozy Inn. Jeff Guernsey, 2013.
4. Meyer Lambdin, Diana. "Best Stinkin' Burger at The Cozy Inn" Mojotraveler blog, May 31, 2017. Accessed February 7, 2019. https://mojotraveler.com/best-stinkin-burgers-cozy-inn-salina-ks/.
5. Robert Enriken, "Good Old Days are gone, but Cozy Inn lives on," The Salina Journal, March 9, 1976.
6. Scott-Aldis-Wilson, "Life Cozy-Moments," The Salina Journal, July 31, 1999.
7. The Daily Meal. "Cozy Inn." Dan Meyers. Accessed February 7, 2019. https://www.thedailymeal.com/cozy-inn-0.
8. The Daily Meal. "101 Best Burgers in America for 2017: #53 Cozy Inn." Dan Meyers. Last modified June 19, 2017. Accessed February 7, 2019. https://www.thedailymeal.com/eat/101-best-burgers-america-2017-slideshow.
9. The Salina Journal, "Famous Cozy Inn will celebrate its 50th birthday this week," February 28, 1972.
10. Youtube. "I Am Angus: Steve Howard and Salina's Cozy Inn." Last modified March 8, 2012. Accessed February 7, 2019. https://www.youtube.com/watch?v=I21Ct7gQ3ew.
Additional Information