University Church
Introduction
The University Church is both a collection of people and a physical structure. For over fifty years, University Church has thrived in the Athens community, offering a Reformed Presbyterian teaching style in a house-church setting. This interplay between house and church gives the church a distinctive character and makes the building's history even more pertinent to members of the congregation and the community at large.
Images
The University Church road sign.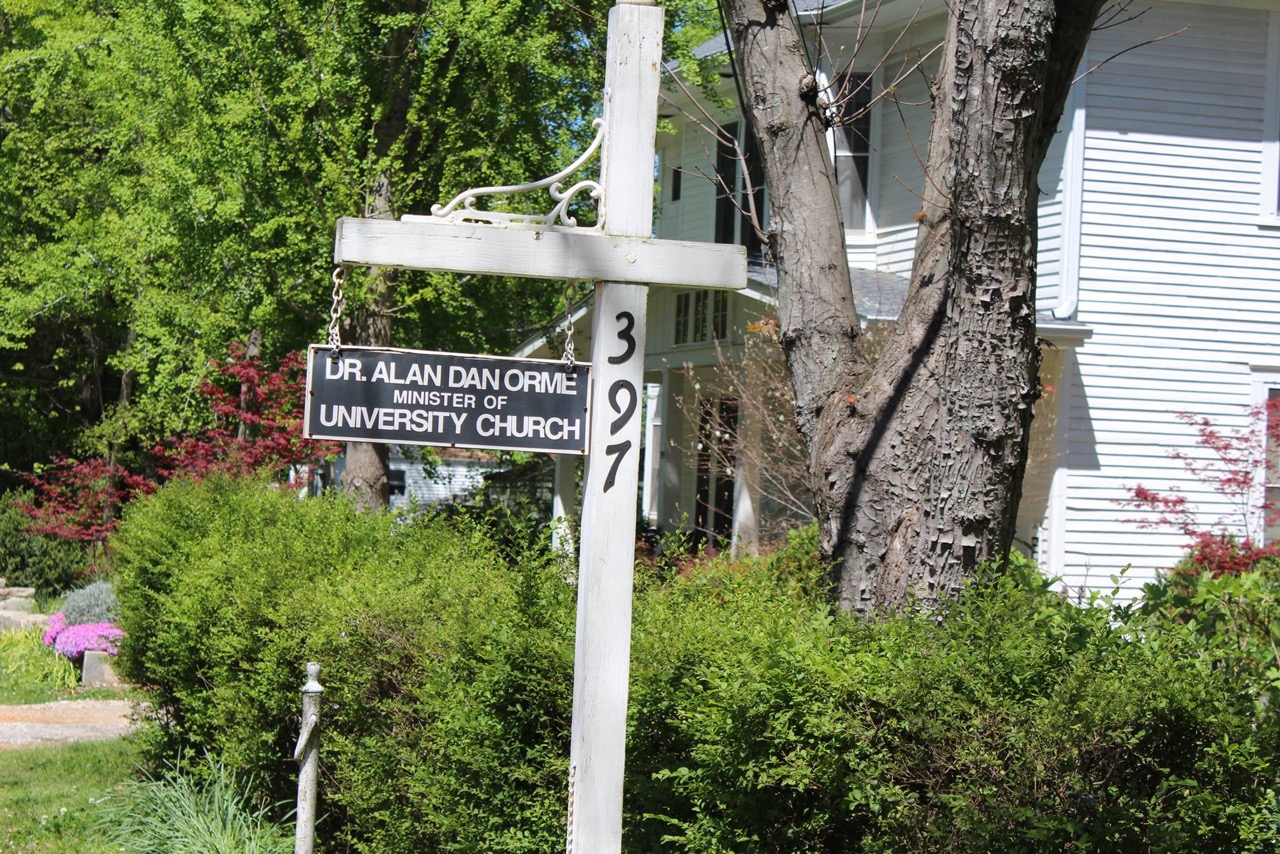 The University Church exterior in late summer.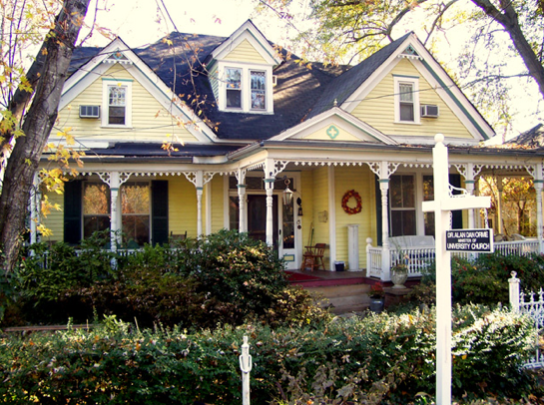 1988 photograph of Dr. Orme's house for a tour of homes.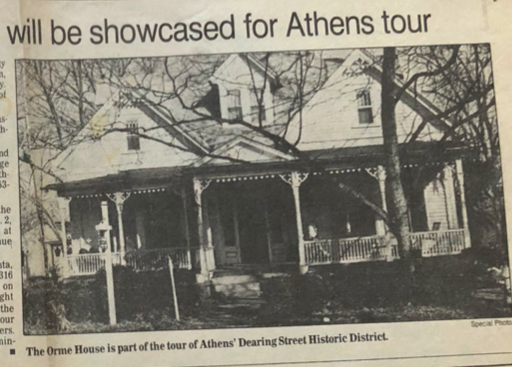 Dr. Orme posing with his house.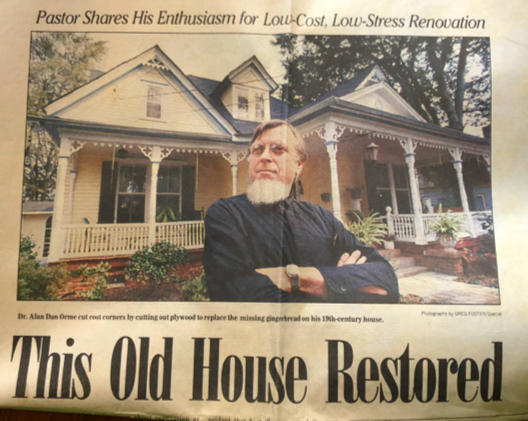 Dr. Orme on his front porch reading the newspaper.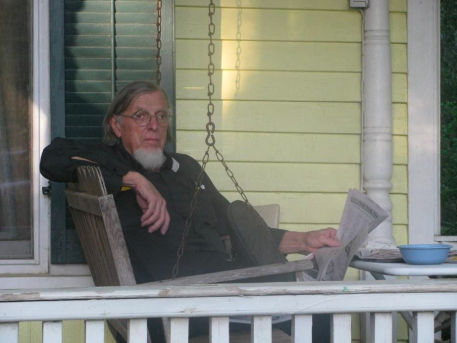 A sketch of University Church by Dr. Orme detailing his new gazebo and restored porch.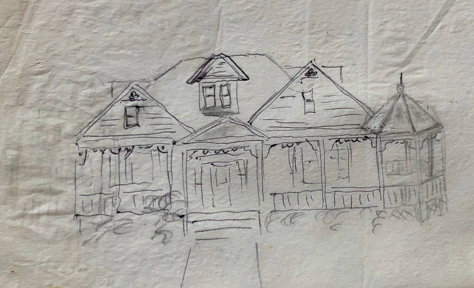 A view of Dr. Orme's library. Pictured also is one of a set of burgundy, velvet chairs originally housed in a church in St. Louis.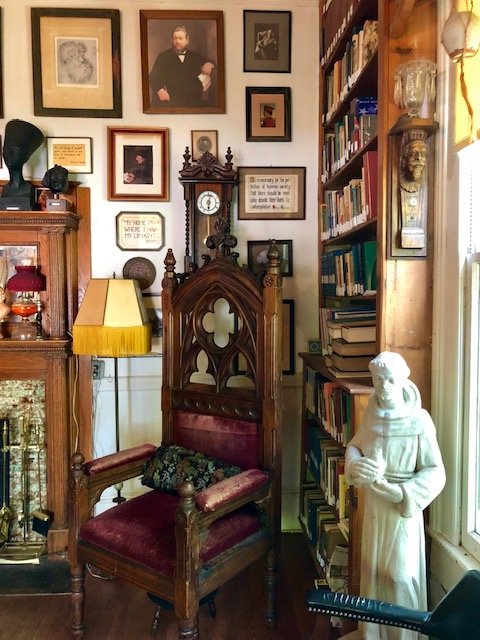 Additional views of the library, complete with a rolling ladder Dr. Orme built himself. The present library is the original Bloomfield chapel.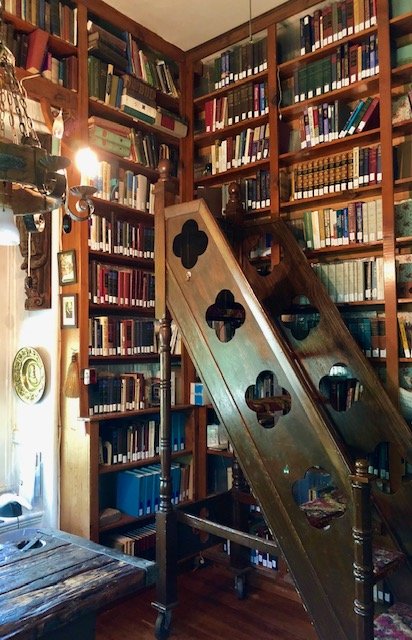 The grand staircase and central hallway added by the Cox family.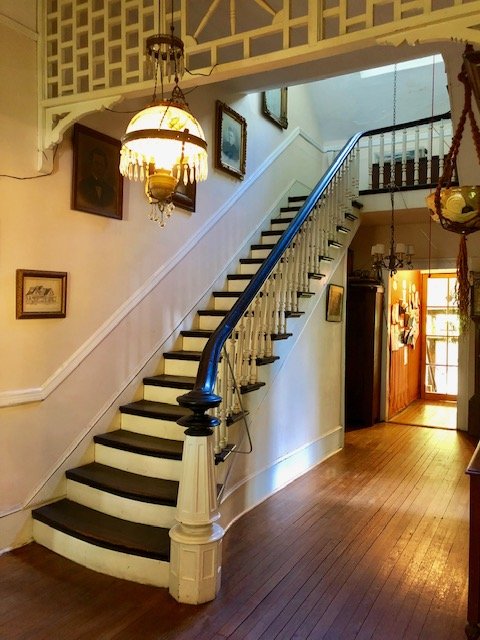 A corner of the front parlor, featuring a historic statue of an angel retrofitted with electric lights.
Backstory and Context
In the 1850s, Mr. Bloomfield, owner of the Athens Manufacturing Company, built a simple chapel on the rear of his estate at the intersection of South Church Street and States Rights Street (now Henderson Avenue). This chapel served as a private place of worship for his family. Later in 1869, he built St. Mary's Church on the opposite end of his estate for the factory workers so his Church St. chapel could remain in private use. Around 1900, Mr. Talmadge purchased the Bloomfield estate and promptly sold the future University Church plot to his friends, Mr. and Mrs. Drew Cox.
The Cox family added a second room and a hallway next to the chapel space upon their purchase of the property. Shortly after, they constructed two additional rooms towards the back of the house and attached a kitchen and wrap-around porch. By the time the Cox family sold the property around 1935, they had added a second story and multiple fireplaces throughout the house. Mr. and Mrs. Paul Smith were the next owners of this rapidly expanding house. Mr. Smith worked as the Athens area postmaster and moved into town so his children could have access to a high school education. During this time, the Smith family added two more bathrooms and removed part of the wrap around porch. In the 1960s, the Smiths retired to their country house and rented out portions of the University Church building as apartments until Dr. Orme purchased the property.
In 1969, Dr. Alan Dan Orme came to Athens to pursue his 4th and 5th degrees from UGA. He was dismayed to find, however, that no local churches were preaching the Gospel in a Reformed, academic style. With permission from the Southern Presbytery of the Reformed Presbyterian Church of which he was a minister, Dr. Orme founded his own church. In 1970, the nascent church began meeting in Memorial Hall on UGA's campus; at the time, it was only the third church to be started on campus. Though he meant the endeavor to last only as long as his studies at UGA, Dr. Orme discovered he had a passion for church ministry, and shortly after 1970, two members bought University Church a 1920s house on Milledge Avenue originally belonging to Alpha Psi, a veterinary fraternity. The church met there until 1983 when it moved into Dr. Orme's house on South Church St.
In 1976, Dr. Orme had purchased this house and proceeded to make many practical and sometimes quirky changes to the building. He added two balconies in the rear rooms, dug out a wine cellar and basement, added a gazebo corner to the porch, and built a room above the kitchen - just to name a few of Dr. Orme's projects. With the University Church building at the end of Henderson Avenue, one of Athens' historic districts, Dr. Orme had the option of adding this property to the National Register of Historic Places. However, he "emphatically rejected inclusion in the historic district" because his house had multiple years of significance and many late structural additions.
As the church continued to grow at Dr. Orme's home, it became apparent that University Church was a distinctively "house church." The members didn't invest in church pews or religious objects typically found inside places of worship; instead, they embraced the "family" feel of University Church and followed in the footsteps of early Christian house churches. Twice a week, church members share a meal prepared by one of the families and engage with each other in theological discussions.
With Dr. Orme's death in 2015, the church has adopted an elder-lead model of leadership and strives to further University Church's reach in a way Dr. Orme would have been pleased to see. It continues to hold services in his house, which is now controlled by a Charitable Trust, and honors Dr. Orme's legacy by using his home for activities he loved: sharing the Gospel and exhibiting hospitality.
Sources
Dr. Alan Dan Orme. personal notes. Accessed through the Alan Dan Orme Charitable Trust Foundation. 1976 - 2000.
Georgia Historic Newspapers. "The Red and Black (Athens GA)." February 28, 1975.
Golderman, Molly. "Over the Dog Years: St. Mary's Church Steeple Nearly 150 Years Old." The Red&Black, November 23, 2014.
Mayer, Barbara. "Church is Also Home Sweet Home - Huge, Renovated Vintage House." Los Angels Times, September 2, 1989.
Sanborn Fire Insurance Maps. "Athens GA, Clarke County." Accessed February 26, 2019.
Saunders, Tinah. "Lesser-known historic neighborhood will be showcased for Athens tour." The Atlanta Journal and Constitution, April 3, 1988.
The University Church elders. "A Short History of the University Church." Accessed March 22, 2019. http://theuniversitychurch.info/oldWebsite/public_html/history.html
Additional Information