1928 Democratic National Convention - Historical Marker
Introduction
This historical marker commemorates the 1928 Democratic National Convention, which was held here on this site from June 26-29 in a building called Sam Houston Hall. Houston was chosen thanks in large part to local businessman Jess H. Jones. An influential member of the Democratic Party in Texas, Jones traveled to Washington D.C. to deliver a certified check for $200,000 to enter the city's bid the Democratic National Committee. The marker is located on Ruck Street next to the Hobby Center for the Performing Arts.
Images
The marker is located just outside the Hobby Center for the Performing Arts.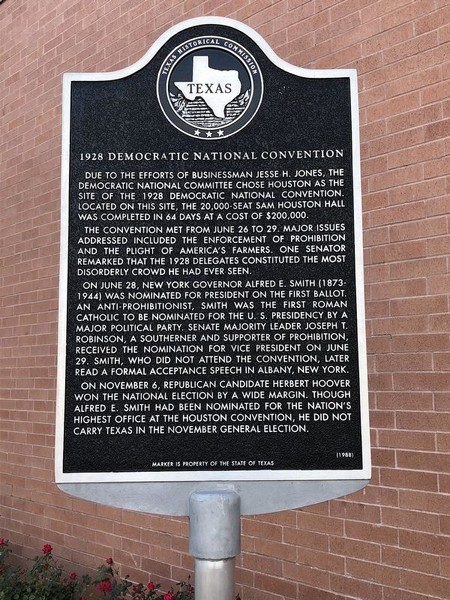 Backstory and Context
Despite the city's relatively small size at that time, only 300,000 residents, the committee chose Houston over Chicago, Cleveland, and Detroit in hopes that the party might do better to appease the largely Protestant and prohibitionist South that formed an important base of the party. Despite the fact that the South had been solidly Democratic since the end of Reconstruction, this was the first Democratic convention held in the South since before the Civil War.

Sam Houston Hall was built in just 64 days. During the convention, anti-prohibitionist New York Governor Alfred E. Smith (1873-1944) was nominated for president. Senate Majority Leader Joseph T. Robinson, who supported prohibition, was nominated for vice president. The Republican nominee for president, Herbert Hoover, would go onto win in November. He also won Texas, becoming the first Republican to do so.
Sources
"1928 Democratic National Convention." The Historical Marker Database. Accessed April 20, 2019. https://www.hmdb.org/marker.asp?marker=116847.

Ferrer, Ada. "Democratic National Convention of 1928." Handbook of Texas Online. Accessed April 20, 2019. https://tshaonline.org/handbook/online/articles/wbd01.

Photo: The Historical Marker Database