Site of Confederate Prison Compound - Historical Marker
Introduction
Located in a sitting area just outside of the Student Life Center on the University of Houston-Downtown campus, this historical marker indicates the site of a Confederate prison that once housed Union soldiers during the Civil War. They were imprisoned in two shipping warehouses at various times that once stood here. In 1863, 350 Union soldiers—mostly from the 42nd Massachusetts—captured by General John B. Magruder during the Battles of Galveston (January 1) and Sabine Pass (September 8) were held in the warehouses. Apparently, the soldiers were treated well as compared to other Confederate prison camps, particularly the infamous camp at Andersonville, Georgia.
Images
The historical marker is situated in a sitting area outside of the Student Life Center on the University of Houston-Downtown campus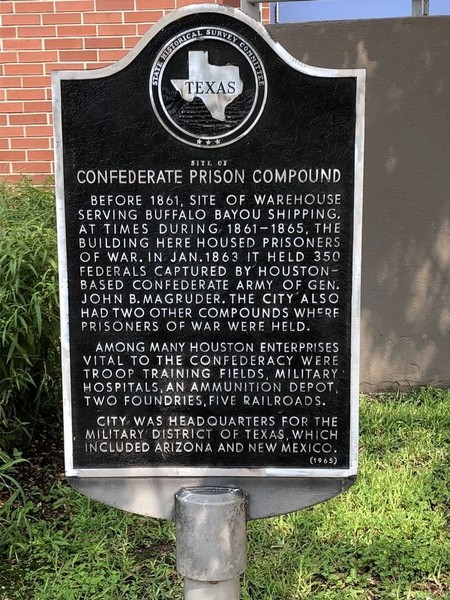 Backstory and Context
Battle of Galveston

On October 4, 1862, a Union naval force of eight ships commanded by William B. Renshaw sailed into the Galveston harbor to blockade the city and demand its surrender. A four-day truce allowed the Confederate soldiers to retreat to the mainland (the city is located on an island). While the Union ships controlled the harbor, the city remained unguarded until the 42nd Massachusetts arrived December 25th. They were ordered to patrol and build defensive earthworks around the city.

However, they were too late. The Confederate force of 2,000 men, led by MacGruder, attacked with help from artillery batteries and two ironclad gunboats, CS Bayou City and CS Neptune. The Union ships managed to sink the Neptune but the Bayou City captured the USS Harriet Lane. The USS Westfield became grounded in a sandbar was destroyed to keep from being captured. Union troops in the city thought the ships were all surrendering and gave up the fight. The other Union ships were able to escape to New Orleans.

At the prison compound, the enlisted soldiers and the officers were housed in separate quarters. Among the captured Union sailors were a some African Americans, who were either be sold into slavery or imprisoned at a state penitentiary in Huntsville. The rest of the captured sailors and troops were sent to other prison camps or parole camps. Most of the 42nd Massachusetts was sent to a parole camp where they were discharged in the summer.
Sources
"Galveston, Battle of." Handbook of Texas Online. Accessed April 19, 2019. https://tshaonline.org/handbook/online/articles/qeg01.

"The Houston Civil War Prisoner of War Compound: The Forgotten History." Houston Civil War Compound. Accessed April 19, 2019. https://houstoncivilwarprisoncompound.weebly.com/about.html.

"Site of Confederate Prison Compound." The Historical Marker Database. Accessed April 19, 2019. https://www.hmdb.org/marker.asp?marker=119862.
Additional Information