Orange City Elementary School - 555 East University Avenue
Introduction
Orange City Elementary School – Home of the Roadrunners This institutional structure opened in 1926 as a modern educational facility adorned with Mediterranean Revival influences. The new structure was designed to replace the former wooden school house. The facility is constructed in block with textured stucco exterior walls and decorative quoins at building corners. These elements, along with the rounded arches above the doors and windows and symmetrical façade, are indicative of the Revival architecture trending in Florida during that time. Orange City Elementary school is a contributing structure to the Orange City National Register Historic District and continues to serve as a public school facility today.
Images
The main entrance to Orange City Elementary School, which is the original structure built in 1928 and made of block and stucco. Photo by Donna Cobb.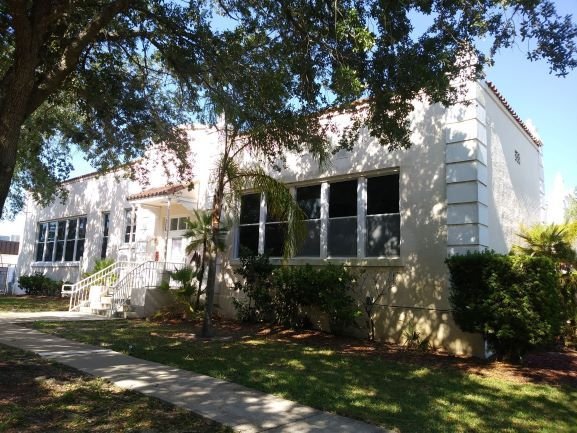 Looking at the side of building from the front to the back you can see the additional sections added through the years, built with more block, stucco and brick. Photo by Donna Cobb.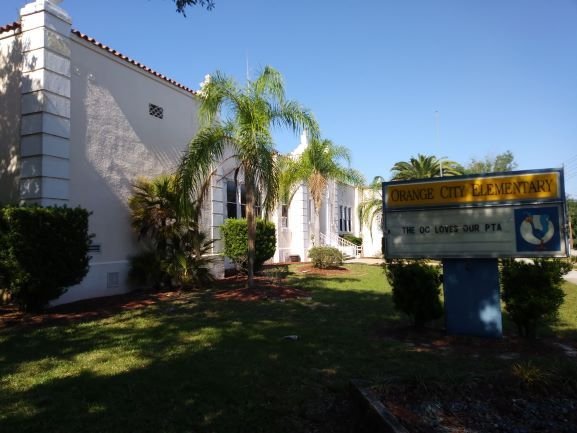 Orange City School, c. 188-. Source: Photo by M.M. & W.H. Gardner, State Archives of Florida, Florida Memory.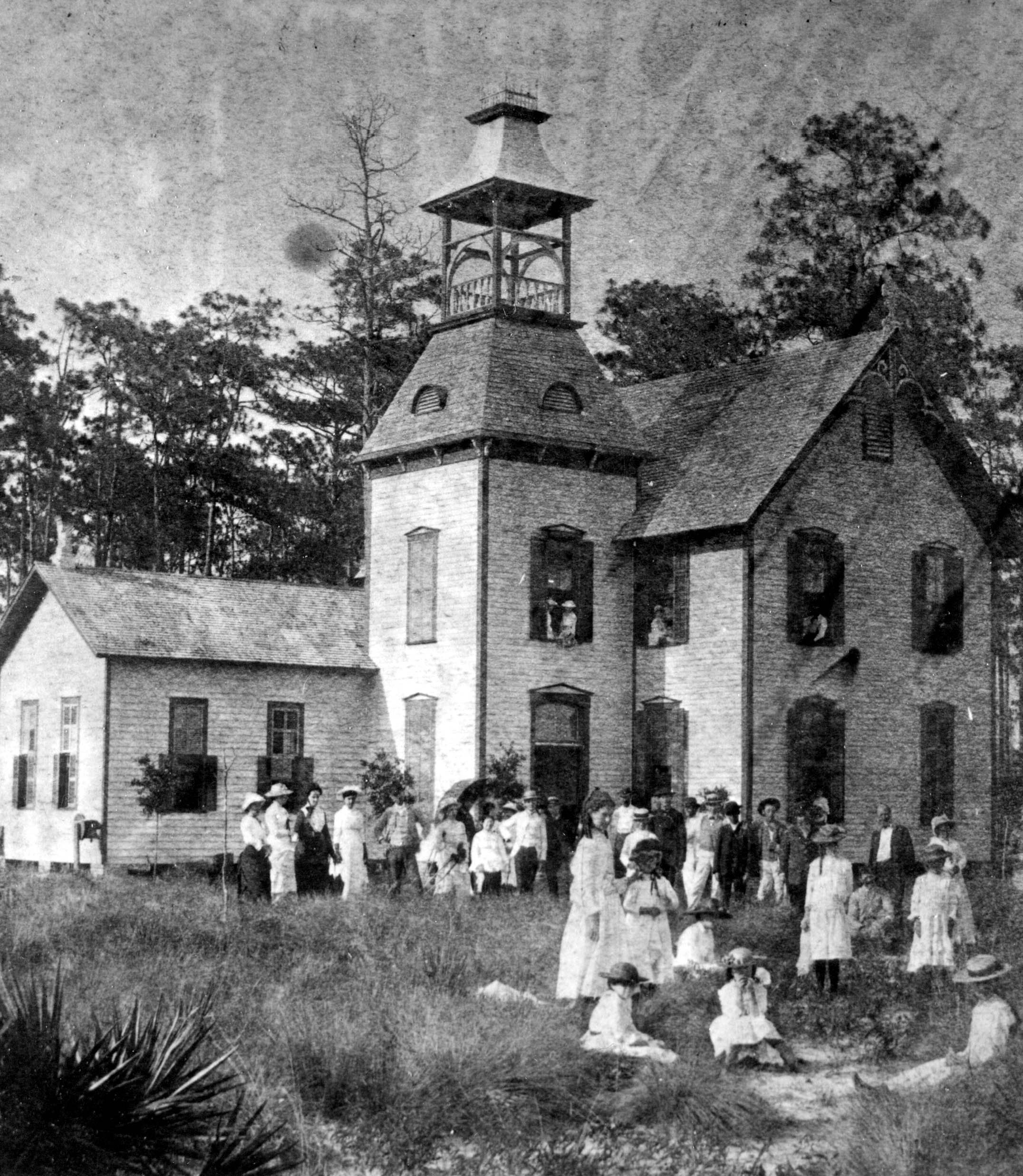 Map and Plan of Orange City, Volusia County, Florida. By Edward R. Trafford, 1877.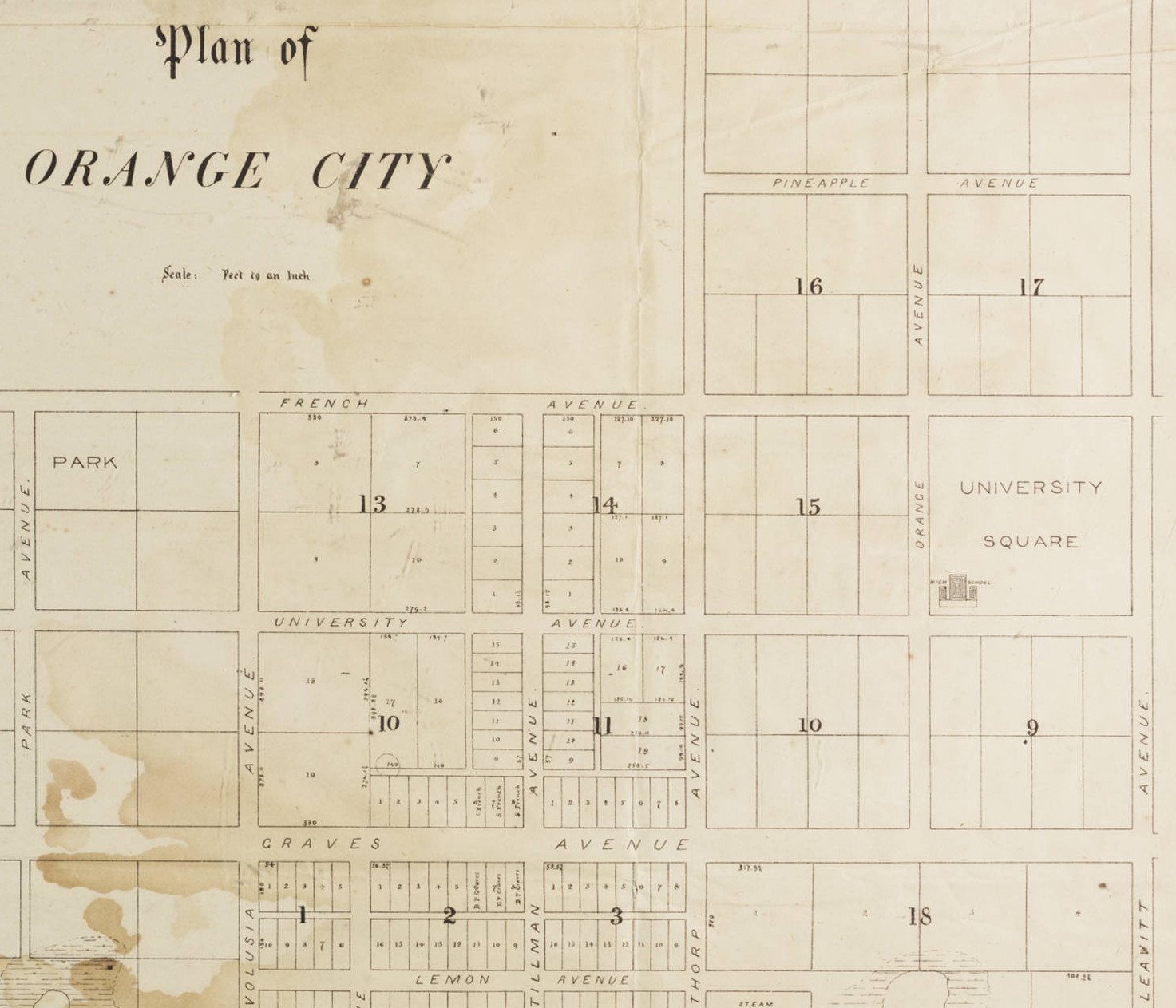 Orange City Elementary School, Orange City Florida. c.1930. Postcard.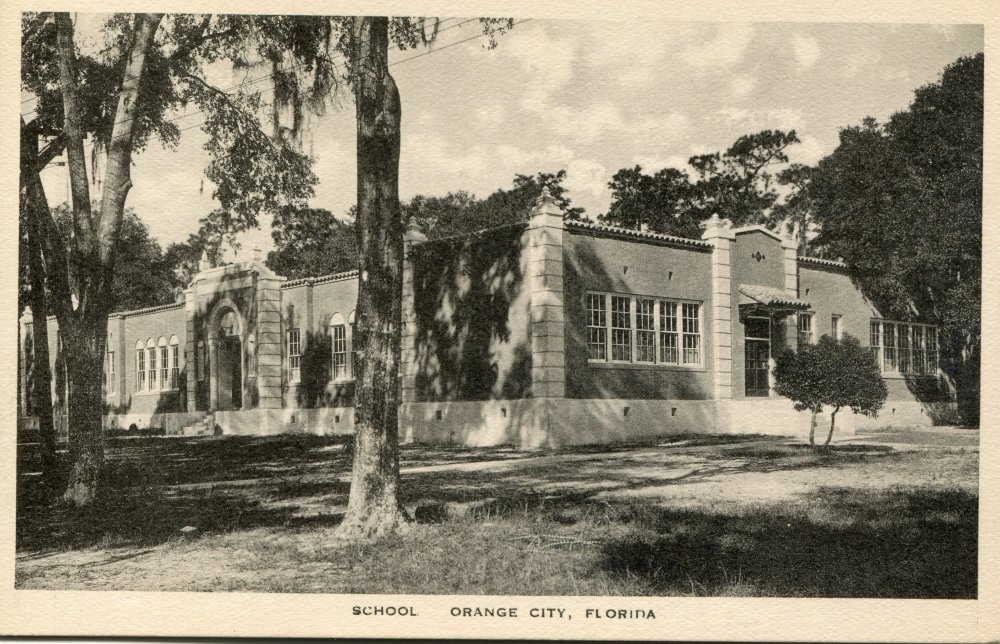 Mrs. Hodges class of 1928. Note the stucco wall of the new school house behind the children. Photo courtesy of Marsha Courtney.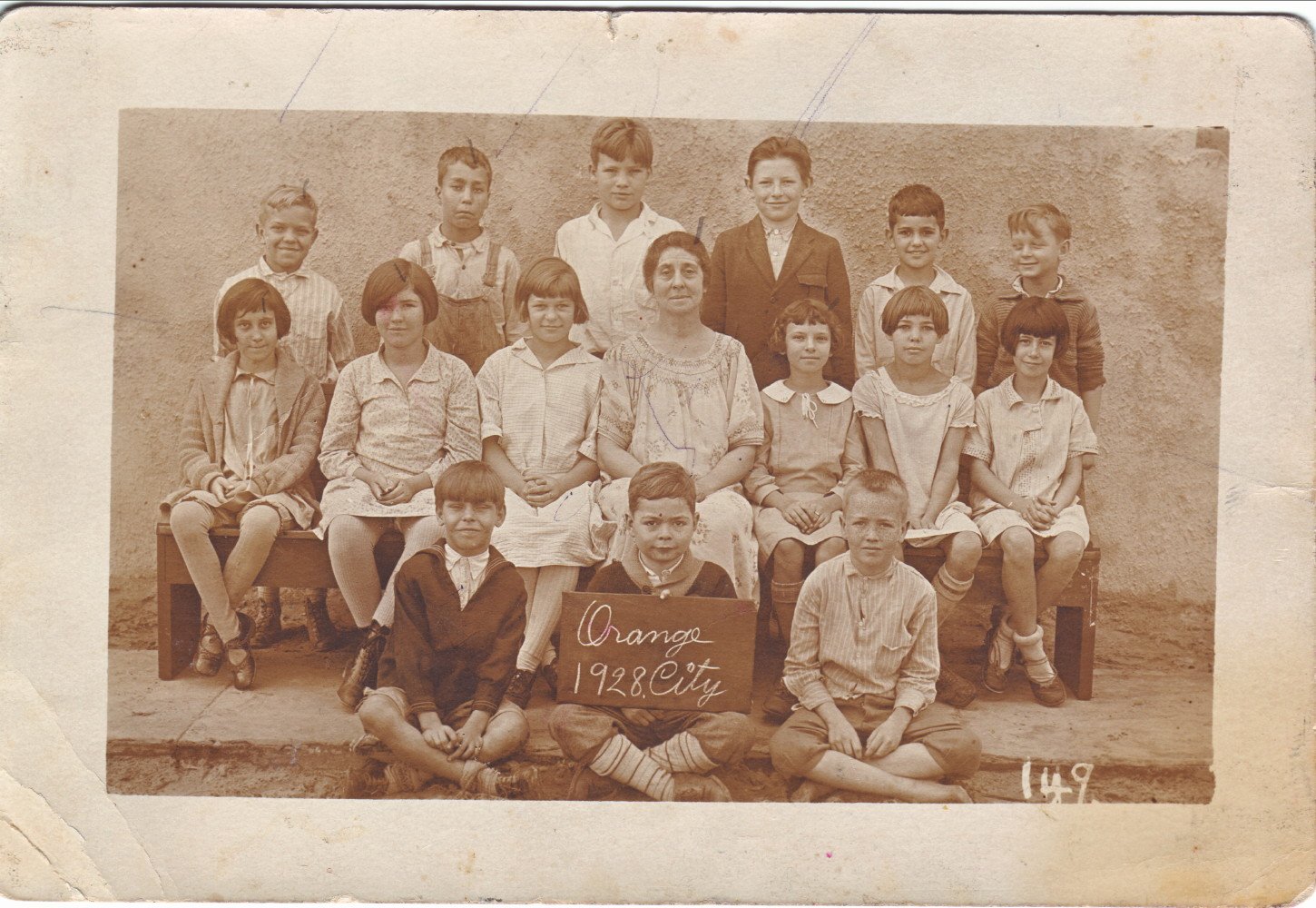 Backstory and Context
According to the minutes of the Volusia County Board of Public Instruction, Orange City's first school house opened in 1876. One early resident stated the school was located on South Volusia Avenue, opposite the popular DeYarman Hotel, today known as the 1876 Heritage Inn. The town founders donated $75.00 in cash and the community members gave both time and materials to build the tiny schoolhouse. Miss Emma Tabor from New Bedford, Massachusetts was Orange City's first school teacher. She later married town founder John C. Thorp.
The first city map, drawn by E.R. Trafford in 1877, identifies block 24 as "University Square". Town founders had reserved this location for the purpose of establishing an institute of higher learning. Unfortunately, in 1885, the City lost a bid to Winter Park for the founding of Rollins College. Then, in October 1887, through the influence of the local Methodist Church, the St. Johns River Conference College of the Methodist Church North opened at University Square. Although residents invested heavily in the coeducational institution, the college struggled financially and ultimately closed its doors in 1892 at the urging of the Conference.
The modest two-story Queen-Anne structure that once housed the college remained in use as the town's public school for white students. The historic records are unclear if the public school and the college operated in the structure simultaneously, or if the public school moved to the vacated building. The public school furnishings included rough pine benches in rows for the children sit on. Thirsty students had to fetch water from the neighbors. Orange City students attended school eight months out of the year, two to four months longer than neighboring communities. In 1900, a ninth grade class was added for the eager learners. During World War I, the children grew vegetables in a "Victory Garden" at school that benefitted their families and town folks in need. 
For many years, there was only one teacher who taught first through eighth grade with a handful of students in each grade. The school had nearly 50 students in attendance when a second teacher was added in 1917. Miss Olive Martin attended Orange City public school before she served as a teacher from 1912 – 1928. She was responsible for the education of students in seventh, eighth, and ninth grades. Ms. Martin became principal in 1918. She continued in this position while the new school was under construction until it opened in the school year of 1927-1928. She then transferred to Enterprise Junior High School.
Student enrollment continued to grow to 120 students in 1924-1925 forcing the school to hire a third teacher, Mrs. Frances Hodges. The Parent Teacher Association formed about 1925. One of their first projects was to have electricity installed in the building. In the 1925-1926 school year, the community successfully agitated for a new school facility, which resulted in the City passing a bond issue for a new facility. In 1927, the wooden schoolhouse was replaced by the modern stucco structure we see today. The old school house was sold to Mrs. A. M. B. Harris and moved across University Avenue to her property, Lot 18 of Block 9. In 1936, City Council minutes reflect the former schoolhouse had become a "fire trap and a menace to that part of Town". Council requested Mr. Harris make needed repairs or the structure would be condemned. The absence of the structure suggests the building was eventually demolished.
Between 1960 and 2000, Orange City Elementary experienced significant growth and transitions. In 1963, Orange City Elementary had one of Volusia County's first School Board sponsored Kindergarten classes. In 1965, 6th-8th grade students began attending junior and senior high schools in DeLand and Deltona. The former auditorium was converted into an award winning media center. Increases in enrollment caused a demand for new classrooms. Several new portable classrooms, a new cafétorium, and an open space building helped the school expand services for the growing community. Following integration, the student population grew again resulting in a two-classroom brick building being moved from the former Marian L. Coleman Elementary School to Orange City Elementary. Even more permanent structures were added in the late 1980s and early 1990s.
As Orange City's population continued to increase into the new millennium, the Volusia County School Board decided it was time to construct a new school serving students located on the west side of town. Although building projects have slowed down at Orange City Elementary School, the Administration continues to expand services to the student body. In recent years, thanks to efforts of the PTA, the playground area was updated and made ADA accessible. Technology updates in the classroom and media center provide a 21st century learning experience for today's students. With a student enrollment at nearly 1000 students, Orange City Elementary School administration and teachers take great pride in educating, nurturing and encouraging students to both appreciate their past and look forward a bright future. 
Sources
LaFleur, Joan J. Our Story of Orange City, Florida. Edition 4. Orange City, FL. Village Improvement Association Orange City Woman's Club, 2000.
Gardner, M.M. & W.H. Orange City school. 188-. Black & white photonegative, 3 x 5 in. State Archives of Florida, Florida Memory. <https://www.floridamemory.com/items/show/6366>, accessed 30 July 2019.
Thrift Jr., Charles Tinsley. The Trail of the Florida Circut Rider: An Introduction to the Rise of Methodism in Middle and East Florida. Lakeland, Florida. The Florida Southern College Press, 1944.
Minutes of the Board of Public Instruction. Vol. A. 1876-1895. DeLand, FL. Volusia County School Board.
Johnston, Sidney. Goodwin, Gary V. Orange City Historic District. Tallahassee, FL. Bureau of Historic Preservartion, 2004. National Register of Historic places Registration Form.
Additional Information