Hamilton White House
Introduction
Completed in 1842 for the family of merchant Hamilton White, this historic mansion is that last of many lavish homes that once bordered Fayette Park. Frederick Douglass delivered a speech at Fayette Park in 1847 and White played an active role in anti-slavery causes. He also helped African Americans secure their freedom by supporting the network of abolitionists who helped fugitives escape to northern states and Canada. Hamilton also helped establish colleges, churches, and innumerable social welfare programs. White's descendants owned the home until 1912, the house mainly functions as a professional office center, primarily occupied by law firms.
Images
Hamilton White House (1842): Syracuse, NY.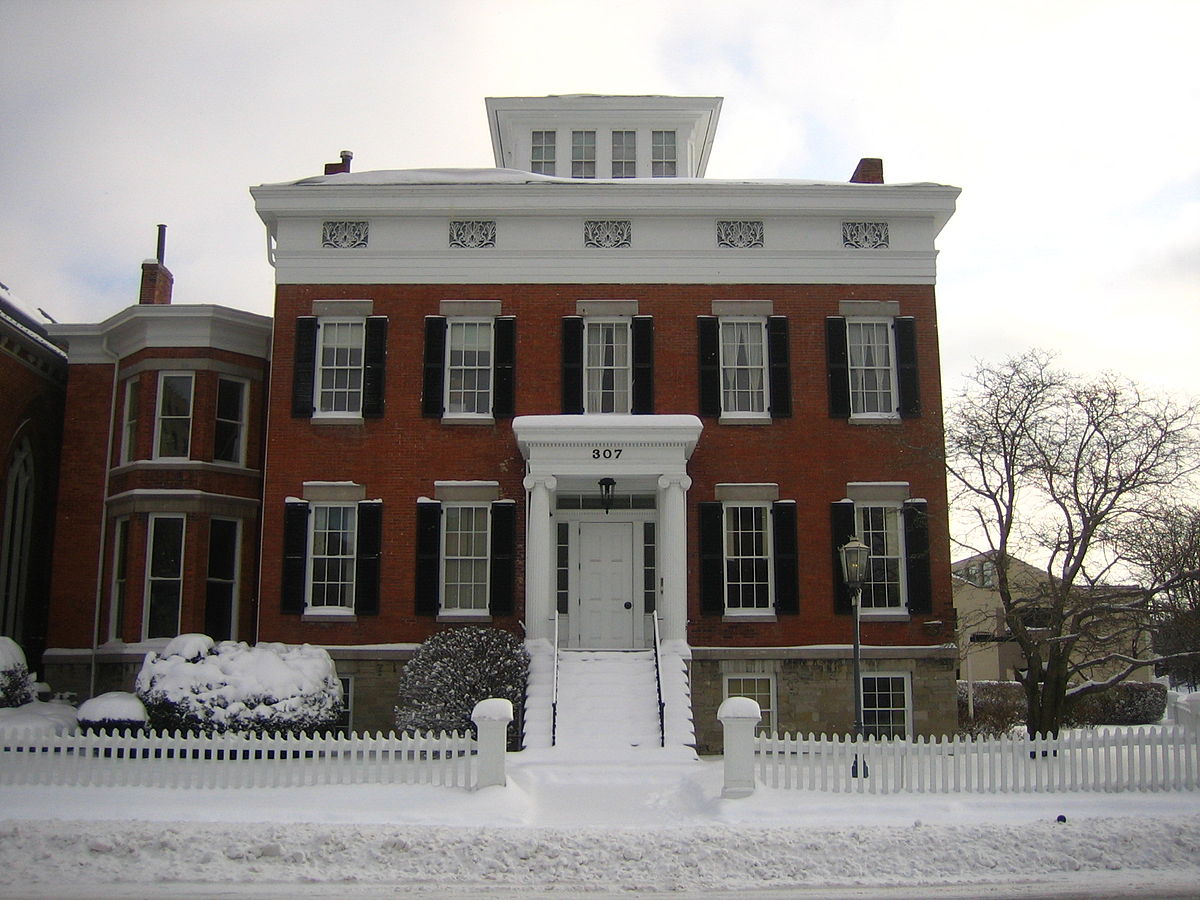 Backstory and Context
The Hamilton White house (built 1842) derives its name from its wealthy homeowner, Hamilton White. His house stands as a monument to the White family, as well as the numerous wealthy European Americans living Syracuse, who worked both directly and behind the scenes to support benevolent causes (including many relating to African American life) including helping orphans, the elderly, the poor and aiding slaves in gaining freedom, notably during the 1850s.
Although less is known about Hamilton's direct role in abolition, it is believed by most historians that his brother, Horace, gave free passes on the railroad to freedom seekers. Moreover, other friends of Horace and Hamilton, notably railroad investors such as John Wilkinson, Charles B. Sedgwick, and George Barnes, also actively participated in helping free slaves via the underground railroad. As a family, the Whites funded Black churches and made arrangements for African American speakers to visit Syracuse.
In 1854, along with hundreds of fellow Syracuse residents, Hamilton White signed a proposal to appoint delegates to a state-wide convention to oppose the Kansas-Nebraska Act, which would ostensibly allow for the expansion of slavery into the western territories.
Hamilton was also active in several additional philanthropic efforts and community (social welfare) projects, including aiding Dr. Samuel May in founding the May Memorial Unitarian Church. The White family took leading roles in founding or co-founding Cornell University, St. Paul's Episcopal Cathedral, the Orphan's Home (now the Elmcrest Children's Home, and Crouse College at Syracuse University. The Whites also created the Syracuse Home Association, which initially operated as a multi-faith organization that offered aid to the poor and provided various social services such as health and elder care. Indeed, today's Hamilton White Society not only pays homage to the family's philanthropy and community support but continues to provide many of the same services.
The mansion, finished in 1842, enjoys Greek Revival design and stands as the only survivor of many large, lavish homes that once bordered Fayette Park, a place where Frederick Douglass once gave a speech (1847). White, born in 1807, lived at the White House until his passing in 1865. However, his family retained ownership of the house until roughly 1912.

Sources
Brooke, Cornelia E. "Nomination Form: Hamilton White House." National Register of Historic Places.
nps.org.
May, 1973. https://npgallery.nps.gov/AssetDetail/NRIS/73001238. Note: The online copy, both via local historical societies and through nps.org, is unavailable at the time of writing this entry.
Case, Dick. "White Family Left Legacy in Syracuse: Preserved images recall one of city's most influential families."
The Post-Standard
(Syracuse, NY). 2006. Found in
Syracuse Then and Now
(blog). http://syracusethenandnow.org/Dwntwn/Vanderbilt/WhiteMemorial/WhiteFamily.htm
Syracuse-Onondaga County Planning Agency. Onondaga Landmarks: A Survey of Historic and Architectural Sites in Syracuse and Onondaga County. Syracuse: Cultural Resources Council of Syracuse and Onondaga County. 1981.

Photo Source

Hamilton White House: By Doncram - Own work, CC BY-SA 3.0, https://commons.wikimedia.org/w/index.php?curid=5564471

Additional Information