Historic Camden Foundation
Introduction
This museum complex includes a variety of buildings spanning over a hundred acres, including the Kershaw-Cornwallis House and several log cabins that are open to the public. The museum complex includes a Blacksmith shop, several log cabins, and a variety of exhibits dedicated to education and awareness of Camden's history. The organization places a special emphasis on the colonial era, the Revolutionary War, and Civil War era. The organization also owns and preserves the battlefield from the Battle of Camden in the Revolutionary War where they offer a variety of guided tours and historical reenactments.
Images
The ershaw-Cornwallis House is the centerpiece of the 107 acre historical complex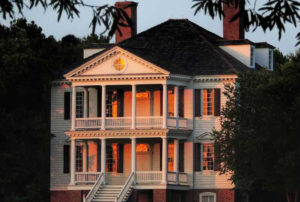 Backstory and Context
The Historic Camden Foundation is a non-profit museum that shares local history and preserves the Revolutionary War battlefield where the Battle of Camden occurred on August 16, 1780. The museum's grounds include 107 acres of land with a variety of historic and replica buildings. The organization hosts tours and battle reenactments of the pivotal Revolutionary battle that occurred at Camden.
About four thousand American troops were led by General Horatio Gates while around 220 British soldiers were led by Charles Cornwallis. However, only about 3,000 American soldiers were capable of fighting as Gates's army was weakened by dysentery. Deciding to attack proved a fatal mistake, as nearly 2,000 American colonists were killed or captured. This loss strengthened pro-British sentiment in the South and led to the replacement of Horatio Gates with Nathanael Greene.
Sources
History of Camden, South Carolina. Historic Camden South Carolina. . Accessed April 15, 2019. https://www.historiccamden.org/discover-historic-camden/.
Editors, History.com. Battle of Camden. History. November 09, 2009. Accessed April 15, 2019. https://www.history.com/topics/american-revolution/battle-of-camden.
Camden. American Battlefield Trust. . Accessed April 15, 2019. https://www.battlefields.org/learn/revolutionary-war/battles/camden.