Camp Atterbury
Introduction
Established in 1942, Camp Atterbury is a military establishment located just south of Indianapolis, right off of US 31-N in a city known as Edinburgh. It consist over around 35,000 acres of land that is used for training purposes. It was originally created to prepare our troops for service leading into World War II, and is now used as a training camp for our Nation's National Guard and the Army Reserves. It is Authorized for current along with retired military service men and women.
Images
Camp Atterbury hosted a mass-enlistment ceremony of WACs on August 10, 1943.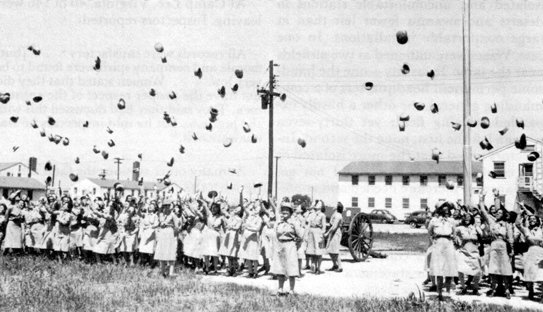 Annual training calls for high level of endurance, stress, and education to multiple National Guard and Army Reserve every year.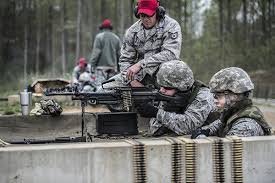 Camp Atterbury's well known rock dates back to WWII. POW legacy stone left behind for generations to come. Libero Puccini is the individual present in the photograph.
Backstory and Context
Consisting of 35,000 acres of land, over the years from the beginning of WWII to current times, Camp Atterbury has been used for training purposes and is still being used for the United States Army Reserves and Army National Guard. From start to finish it has been a form of training grounds for many wars fought and won on behalf of the United States if America.

From February to August of 1942 Camp Atterbury was transformed from what was one time farmland for a couple hundred families to one of the most vital advanced training camps for the United States troops. Camp Atterbury's name was formed from a former World War I Veteran, who was also president of Pennsylvania Railroad, Brigadier General William Wallace Atterbury. Also, Camp Atterbury has a more famous rock that is at the main entrance to the Camp that dates back to 1943 when Italian prisoners were held captive on this soil. These specific prisoners carved this rock while being held in the United States.

"The mission of Camp Atterbury is threefold, "To serve as a Forces Command Mobilization Station–it is the designated mobilization site for many units of the National Guard and U.S. Army Reserve, to serve as a premier training site for both individuals and units from all branches of service for both Reserve and Active Duty training and other special training events, and to serve as a training site for all Public Service organizations such as Department of Homeland Security, State and Local Police, and other first responders.""(Atterbury).

This piece of land is know for producing many well trained soldiers along with units that are equipped with the appropriate equipment to finish the mission at hand. Over the years since 1942 Camp Atterbury has made significant improvements to the structures along with ranges so that soldiers have the lodging in kind (LIK) that they need. Many Army Reserve units from the Tri- State area of West Virginia, Kentucky, and Ohio train on this land once or twice a year depending on the drill schedule passed down from the Commanding officer.

Camp Atterbury, along with its training purposes and history, also has other resources to offer current Military Members, along with retired veterans as well. From the two historical Museums: Camp Atterbury POW Chapel, and Muscatatuck Museum, to their camping lodges, and everything in between. Camp Atterbury provides adequate resources to be able to travel back in time and relive the past and all the United States History it has to offer right on its own battle prepping grounds.

Sources
1.
Anderson, Alan B., Paul D. Ayers, Heidi Howard, and Kenneth D. Newlin. 2007. "Vehicle Impacts on Vegetation Cover at Camp Atterbury, Indiana: Part 1. Initial Impacts and Vegetation Recovery."
Proceedings of the Indiana Academy of Science
116 (2): 126–38. http://search.ebscohost.com.marshall.idm.oclc.org/login.aspx?direct=true&db=aph&AN=34905607&site=ehost-live.


2. "Atterbury Muscatatuck." Atterbury Muscatatuck. Accessed April 15, 2019. https://www.atterburymuscatatuck.in.ng.mil/.


3. "Camp Atterbury Army Base in Edinburgh, IN." Military Bases. Accessed April 15, 2019. https://militarybases.com/indiana/campatterbury/.
4. "Camp Atterbury." IODD: Camp Atterbury. Accessed April 16, 2019. https://www.in.gov/iodd/2347.htm.
5.
Cavallaro, Gina. "Close-up on Camp Atterbury-Muscatatuck, Ind."
Army Magazine
68, no. 4 (April 2018): 64. http://search.ebscohost.com.marshall.idm.oclc.org/login.aspx?direct=true&db=aph&AN=129269963&site=ehost-live.
6. "POW Legacy Lives in Stone." Www.army.mil. Accessed April 15, 2019. https://www.army.mil/article/11945/pow_legacy_lives_in_stone.
Additional Information