Chesapeake Energy Arena
Introduction
Chesapeake Energy Arena is home to Oklahoma's premier professional sports team, the Oklahoma City Thunder. Chesapeake was opened on June 8, 2002, and was originally called the Ford Center, until its name change in 2010. The facility got its start in 1993 as a part of the Metropolitan Area Projects (MAPS) which financed new sports, entertainment and convention facilities in downtown Oklahoma City. The arena is a frequent host of NCAA March Madness College Basketball Tournament games, for both men and women teams. The arena also hosts concerts, WWE, and PBR events frequently.
Images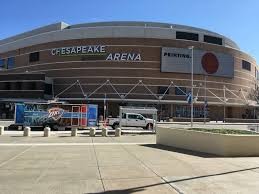 Outside of Chesapeake Energy Arena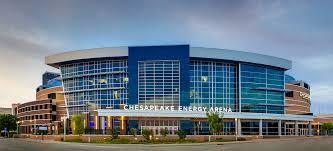 Chesapeake Energy Arena during a Oklahoma City Thunder game.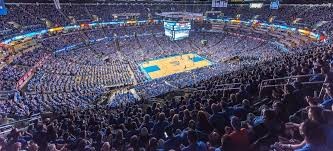 Downtown Oklahoma City before MAPS project.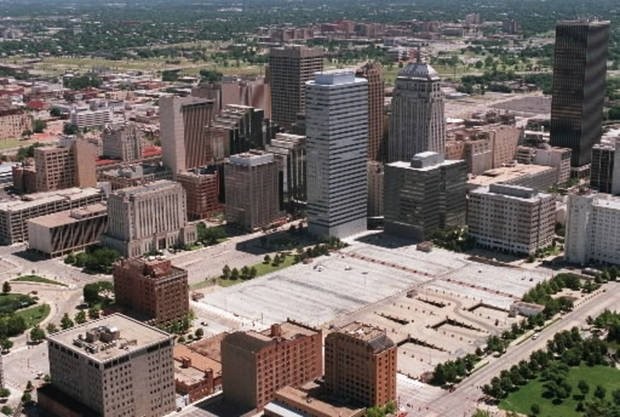 Backstory and Context
Ford Center opened in 2002 and was known as this until 2010, when it was renamed Chesapeake Energy Arena. Located in Downtown Oklahoma City, the arena is home to the National Basketball Association's Oklahoma City Thunder. Prior to being the home for the Thunder, the arena was the home of the Oklahoma City Blazers, a Central Hockey League team, and the Oklahoma City Yard Dawgz, a Arena Football team. The capacity for Oklahoma City Thunder games is 18,203 seats.

Chesapeake Energy Arena is 581,000 square-feet, and seats 19,711 when the fourth level is added to the seating. In March of 2008, the city voted to pass a $121.6 million renovation to Chesapeake Energy Center, and to build a practice facility for the Thunder. These renovations included restaurants, clubs, additional suites, office space, concessions, flooring upgrades, and an improved scoring system.

In 2005, during Hurricane Katrina, the Ford Center was a temporary home for the New Orleans Hornets, a NBA team. The Hornets played two seasons in Oklahoma City due to flooding and damage to their home arena. During this time the team was known as the New Orleans/Oklahoma City Thunder. This reception of a profession team in the city led to billionaire investor Clay Bennet to purchase the Seattle SuperSonics in 2006. In 2008, after league approval, it was announced that the SuperSonics would be relocating to Oklahoma City and would undergo a refranchise.

Aside from hosting Oklahoma City Thunder games, the Chesapeake Energy Arena also hosts major concert tours, conventions, NHL preseason games, PBR, and professional wrestling events. The Arena hosts Ultimate Fighter Championship and WWE events such as Raw and SmackDown. The stadium also hosts college events, such as the Big 12 Men's and Women's Basketball Tournament, NCAA March Madness tournament games, and games from the surrounding colleges in the state.

Chesapeake Energy Arena was built as a part of the MAPS project that got its start in 1993 as a way to improve the downtown Oklahoma City area. MAPS, or Metropolitan Area Projects Plan was a redevelopment project funded by a five year, voter approved increased sales tax. The main goal of MAPS was to make downtown Oklahoma City a more entertaining area and improve the economy of the city. Along with Chesapeake Arena there were eight other projects included in MAPS, these include: a trolley system, a library, a riverfront used for USRowing, Bricktown Canal, Chickasaw Bricktown Ballpark, renovations to The Myriad, Oklahoma State Fairgrounds, and Civic Center Music Hall. There have been two additional MAPS projects for Oklahoma City since the first project. The second MAPS program aimed to improve schools in the Oklahoma City area, and with another sales tax, $700 million worth of improvement to schools within the city limits of Oklahoma City has been done. The third MAPS project, approved in 2009, was aimed at improving the quality of life in Oklahoma City. Projects included in the third maps project include: expansion of parks and trails, improvements to neighborhood sidewalks, the Oklahoma River, and Oklahoma State Fair Grounds, and construction of a new downtown convention center, downtown public parking areas, and a streetcar transport system. Since the MAPS projects inception in the early 90s a $5 billion economic impact is estimated to have been generated.



Sources
1) OKC Arena to be Renamed Chesapeake Energy Arena". Oklahoma City Thunder. July 21, 2011
2) DiTore, Larry (April 18, 2008). "NBA Owners Approve SuperSonics' Move to Oklahoma". Bloomberg.
3) Rohde, John (August 26, 2010). "Ford Center Name to Change". The Oklahoman. Oklahoma City
4) "Chamber History." Greater Oklahoma City Chamber - Chamber History, www.okcchamber.com/index.php?submenu=ChamberHistory&src=gendocs&ref=ChamberHistory&category=About&link=ChamberHistory.
5) Parker, John (Dec 15, 1993). "Voters OK Tax, Downtown Projects". Daily Oklahoman. p. 1.
Additional Information