Pleasant Hill Battle Park
Introduction
The Battle of Pleasant Hill was an afternoon skirmish within the larger Red River Campaign- a Union attempt to expand their control of Louisianna. The battle occurred on April 9, 1864, and this small battlefield park includes several markers dedicated by the United Daughters of the Confederacy that refer to the Civil War as the "War for Southern Independence," a phrase that reflects this organization's goal of vindicating the antebellum South and Confederacy. The battle that occurred here was a continuation of the Battle of Mansfield, fought the previous day, which had seen Union forces retreat to this position. This battle resulted in the total loss of around 3,100 soldiers, including 1,100 from General Nathaniel Banks's Union forces and 2,000 from the Confederates who were led by Richard Taylor. Although the Confederacy suffered higher losses, the continual offensives against Banks and his men led to the decision to abandon plans to capture Shreveport which served as the Confederacy's capital at that time.
Images
A reenactor participating in the reenactment of the Battle of Pleasant Hill. (Photo from louisianatravel.com)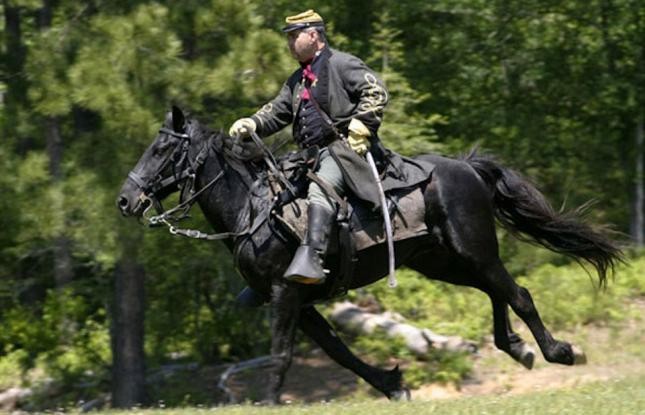 Entrance to the Pleasant Hill Battle Park located near where the actual battle occurred. (Photo from worldslongestroadtrip.com)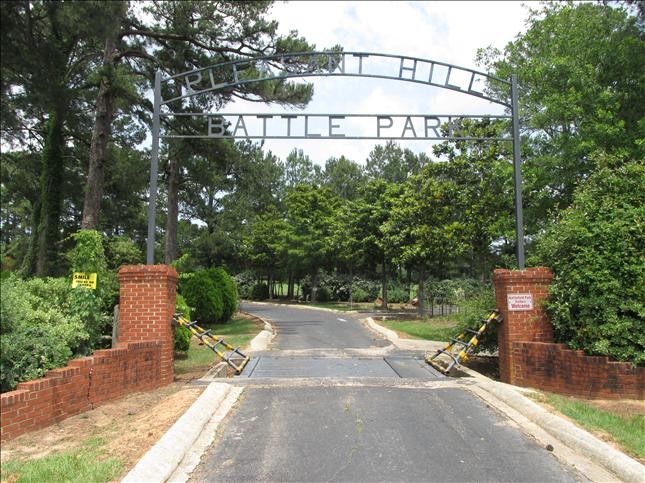 Monument erected for the Battle of Pleasant Hill honors the lives lost during this bloody fight. (Photo by Mark Hilton on the Historical Markers Database website)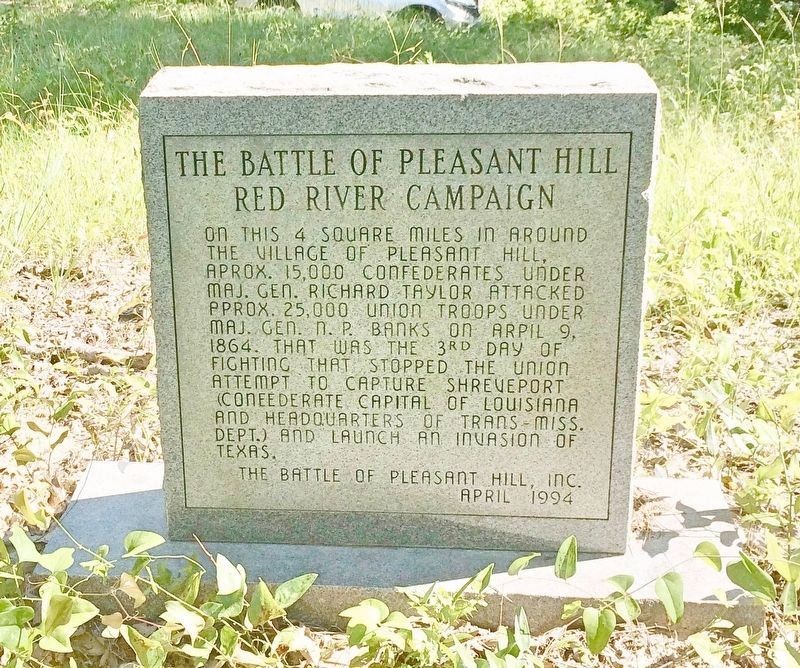 Confederate Major General Richard Taylor (right) and Union Major General Nathanial P. Banks (left) exchanged victories and defeats at both Mansfield and Pleasant Hill. (Photo obtained from Historical Markers Database website)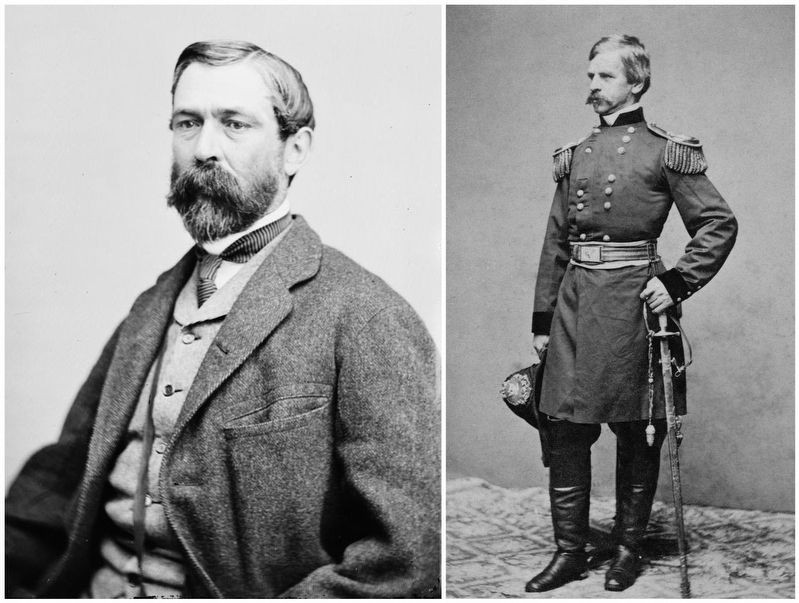 Backstory and Context
General Nathaniel P. Banks led United States troops during the Red River Campaign. He and his men traveled around 150 miles up the Red River before Confederate forces under Major General Richard Taylor were able to effectively halt the Union advancement. The two armies met in Mansfield on April 8, with Taylor's men forcing the Union to withdraw. The ensuing nighttime was used to rest and prepare for the next day, as both men knew hostilities would resume at some point on April 9. Although outnumbered, Taylor hoped to crush Banks and force United States troops to surrender or retreat completely.  
The following morning, having been reinforced from casualties suffered at the Battle of Mansfield, Taylor began marching towards Pleasant Hill with plans to attack United States forces. The Confederates began their attack around 5:00pm after resting for a few hours. Taylor sent his men up the Union's middle while he focused on the right side (he figured this would be the Union escape route), sending Brig. Gen. Thomas J. Churchill to the left flank. When the attack on the left flank being successful, Churchill sent his men ahead in hopes of attacking from behind. This proved unsuccessful as the Union troops were rested and recognized the threat before it hit them. Banks then withdrew his men from the area before any further escalation of conflict occurred, taking a strategic victory rather than a bloody draw.
As a result of both the Battle of Mansfield and the Battle of Pleasant Hill, Banks decided against continuing his goal of taking Shreveport. Taylor requested reinforcements in the hopes of catching up to Banks, but was denied by his superior, Maj. Gen. Edmund Kirby Smith, in the hopes of countering Union Maj. Gen. Frederick Steele from a nearby encounter. The Red River Campaign concluded shortly after the end of Pleasant Hill and was one of a few significant Confederate victories in 1864. 
The Civil War itself dragged on another year, leaving the South in destruction and disarray. Taylor did manage to provide somewhat of a victory to his men and their families at Mansfield before the "defeat" at Pleasant Hill. Those around the town of Pleasant Hill still feel a sense of honor for their ancestors for continuing the fight when it seemed like there was none at all for the Rebels of U.S. history.
Sources
1. Gauthreaux, Alan G. "Louisiana Has Drawn First Blood Today" – The Battles of Mansfield and Pleasant Hill, 1864. War History Online. June 23, 2017. Accessed April 14, 2019. https://www.warhistoryonline.com/guest-bloggers/louisiana-drawn-first-blood-today-battles-mansfield-pleasant-hill-1864.html.
2. Joiner, Gary. The Red River Campaign. American Battlefield Trust. . Accessed April 14, 2019. https://www.battlefields.org/learn/articles/red-river-campaign.
3. CWSAC Battle Summaries. Heritage Preservation Services. . Accessed April 14, 2019. https://web.archive.org/web/20080506184217/http://www.nps.gov/history/hps/abpp/battles/la019.htm.
4. History of the Battle of Pleasant Hill. Battle of Pleasant Hill Reenactment and Festival. . Accessed April 14, 2019. https://battleofpleasanthill.com/history/.
5. Hilton, Mark. The Battle of Pleasant Hill: Red River Campaign. The Historical Marker Database. July 16, 2017. Accessed April 14, 2019. https://www.hmdb.org/marker.asp?marker=105670.
Additional Information