The Villa Casa Casuarina
Introduction
The Villa Casa Casuarina - The Versace Mansion
Images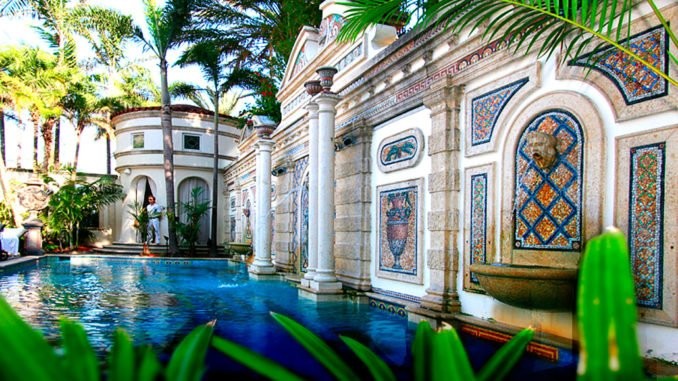 Backstory and Context
Aside from Casa Casuarina being a historical site its geographical location puts it at a great advantage because it is situated in 1116 Ocean Dr, Miami Beach, FL 33139 in the heart of South Beach and there are plenty of fun activities to do nearby. For example, there are numerous restaurants to choose from on Ocean Drive. In addition, if anyone prefers the nightlife scene there are a variety of bars and clubs to choose from. Not to mention the beach is a few steps away if anyone decides to go in for a swim.

According to Jennifer Lu, the history of the establishment goes all the way back to the year 1930 when it was constructed for an oil heir named Alden Freeman. The most significant historical event that was going on during this time was WW2 and Alden Freeman passed away in 1937. The value of Casa Casuarina has risen significantly from the time it was constructed to present day. When the value of Casa Casuarina went up drastically was after the famous Italian fashion designer lived in the house and was assassinated by his lover in 1997. As the years have gone by Casa Casuarina has changed its name a few times. At first it was originally Casa Casuarina then it was the Amsterdam Palace when it was owned by Jacques Amsterdam who bought the house for $100,000 (Lu).
In March of 1992 when Gianni bought the home it was priced at a value of $2.95 million. Time itself transformed Casa Casuarina into a historical site. Approximately 60 years ago nobody was sure if anyone would ever want to live in South Beach because the area itself was pretty sketchy (Lu).
Christopher Boyd mentions in the 1940's South Beach took a drastic turn because it resembled a "borderline slum" with "old people sitting in chairs". And Jane Dee Gross who was a tenant in Casa Casuarina at the time stated that "There weren't that many apartments or houses so everyone knew who was who and it smelled like pot all the time." Later Miami Beach redevelopment director Stuart Rogel started to realize that the district had potential in the future and would become one of the most visited places in the United States. What happened in South Beach is similar to what occurred years ago in Manhattan with Times Square, at first Times Square was a sketchy place ridden with brothels and rampant prostitution and now it is practically one of the centers of entertainment for people around the world to come on vacation. Now too, South Beach is a vibrant place because it went through a period of gentrification like Times Square (Lu).
Rogel was quoted in 1987 as saying "Until recently, the city had the idea that nothing was worth saving in what is now today the Art Deco district". Rogel also quoted "It looked old, it looked bad, and we wanted to get rid of it and now we realize we are sitting on top of a district that has a tremendous amount of value." These are a few reasons why Casa Casuarina has so much significance, because as the years have gone by it was never demolished and from day one it has always been situated in an expensive area even though people did not see it.
Lu states, "Part of the architecture of the house was inspired by a replica of a Homage Tower where Columbus was imprisoned by King Ferdinand and it has an observatory dome at the end of the courtyard". Lu states that "The walls are decorated with more than 100 portrait medallions of people who intrigued Freeman, from Julius Caesar and Cleopatra, to Mussolini and Lenin". In recent years the price of the house has fluctuated from $125 million all the way down to $23.4 million which is a big disparity from $100,000 from the time it was built. Lu states that "Donald Trump wanted to buy the house but in the end lost it to the Nakash and Gindi families at an auction for $41 million in an all-cash deal". To conclude my research paper, remember if ever in South Beach visit Casa Casuarina which is now a hotel open to the public (Lu).
Sources
Frank, Robert. "Versace mansion's $41.5 million sale disappoints." CNBC, 17 Sept 2013. www.cnbc.com/2013/09/17/versace-mansion-sells-for-415-million.html. 13 July 2019.

History. The Villa Casa Casuarina. . Accessed April 24, 2019. http://vmmiamibeach.com/history/.
Lu, Jennifer. "Versace's palace was an oil heir's mansion, grungy apartment complex."
Miami Herald,
14 July 2019. www.miamiherald.com/news/local/community/miami-dade/miami-beach/article161287718.html. 13 July 2019.
Additional Information