Major General Anthony Wayne Statue
Introduction
This statue, which is located in Friemann Square and accompanied by two interpretive signs, depicts prominent colonial-era military officer Major General "Mad" Anthony Wayne (1745-1796) astride a horse. Wayne was a celebrated officer in the Continental Army during the Revolutionary War, serving in and leading a number of campaigns against the British. He earned his nickname after he led a nighttime raid called the British at the Battle of Stony Point on July 16, 1779. It was a decisive battle and his men appreciated his boldness (he also possessed a fiery personality). Wayne also led the fledgling U.S. Army in the Northwest Territory in the early 1790s (see below). The statue was sculpted by Chicago artist George E. Ganiere in 1918 and placed in another park before being moved here in 1973.
Images
The Major General Anthony Wayne statue is situated in Friemann Square.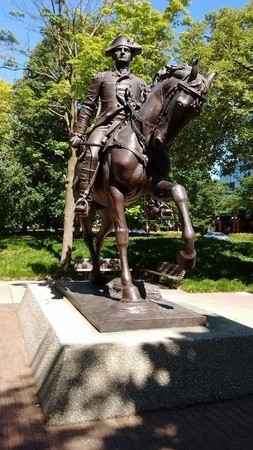 Backstory and Context
After the war, Wayne moved to Georgia where he was awarded land for his service. However, in 1792 he was called back to military duty to lead the army in the Northwest Territory against a confederation comprised of Native American tribes—who were fighting against settlers from moving into their lands—and their British allies. Wayne successfully defeated them at the Battle of Fallen of Timbers near Toledo, Ohio, on August 20, 1794. In the aftermath of the battle, Wayne ordered the construction of a fort—Fort Wayne—in an Indian settlement called Kekionga, which was located nearby. It is unclear where the exact location is but a replica of the fort built in 1815 is located across the St. Mary's River at Historic Old Fort.
Sources
"Anthony Wayne." Encyclopedia Britannica. Accessed April 9, 2019. https://www.britannica.com/biography/Anthony-Wayne.

"Anthony Wayne statue." Architecture & Community Heritage. Accessed April 9, 2019. https://archfw.org/heritagetrail/centraldowntown/anthony-wayne-statue.

"Major General Anthony Wayne." The Historical Marker Database. Accessed April 9, 2019. https://www.hmdb.org/marker.asp?marker=119973.

Photo: The Historical Marker Database
Additional Information