St.Luke's Lutheran Church and School
Introduction
St.Luke's Lutheran Church and School has a well recorded history through several key family's that came to Oviedo in the early 1900s.
Images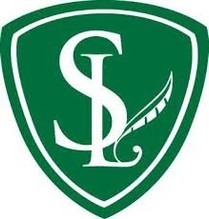 Current Campus Model (4/11/19)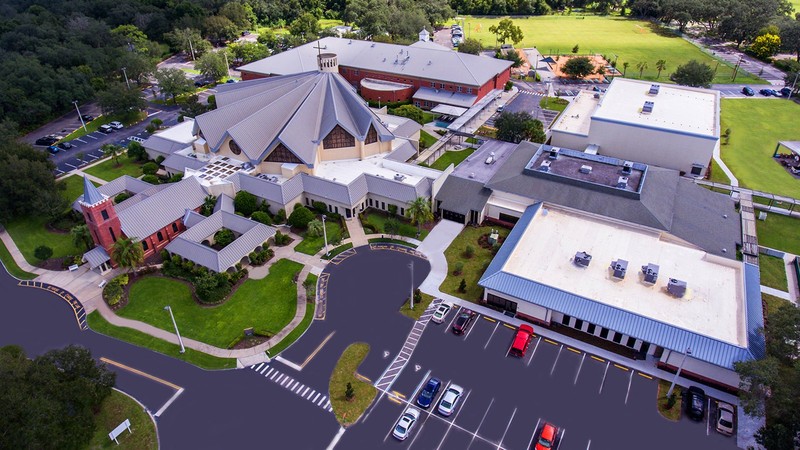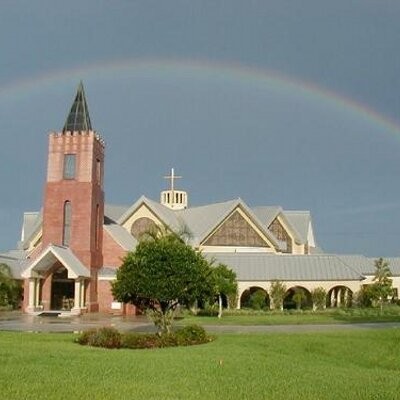 Backstory and Context
St.Luke's Lutheran Church and School
 St. Luke's Lutheran Church today embodies the original founders core values from 1912. The pioneers struggling to shelter their families at this time had poorly made shacks that they also used for worship within the community. Joseph Miller (an original settler) is recorded saying "It was cold; there was water everywhere. My wife had expected warm weather and groves of oranges. But there was nothing, only woods."(Duda) A few months into their immigration, on March 17, 1912, eight of the settlers chartered St. Luke's Lutheran Church and it's first sanctuary.
 The previous year, members of the Holy Trinity Slovak Lutheran Church created the Slavia Colony Company from Cleveland, Ohio bought 1,200 acres of Oviedo, Florida land and moved. The Slovak immigrants first claiming Slavia colony in 1911 seeked farmland to build an agricultural business in an area free to express their Lutheran Heritage. The Church was the center of the Slavia community's interest. The name "Slavia"is actually translated as "Gloria." Nearly all of the 1,200 acres of land was used for celery farming however in present day, most land has become residential or commercial property.
 July 31st, 1934 Pastor Stephen M. Tuhy became the first full-time pastor at St.Luke's and the congregation built a parsonage for Tuhy the following year. Five years later the great tall red- brick structure seen in front of the sanctuary was constructed as St.Luke's Evangelical Lutheran Church. Lots of photographs and documentation of the churches history are stored on-site today.
 January 1st was the initial date of the church's weekly bulletin issue. They named it "The LIGHT accordingly due to its purpose to disseminate information. Three years later, a nursery school was formed for children ages 3 to 5 years of age. This kept in line with the congregation's belief to pass on the education of their religion to their young. St.Luke's Christian Day School didn't actually open until 1947. In present time, it is used as the preschool. The St. Luke's Lutheran Haven was dedicated in 1948 to care for orphans and elderly alike. Today many households also assist local families or parishioners of the church. The Church most often used today was enlarged and renovated in 1957 to seat 375 people.
 Founders' Hall was a $500,000 endeavor in 1979 dedicated to the original founders of the Church. It has a gym, locker rooms, stage for plays, kitchen, and additional rooms. The gym is used by children of the St.Luke's Lutheran School for physical education classes, intramural sports, highly competitive league sports, and even attracts children from the community to Youth Group activities available 5th through 12th grade. Today an active number of members are apart of College and Adult groups as well and immerse themselves in enriching the lives of others in the community. Today's St.Luke's Lutheran School was completed in 2001 on June 1st for students kindergarten to 8th grade.
 The original intent of the original Slovakian settlers (the perpetuation of Christian faith and care of the young and elderly) is extended through St. Luke's Lutheran School and the Lutheran Haven Retirement Center, and more than 100 years later, the faith of the Founding Families of Slavia Colony lives on through the outreach ministries of St. Luke's Lutheran Church. They have an increasingly active youth ministry program that helps nationwide at mission sites. The new Family Center was built in 2017 and has an active highschool ministry youth group that engage in helping the community locally and nationwide. These members come back to St.Luke's every week through high school even though they now attend other schools. This is because a close kinship is often formed among classmates with bonds others only typically make later in life.The St.Luke's community has since spread from Oviedo to Chuluota and Sanford as well.
 Still on the Oviedo property, yet another larger gymnasium has been constructed because of how popular the school has become. Founder's Hall is now used nearly all the time for events, and the increased sports ability displayed by St.Lukes students in Lutheran sports leagues has skyrocketed the competitiveness on their teams. They hold numerous state titles in Basketball, Volleyball, Soccer, Track and Field, and many other sports.
Sources
Duda, Judith M., et al. Like a Mustard Seed: a Century of Faith. St. Luke's Lutheran Church and School, 2016.
Online, Josh Bloom. "St. Lukes Lutheran School." St. Luke's Lutheran Church, stlukes-oviedo.org/about/history.
"Partners-St. Lukes." CFM, www.cfmemory.org/Partners/St.Lukes/.
Additional Information