Unity Point Park
Introduction
In 2009 the city of Mobile constructed a monument to Mobile's relatively peaceful African American civil rights movement. Unity Point Park hosts a statue featuring former mayor Joseph Langan and civil rights leader John LeFlore shaking hands.
Images
The statue at Unity Point Park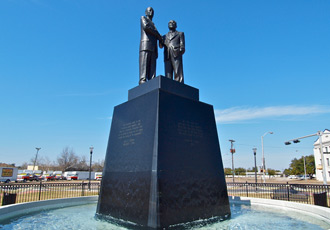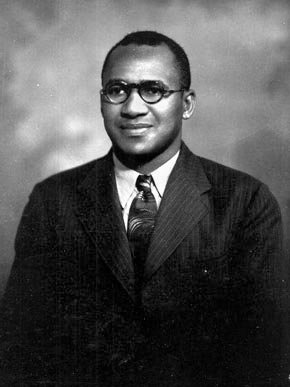 Prospective voters registering at the Mobile County Board of Registrars, 1949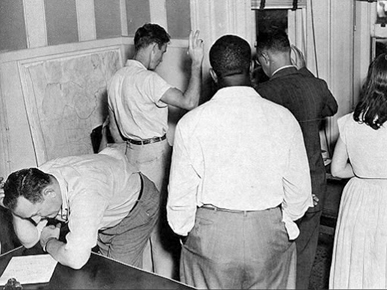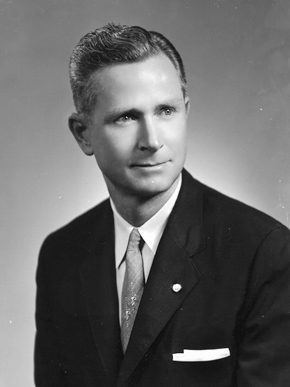 Backstory and Context
John LeFlore was born May 17th, 1903 in Mobile, Mobile County. He worked to pass the civil service exam and become a postman in 1922, when few African Americans were able to do so due to poor education opportunities and white supremacist threats. He also married Teah Black in 1922 and together they had three children.
LeFlore may have had a successful job and some social standing, but he still had to deal with Southern life under Jim Crow. After an incident on a local streetcar LeFlore looked into the NAACP's abilities to improve African American life in Mobile. Mobile's chapter of the NAACP had been stagnant for several years and LeFlore took it upon himself to reorganize the Mobile branch. Within a year LeFlore was the Executive Secretary and had recruited fifty new members to the organization. Later, his highly effective organizational skills would be employed by the NAACP who sent him to other struggling NAACP chapters in the deep south.
LeFlore used his position to improve housing, workers' rights, and voting for African Americans in Mobile. He advocated "polite persistence" rather than direct action. In his struggle to improve voting rights worked especially closely with Joseph Langan.

Joseph Langan was born March 11th, 1912 in Mobile, Mobile County. He was raised Catholic and joined the Alabama National Guard at a young age in 1931. He passed the Alabama bar exam in 1936 and entered politics in 1939, winning a seat in the Alabama House of Representatives at the age of 27.
Langan's Catholic belief that God created all men equal, his childhood in a mixed race community, and his time in the military all bolstered his personal support of racial equality. He worked against the Southern Dixiecrats and focused much of his effort on improving voting conditions.

Together these two leaders helped create a more peaceful end to segregation than other major Alabama cities could claim. LeFlore increased Black votership with a "pink sheets" campaign in which organizers informed voters which candidates were a positive force for the Black community. Langan campaigned against the proposed "understanding clause," a method to prevent Blacks and poor whites from voting by denying that they understood the Constitution thoroughly. Though they both faced opposition from white supremacists and even from more radical, younger Black organizers in the early seventies, they accomplished a great deal in the battle for civil rights in the South.

Mobile created Unity Point Park in 2009 and unveiled this statue in 2010 to commemorate the achievements of these two great leaders.
Sources
http://www.encyclopediaofalabama.org/face/Article.jsp?id=h-2942 http://blog.al.com/live/2009/08/city_to_unveil_new_downtown_pa.html http://www.encyclopediaofalabama.org/face/Article.jsp?id=h-2979 http://www.maaht.org/tour2/index.html?id=b&point=15
Additional Information